Abstract
The Drosophila TTK protein is involved in the processes of cell differentiation and is represented by two isoforms, TTK69 and TTK88, which have a common N-terminal BTB domain and different C-terminal sequences. Earlier, it was shown that TTK69 represses the activity of enhancers and promoters by recruiting a conserved among higher eukaryotes NURD complex to chromatin. The Mep-1 protein was found in the NURD-complex of Drosophila, and this protein can interact with the C-terminal region of TTK69. In the present study, using the yeast two-hybrid system, we mapped the interacting regions of the TTK and Mep-1 proteins. We identified regions in the unique C-terminal regions of TTK isoforms that can interact simultaneously with two regions of the Mep-1 protein. The results show that, despite the low homology of the C-terminal regions, the TTK isoform retains the ability to interact with two conserved regions of the Mep-1 protein, which suggests the functional significance of this interaction.
Access options
Buy single article
Instant access to the full article PDF.
US$ 39.95
Tax calculation will be finalised during checkout.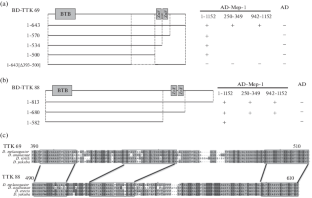 REFERENCES
1

Harrison, S.D. and Travers, A.A., EMBO J., 1990, vol. 9, pp. 207–216.

2

Brown, J.L. and Wu, C., Development, 1993, vol. 117, pp. 45–58.

3

Read, D. and Manley, J.L., EMBO J., 1992, vol. 11, pp. 1035–1044.

4

Ciglar, L., Girardot, C., Wilczynski, B., et al., Development, 2014, vol. 141, pp. 2633–2643.

5

Badenhorst, P., Finch, J.T., and Travers, A.A., Mech. Dev., 2002, vol. 117, pp. 87–101.

6

Lai, Z.C., Harrison, S.D., Karim, F., et al., Proc. Natl. Acad. Sci. U. S. A., 1996, vol. 93, pp. 5025–5030.

7

Bonchuk, A., Denisov, S., Georgiev, P., et al., J. Mol. Biol., 2011, vol. 412, pp. 423–436.

8

Kunert, N., Wagner, E., Murawska, M., et al., EMBO J., 2009, vol. 28, pp. 533–544.

9

Bracken, A.P., Brien, G.L., and Verrijzer, C.P., Genes Dev., 2019, vol. 33, pp. 936–959.

10

Reddy, B.A., Bajpe, P.K., Bassett, A., et al., Mol. Cell Biol., 2010, vol. 30, pp. 5234–5244.
Funding
The study was supported by the Russian Foundation for Basic Research (project no. 18-04-01272).
Ethics declarations
The authors declare that they have no conflict of interest. This article does not contain any studies involving animals or human participants performed by any of the authors.
Additional information
Translated by M. Batrukova
About this article
Cite this article
Khalisova, K.Y., Osadchiy, I.S., Georgiev, P.G. et al. TTK Isoforms Interact with Two Regions of the Mep-1 Protein of Drosophila melanogaster . Dokl Biochem Biophys 498, 177–179 (2021). https://doi.org/10.1134/S1607672921030042
Received:

Revised:

Accepted:

Published:

Issue Date:
Keywords:
NURD complex

transcriptional repression

protein–protein interactions