Abstract
A green approach for ethylene carbonate ring opening polymerization was proposed via an interaction between ethylene carbonate and 5-azido-3-methyl-1-phenyl-1H-pyrazole-4-carbaldehyde (azidopyrazole) in presence of FeCl3 anhydrous as initiator. Despite the high thermodynamic stability of ethylene carbonate, reducing consumption of heat and time has been obtained. The effect of the molar ratio of azidopyrazole to ethylene carbonate has been studied and the resulted products were characterized.
Access options
Buy single article
Instant access to the full article PDF.
USD 39.95
Price excludes VAT (USA)
Tax calculation will be finalised during checkout.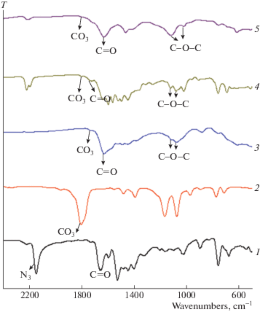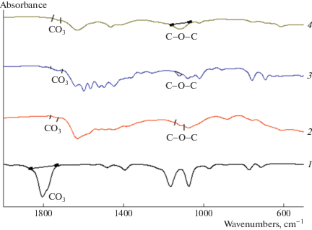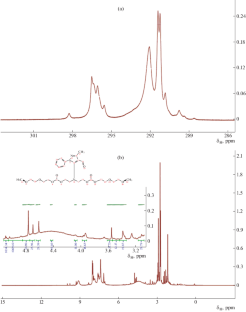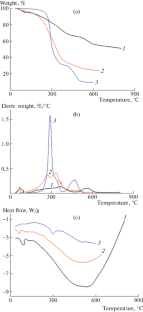 REFERENCES
L. Du, B. Qu, Y. Meng, and Q. Zhu, Compos. Sci. Technol. 66, 913 (2006).

Y. Zhao and D. A. Schiraldi, Polymer 46, 11640 (2005).

A. Chandra, L.-S. Turng, P. Gopalan, R. M. Rowell, and S. Gong, Compos. Sci. Technol. 68, 768 (2008).

M. Aden, A. Roesner, and A. Olowinsky, J. Polym. Sci., Part B: Polym. Phys. 48, 451 (2010).

J. Feng, R.-X. Zhuo, and X.-Z. Zhang, Prog. Polym. Sci. 37, 211 (2012).

F. Suriano, O. Coulembier, J. L. Hedrick, and P. Dubois, Polym. Chem. 2, 528 (2011).

B. D. Ulery, L. S. Nair, and C. T. Laurencin, J. Polym. Sci., Part B: Polym. Phys. 49, 832 (2011).

K. Tezuka, K. Komatsu, and O. Haba, Polym. J. 45, 1183 (2013).

S.-J. Kwon, D.-G. Kim, J. Shim, J. H. Lee, J.-H. Baik, and J.-C. Lee, Polymer 55, 2799 (2014).

J.-C. Lee and M. H. Litt, Macromolecules 33, 1618 (2000).

Y. Yoshida and T. Endo, Polymer 102, 167 (2016).

H. Sawada, Polym. Rev. 5, 151 (1970).

Handbook of Ring-Opening Polymerization, Ed. by P. Dubois, O. Coulembier, and J.-M. Raquez (John Wiley and Sons, Weinheim, 2009).

G. Kapiti, H. Keul, and M. Möller, Mater. Today Commun. 5, 1 (2015).

J. I. Kadokawa, Y. Iwasaki, and H. Tagaya, Macromol. Rapid Commun. 23, 757 (2002).

W. Guerin, M. Helou, M. Slawinski, J.-M. Brusson, J.‑F. Carpentier, and S. M. Guillaume, Polym. Chem. 6, 1972 (2015).

P. Molina, A. Arques, M. V. Vinader, J. Becher, and K. Brondum, J. Org. Chem. 53, 4654 (1988).

M. Rogošić, H. J. Mencer, Z. Gomzi, Eur. Polym. J. 32, 1337 (1996).

O. Hernández-Meléndez, J. Peydecastaing, E. Bárzana, C. Vaca-Garcia, M. Hernández-Luna, and M. Borredon, Bioresour. Technol. 100, 737 (2009).

R. Abdul-Karim, A. Hameed, and M. I. Malik, RSC Adv. 7, 11786 (2017).

S. Pinchas and D. Ben-Ishai, J. Am. Chem. Soc. 79, 4099 (1957).

G. Rabilloud, High-performance Polymers: Conductive Adhesives (Editions TECHNIP, Paris, 1997).

L. G. P. Moraes, R. S. F. Rocha, L. M. Menegazzo, E. B. D. Araújo, K. Yukimito, and J. C. S. Moraes, J. Appl. Oral Sci. 16, 145 (2008).

Photochemical Processes in Polymer Chemistry-2: Invited Lectures Presented at the Second IUPAC Symposium on Photochemical Processes in Polymer Chemistry, Leuven, Belgium, 2-4 June, 1976, Ed. by G. Smets (Elsevier, 2013).

R. Hecht, R. Dinwiddie, and H. Wang, J. Mater. Sci. 34, 4775 (1999).

S. Chand, G. S. Bhat, J. E. Spruiell, and S. Malkan, Int. Nonwovens J. 11 (3), 12 (2002). https: doi.org/ 10.1177/1558925002OS-01100305
About this article
Cite this article
Baseer, R.A., Ewies, E.F., El-Hussieny, M. et al. Azidopyrazole as Initiator for Ethylene Carbonate Ring Opening Polymerization. Polym. Sci. Ser. B 61, 735–742 (2019). https://doi.org/10.1134/S1560090419060034
Received:

Revised:

Accepted:

Published:

Issue Date:

DOI: https://doi.org/10.1134/S1560090419060034