Abstract—
A thyristor switch for powering the quadrupole lenses in the Booster–Nuclotron transport channel has been developed. Data on a switching current with an amplitude of up to 500 A are presented. The time stability of the switch is studied using a prototype. The data allow us to conclude that the thyristor switch is a universal device that can be used in other pulsed power supplies of magnetic lenses in accelerators.
Access options
Buy single article
Instant access to the full article PDF.
USD 39.95
Price includes VAT (USA)
Tax calculation will be finalised during checkout.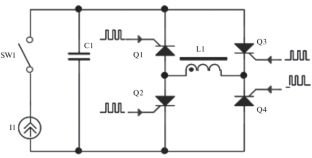 REFERENCES
1

A. V. Butenko, V. I. Volkov, S. Yu. Kolesnikov, I. N. Meshkov, V. A. Mikhaylov, S. V. Rabtsun, A. O. Sidorin, A. I. Sidorov, N. D. Topilin, G. V. Trubnikov, A. V. Tuzikov, A. A. Fateev, and V. S. Shvetsov, Phys. Part. Nucl. Lett. 13, 966 (2016).

2

V. V. Rashchenko, Instrum. Exp. Tech. 55, 49 (2012).

3

I. E. Valyka and Yu. F. Tokarev, in Proceedings of the 14th Workshop on Accelerators of Charged Particles, October 25–27, 1994, Protvino, Russia, p. 114.
Additional information
Translated by I. Obrezanova
About this article
Cite this article
Vinnik, D.S., Krylov, A.A., Morsin, A.A. et al. Thyristor Switch of Quadrupole-Lens Power Supply in the Booster–Nuclotron Transport Channel at the NICA Facility. Phys. Part. Nuclei Lett. 18, 570–573 (2021). https://doi.org/10.1134/S1547477121050113
Received:

Revised:

Accepted:

Published:

Issue Date: