Abstract
The article discusses the effects of resource wealth on the economic development of individual countries. It describes modern behavioural strategies used by mining companies, including those taken in response to the emergence of new technologies. It contains an analysis of the main lines of development in the natural resources sector under current conditions. It also discusses opportunities for collaboration between companies operating in the natural resources sectors of Russia and the UK, focusing on those based on digitalization as well as the use of technological and financial innovations.
This is a preview of subscription content, log in to check access.
Access options
Buy single article
Instant access to the full article PDF.
US$ 39.95
Tax calculation will be finalised during checkout.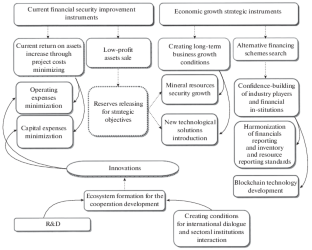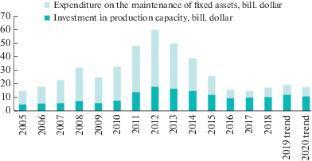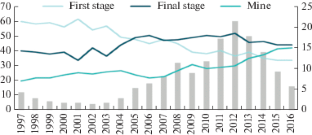 Notes
1.

2.

3.

4.

5.

6.

Dprom.online, a website for primary sector representatives, 2018. URL: https://dprom.online/2018/06/20/sovremennye-vyzovy-gornodobyvayushhej-otrasli-i-puti-ih-preodoleniya/ Accessed: 20.12.2018
REFERENCES
1

S. V. Doroshenko and A. G. Shelomentsev, "Commodity sector, development factor or deceleration of the national economy," Sovrem. Tekhnol. Upr., No. 3 (2015). https://sovman.ru/article/5106.

2

D. Lederman and W. F. Maloney, In Search of the Missing Resource Curse (World Bank, 2008).

3

P. Collier, Natural Resources, Development and Conflict: Channels of Causation and Policy Interventions (World Bank, 2003). https://www.worldbank.org. Accessed December 20, 2018.

4

V. Polterovich, V. Popov, and A. Tonis, Economic Policy, the Quality of Institutions, and the Mechanisms of the Resource Curse (Vyssh. Shk. Ekon., Moscow, 2007) [in Russian].

5

J. Hartigan, "The US Tariff and comparative advantage: A survey of method," Weltwirtschaftliches Arch. 117 (1), 61–109 (1981).

6

N. I. Nikolaeva and V. V. Narezhny, "Objects of intellectual property as intangible assets and their value for the company," Kommersant (2018). https://www.kommersant.ru/doc/3752870. Accessed December 17, 2018.

7

A. Y. Chalenko, "A new look at Leontief's paradox," Nats. Kapital. https://www.kapital-rus.ru/articles/article/176920. Accessed December 21, 2018.

8

P. Kaznacheev, Natural Rent and Economic Growth. Economic and Institutional Development in Countries with a High Share of Income from Export of Raw Materials. Analysis and Recommendations Based on International Experience (RANEPA, Moscow, 2013). http://ion.ranepa.ru/.

9

G. Ahonen, Generative and Commercially Exploitable Intangible Assets, Classification of Intangibles (Groupe HEC, Jouy-en-Josas, 2000), pp. 206–213.

10

R. S. Kaplan and D. P. Norton, Strategy Maps—Converting Intangible Assets into Tangible Outcomes (Harvard Business School Press, Boston, MA, 2004).

11

D. L. Volkov and T. A. Garanina, "Intangible assets: Problems of composition and evaluation," Vestn. S.-Peterb. Univ., Ser. Menedzh. 1, 82–105 (2007).

12

B. Lev, Intangible Assets: Management, Measurement, and Reporting (Quinto-Consulting, Moscow, 2003) [in Russian].

13

PwC, Mining Survey 2018. Time of Temptation. https://www.pwc.ru/ru/mining-and-metals/assets/ mine-2018-rus.pdf.

14

PwC, Mining Industry 2016. Review of Global Trends in the Mining Industry (2016). https://www.pwc.ru/ ru/mining-and-metals.

15

Barclays European Metals & Mining Report, March 2017: Barclays PLC. https://www.barclayscorporate.com/sector-expertise/natural-resources/mining-and-metals.html.

16

S&P Global Market Intelligence: S&P, 2018. https://www.spglobal.com/marketintelligence/en/client-segments/investment-management. Accessed December 13, 2018.

17

Ernst & Young, EY European Investment Monitor (EIM) 2017 (2018). https://www.ey.com/ru/ru/newsroom. Accessed December 15, 2018.

18

Ernst & Young, Top 10 Business Risks Facing Mining and Metals 2017–2018 (2017). https://www. ey.com/Publication/vwLUAssets/EY-Business-risks-in-mining-and-metals-2017-2018/%24File/EY-Business-risks-in-mining-and-metals-2017-2018.pdf.

19

M. E. Morozova and V. V. Shmat, "Resources against innovation. On the limited impact of the resource multiplier from the point of view of the development of innovations," EKO, No. 7, 124–145 (2017).

20

Deloitte, Tracking the Trends 2018. The Top 10 Issues Shaping Mining in the Year Ahead (2018). https:// www2.deloitte.com/content/dam/Deloitte/ru/Documents/energy-resources/TTT2018_Jan_18.pdf.

21

ESG IT Transformation Maturity Curve, 2018 Dell Technologies. https://www.delltechnologies.com/en-us/ perspectives/esg-it-transformation-maturity-curve-report/. Accessed December 15, 2018.
ACKNOWLEDGMENTS
The authors are grateful to Dmitry Kuvalin for valuable comments made during the preparation of this article.
About this article
Cite this article
Litvinenko, V.S., Sergeev, I.B. Innovations as a Factor in the Development of the Natural Resources Sector. Stud. Russ. Econ. Dev. 30, 637–645 (2019). https://doi.org/10.1134/S107570071906011X
Received:

Revised:

Accepted:

Published:

Issue Date: