Abstract
Immobilization of Mo(VI) ions on magnetic nanoparticles has been performed using surface modification of Fe3O4 with 2-hydroxy-5-(2-nitrophenyldiazenyl)benzaldehyde (HNPABA). The new nanomagnetic-supported organocatalyst (Fe3O4@SiO2−HNPABA−Mo(VI)) has been applied in epoxidation of olefins with tert-butyl hydroperoxide. The results indicate that Fe3O4@SiO2−HNPABA−Mo(VI) magnetic nanoparticles demonstrate excellent activity and high stability. The effect of several parameters such as a solvent, catalyst, oxidant content, and temperature has been studied. In addition, the catalyst could be repeatedly applied up to five times without loss of activity in epoxidation of alkenes.
Access options
Buy single article
Instant access to the full article PDF.
USD 39.95
Price includes VAT (USA)
Tax calculation will be finalised during checkout.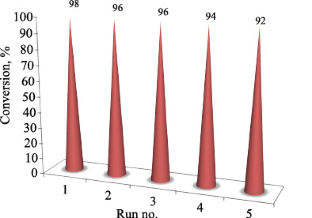 ACKNOWLEDGMENTS
We are sincerely grateful to the Khorramabad Branch, Islamic Azad University for support of this work.
Ethics declarations
No conflict of interest was declared by the authors.
About this article
Cite this article
Menati, S., Mohseni, E., Gorjizadeh, M. et al. Synthesis of Molybdenum Chelate-Bonded Fe3O4 Nanoparticles and Their Efficient Catalytic Activity in Epoxidation of Alkenes. Russ J Gen Chem 91, 1789–1793 (2021). https://doi.org/10.1134/S1070363221090267
Received:

Revised:

Accepted:

Published:

Issue Date:
Keywords:
alkenes

epoxides

magnetic nanocatalyst

immobilization

molybdenyl acetylacetonate