Abstract
We demonstrate the possibility of generating a periodic sequence of ultrashort electromagnetic microwave pulses in a scheme with two parallel coaxial electron beams formed by a common cathode and transported via common vacuum channel. The external cylindrical tubular beam ensures the amplification of radiation during rectilinear propagation along periodic slow-wave system, while the internal (paraxial) beam accounts for the nonlinear cyclotron-resonance absorption.
Access options
Buy single article
Instant access to the full article PDF.
USD 39.95
Price includes VAT (USA)
Tax calculation will be finalised during checkout.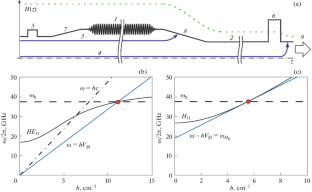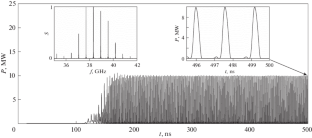 REFERENCES
1

P. G. Kryukov, Quantum Electron. 31, 95 (2001).

2

N. S. Ginzburg, G. G. Denisov, M. N. Vilkov, I. V. Zotova, and A. S. Sergeev, Tech. Phys. Lett. 41, 836 (2015).

3

N. S. Ginzburg, G. G. Denisov, M. N. Vilkov, A. S. Sergeev, S. V. Samsonov, A. M. Malkin, and I. V. Zotova, Phys. Rev. Appl. 13, 044033 (2020). https://doi.org/10.1103/PhysRevApplied.13.044033

4

N. I. Zaitsev, E. V. Ilyakov, G. S. Korablev, I. S. Kulagin, V. K. Lygin, B. Z. Movshevich, V. I. Tsalolikhin, and M. Yu. Shmelev, Prib. Tekh. Eksp., No. 3, 138 (1995).

5

E. B. Abubakirov, A. N. Denisenko, M. I. Fuks, N. G. Kolganov, N. F. Kovalev, M. I. Petelin, A. V. Savelyev, E. Schamiloglu, E. I. Soluyanov, and V. V. Yastrebov, IEEE Trans. Plasma Sci. 30, 1041 (2002). https://doi.org/10.1109/TPS.2002.801601

6

G. S. Nusinovich, in Introduction to the Physics of Gyrotrons (J. Hopkins Univ. Press, Baltimore, 2004), p. 335.

7

Yu. Yu. Danilov, Tech. Phys. 59, 1088 (2014).

8

V. L. Bratman, V. P. Gubanov, G. G. Denisov, S. D. Korovin, S. D. Polevin, V. V. Rostov, and A. V. Smorgonskii, Sov. Tech. Phys. Lett. 14, 4 (1988).

9

T. Idehara, M. Glyavin, A. Kuleshov, S. Sabchevski, V. Manuilov, V. Zaslavsky, I. Zotova, and A. Sedov, Rev. Sci. Instrum. 88, 094708 (2017). https://doi.org/10.1063/1.4997994
Funding
This work was performed in the framework of the Russian  Foundation for Basic Research Program (project no. 20-08-00308А) and also supported in part by a Program of State Assignments (project no. 0035-2019-0001).
Ethics declarations
The authors declare that they have no conflict of interest.
About this article
Cite this article
Ginzburg, N.S., Vilkov, M.N., Danilov, Y.Y. et al. Generation of a Periodic Sequence of Ultrashort Electromagnetic Pulses in a Scheme with Two Parallel Radiating and Absorbing Electron Beams. Tech. Phys. Lett. 47, 184–188 (2021). https://doi.org/10.1134/S106378502102022X
Received:

Revised:

Accepted:

Published:

Issue Date:
Keywords:
generation of ultrashort pulses

saturable cyclotron-resonance absorber

multibeam generators.