Abstract
The density functional theory has been used to optimize the geometry and study the optical absorbance (molar extinction) spectra of molecular clusters based on C32H24 and C32H36 diamondene–graphene hybrid fragments with dangling bonds compensated by the attachment of hydrogen. Calculated spectra were compared to the results of astrophysical observations. It is established that hybrid molecular clusters can contribute to formation of the well-known light extinction spectrum of the interstellar medium.
Access options
Buy single article
Instant access to the full article PDF.
USD 39.95
Price includes VAT (USA)
Tax calculation will be finalised during checkout.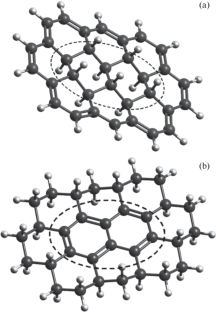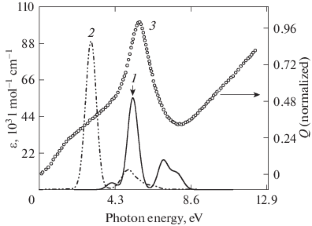 REFERENCES
1

M. S. Chekulaev and S. G. Yastrebov, Tech. Phys. Lett. 45, 414 (2019).

2

T. R. Geballe, ASP Conf. Ser. 122, 119 (1997).

3

I. C. Lyon, Meteorit. Planet. Sci. 40, 981 (2005).

4

H.-T. Huang, L. Zhu, M. D. Ward, T. Wang, B. Chen, B. L. Chaloux, Q. Wang, A. Biswas, J. L. Gray, B. Kuei, G. D. Cody, A. Epshteyn, V. H. Crespi, J. V. Badding, and T. A. Strobel, J. Am. Chem. Soc. 142, 17944 (2020). https://doi.org/10.1021/jacs.9b12352

5

Avogadro: An Open-Source Molecular Builder and Visualization Tool, Version 1.2.0. http://avogadro.cc/.

6

M. D. Hanwell, D. E. Curtis, D. C. Lonie, T. Vandermeersch, E. Zurek, and G. R. Hutchison, J. Cheminform. 4, 17 (2012).

7

M. J. Frisch, G. W. Trucks, H. B. Schlegel, G. E. Scuseria, M. A. Robb, J. R. Cheeseman, G. Scalmani, V. Barone, G. A. Petersson, H. Nakatsuji, X. Li, M. Caricato, A. Marenich, J. Bloino, B. G. Janesko, et al., Gaussian 09, Revision D.01 (Gaussian Inc., Wallingford CT, 2013).

8

H. B. Schlegel, J. Comp. Chem. 3, 214 (1982). https://doi.org/10.1002/jcc.540030212

9

X. Li and M. J. Frisch, J. Chem. Theory Comput. 2, 835 (2006). https://doi.org/10.1021/ct050275a

10

N. B. Hasan, Adv. Phys. Theor. Appl. 24, 83 (2013).

11

E. L. Fitzpatrick and D. L. Massa, Astrophys. J. Suppl. 72, 163 (1990).
Ethics declarations
The authors declare that they have no conflict of interest.
About this article
Cite this article
Chekulaev, M.S., Yastrebov, S.G. Optical Absorption of C32H24 and C32H36 Hybrid Molecular Clusters Based on Diamondene–Graphene Fragments. Tech. Phys. Lett. 47, 174–176 (2021). https://doi.org/10.1134/S1063785021020218
Received:

Revised:

Accepted:

Published:

Issue Date:
Keywords:
graphene

diamondene

polycyclic aromatic hydrocarbons.