Abstract
We present the results of quantum-chemical simulation of two types of molecular complexes of glycine with phosphine oxide H3PO, interacting through a proton or a Ca2+ cation. The formation of the glycine–Ca2+–phosphine oxide complex is energetically more favorable than the formation of a complex with a hydrogen bond. The results present hope that free amino acids can be used to decrease the concentration of calcium cations in regions damaged by calcifications.
Access options
Buy single article
Instant access to the full article PDF.
US$ 39.95
Tax calculation will be finalised during checkout.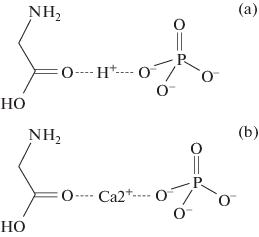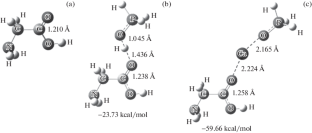 REFERENCES
1

E. Carafoli, Proc. Natl. Acad. Sci. U. S. A. 99, 1115 (2002).

2

G. D. Miller, J. K. Jarvis, and L. D. McBean, J. Am. Coll. Nutr. 360, 168S (2001).

3

Y. Zhou, S. Xue, and J. J. Yang, Metallomics 5, 29 (2013).

4

X. Pang, L. Lin, and B. Tang, Sci. Rep. 7, 46042 (2017).

5

N. Tang and L. H. Skibsted, J. Agric. Food Chem. 64, 4376 (2016).

6

S. G. Yastrebov, N. I. Gulyaev, A. S. Galenko, M. Prus, and A. V. Siklitskaya, Tech. Phys. Lett. 45, 167 (2019).

7

Clinical Methods: The History, Physical, and Laboratory Examinations, Ed. by H. K. Walker, W. D. Hall, and J. W. Hurst (Butterworths, Boston, 1990), Ch. 198.

8

K. Gelse, E. Pöschl, and T. Aigner, Adv. Drug Deliv. Rev. 55, 1531 (2003).
Ethics declarations
The authors declare that they have no conflict of interest.
About this article
Cite this article
Tupikina, E.Y., Yastrebov, S.G. Molecular Complexes of Glycine with Cations H+, Ca2+, and Phosphine Oxide H3PO. Tech. Phys. Lett. 47, 147–149 (2021). https://doi.org/10.1134/S1063785021020140
Received:

Revised:

Accepted:

Published:

Issue Date:
Keywords:
amino acids

glycine

complexation

calcifications

noncovalent interactions

hydrogen bond.