Abstract
We report on the results of investigations of the optical and magnetooptical properties of DyxCo1 – x/Bi/Py (Py is permalloy) trilayers. The temperature dependence of the magnetization has been examined using the magnetooptical Kerr effect and the optical refractive and absorption indices have been measured by spectral ellipsometry. It is shown that the thickness of the bismuth spacer affects the exchange coupling between the permalloy and DyCo layers, which manifests itself in the change in the magnetization compensation temperature and in the character of the exchange coupling.
Access options
Buy single article
Instant access to the full article PDF.
USD 39.95
Price includes VAT (USA)
Tax calculation will be finalised during checkout.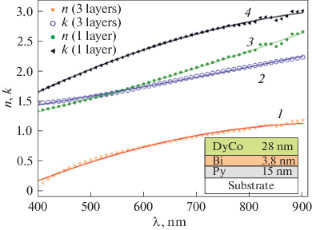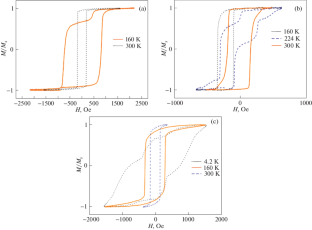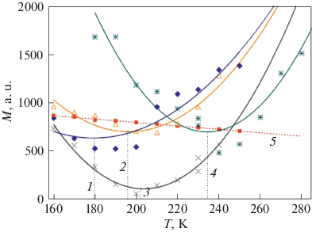 REFERENCES
1

Novel Magnetic Nanostructures: Unique Properties and Applications, Ed. by N. Domracheva, M. Caporali, and E. Rentschler (Elsevier, Amsterdam, 2018).

2

A. A. Unal, S. Valencia, F. Radu, D. Marchenko, K. J. Merazzo, M. Vázquez, and J. Sánchez-Barriga, Phys. Rev. Appl. 5, 064007 (2016).

3

A. Donges, S. Khmelevskyi, R.-M. Deak, D. Abrudan, I. Schmitz, F. Radu, L. Szunyogh, and U. Nowak, Phys. Rev. B 96, 024412 (2017).

4

M. Labrune and M. Carbucicchio, J. Magn. Magn. Mater. 269, 203 (2004).

5

D. Wang, C. G. Morrison, A. R. Buckingham, G. J. Bowden, R. C. C. Ward, and P. A. J. de Groot, J. Magn. Magn. Mater. 321, 586 (2009).

6

B. P. Zakharchenya and V. L. Korenev, Phys. Usp. 48, 603 (2005).

7

V. M. Denisov, N. V. Belousova, and G. K. Moiseev, Bismuth-Containing Materials: Structure and Physical and Chemical Properties (Inst. Metall. UrO RAN, Ekaterinburg, 2000) [in Russian].

8

V. A. Shvets, E. V. Spesivtsev, and S. V. Rykhlitskii, Opt. Spectrosc. 97, 483 (2004).

9

H. Fujiwara, Spectroscopic Ellipsometry: Principles and Application (Wiley, Chichester, 2007).

10

D. E. Aspnes, J. B. Theeten, and F. Hottier, Phys. Rev. B 20, 3292 (1979).

11

G. S. Patrin, V. Yu. Yakovchuk, S. A. Yarikov, Ya. G. Shiyan, and V. P. Furdyk, Tech. Phys. Lett. 45, 507 (2019).

12

S. D. Bader, J. Magn. Magn. Mater. 100, 440 (1991).

13

R. Moreno, S. Khmelevskyi, and O. Chubykalo-Fesenko, Phys. Rev. B 99, 184401 (2019).

14

S. V. Grigoriev, E. V. Moskvin, V. A. Dyadkin, D. Lamago, T. Wolf, H. Eckerlebe, and S. V. Maleyev, Phys. Rev. B 83, 224411 (2011).
Funding
This study was supported by the Russian Foundation for Basic Research, project no. 18-02-00161-a.
Ethics declarations
The authors declare that they have no conflict of interest.
Additional information
Translated by E. Bondareva
About this article
Cite this article
Kosyrev, N.N., Yakovchuk, V.Y., Patrin, G.S. et al. Optical and Magnetic Properties of the DyxCo1 – x/Bi/Py Trilayers. Tech. Phys. Lett. 47, 107–110 (2021). https://doi.org/10.1134/S1063785021020097
Received:

Revised:

Accepted:

Published:

Issue Date:
Keywords:
exchange coupling

magnetic springs

ellipsometry

magnetooptical Kerr effect.