Abstract
Using a silicon photodiode, we have performed measurements of the power emitted by a vacuum arc in the UV and visible spectral ranges. Measurements have been carried out upon stabilizing the arc by an axial magnetic field in high-current modes with developed anodic activity. The power of radiation emerging from the arc through the side surface is measured. The results obtained show that, when analyzing the energy balance of a high-current vacuum arc, the radiation must be taken into account.
Access options
Buy single article
Instant access to the full article PDF.
US$ 39.95
Tax calculation will be finalised during checkout.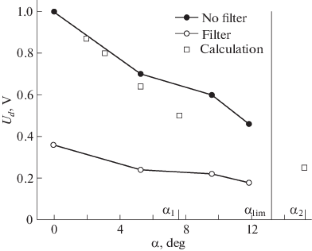 REFERENCES
1

A. M. Chaly, IEEE Trans. Plasma Sci. 33, 1497 (2005).

2

A. A. Logachev, I. N. Poluyanova, and S. V. Klochko, IEEE Trans. Plasma Sci. 47, 3572 (2019).

3

A. A. Logachev, I. N. Poluyanova, K. K. Zabello, Yu. A. Barinov, and S. M. Shkol'nik, IEEE Trans. Plasma Sci. 47, 3516 (2019).

4

L. J. Wang, X. Zhang, X. L. Huang, and S. L. Jia, Phys. Plasmas 24, 113511 (2017).

5

J. E. Daalder, J. Phys. D: Appl. Phys. 10, 2225 (1977).
Ethics declarations
The authors declare that they have no conflict of interest.
About this article
Cite this article
Barinov, Y.A., Zabello, K.K., Logachev, A.A. et al. Radiation Power of a High-Current Vacuum Arc Stabilized by an Axial Magnetic Field in the Visible and UV Ranges of the Spectrum. Tech. Phys. Lett. 47, 118–121 (2021). https://doi.org/10.1134/S1063785021020024
Received:

Revised:

Accepted:

Published:

Issue Date:
Keywords:
vacuum arc

axial magnetic field

radiation power.