Abstract
The effect of thermal cycling and sintering temperature on the chemical and thermodynamic stability of the bulk multiferroic xLa0.7Pb0.3MnO3–(1 – x)PbTiO3 quasi-ceramic and ceramic composites has been experimentally investigated. It is shown that the limiting temperature of the long-term sample firing should not exceed 1070 K. It has been found that sintering at this temperature and/or short-term exposure of the samples at higher temperatures (up to 1220 K) significantly increase the sample compactness, stabilize the thermal expansion, and enhance the quality of the composites. It has been established that the component grain integrity is violated by shrinkage of the samples and a sharp change in their volume during the phase transition of a ferroelectric component.
This is a preview of subscription content, log in to check access.
Access options
Buy single article
Instant access to the full article PDF.
US$ 39.95
Price includes VAT for USA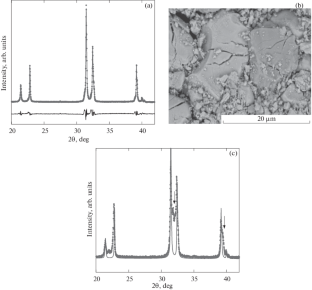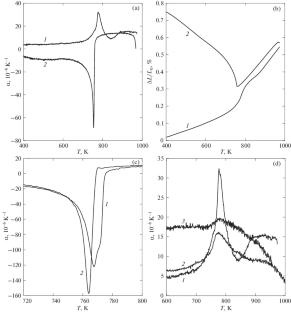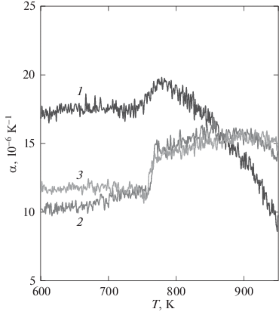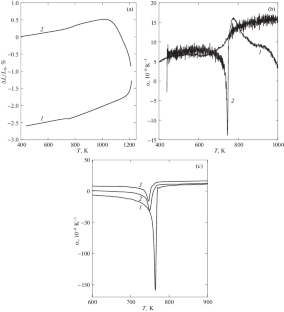 REFERENCES
1

H. Schmid, Ferroelectrics 162, 317 (1994).

2

C.-W. Nan, L. Liu, N. Cai, J. Zhai, Y. Ye, Y. H. Lin, L. J. Dong, and C. X. Xiong, Appl. Phys. Lett. 81, 3831 (2002).

3

S. A. Gridnev, Yu. E. Kalinin, A. V. Kalgin, and E. S. Grigor'ev, Phys. Solid State 57, 1372 (2015).

4

W. Eerenstein, N. D. Mathur, and J. F. Scott, Nature (London, U.K.) 442, 759 (2006).

5

K. Zvezdin and A. P. Pyatakov, Phys. Usp. 47, 416 (2004).

6

M. I. Bichurin and V. M. Petrov, Low Temp. Phys. 36, 544 (2010).

7

H. S. Bhattia, S. T. Hussaina, F. A. Khanb, and Sh. Hussain, Appl. Surf. Sci. 367, 291 (2016).

8

J. F. Scott and R. Blinc, J. Phys.: Condens. Matter 23, 113202 (2011).

9

N. Aparnadevi, K. S. Kumar, M. Manikandan, P. Joseph, and C. Venkateswaran, J. Appl. Phys. 120, 034101 (2016).

10

A. V. Kalgin, S. A. Gridnev, and A. A. Amirov, Phys. Solid State 60, 1239 (2018).

11

M. M. Vopson, Solid State Commun. 152, 2067 (2012).

12

I. N. Flerov, Izv. SPb. Univ. Nizkotemp. Pishchev. Tekhnol., No. 1, 41 (2008).

13

E. Mikhaleva, I. Flerov, A. Kartashev, M. Gorev, A. Cherepakhin, K. Sablina, N. Mikhashenok, N. Vol-kov, and A. Shabanov, J. Mater. Res. 28, 3322 (2013).

14

E. Mikhaleva, I. Flerov, M. Gorev, M. Molokeev, A. Cherepakhin, A. Kartashev, N. Mikhashenok, and K. Sablina, Phys. Solid State 54, 1832 (2012).

15

A. V. Kartashev, E. A. Mikhaleva, M. V. Gorev, E. V. Bog-danov, A. V. Cherepakhin, K. A. Sablina, N. V. Mi-khashonok, I. N. Flerov, and N. V. Volkov, J. Appl. Phys. 113, 073901 (2013).
ACKNOWLEDGMENTS
This study was supported by the Russian Foundation for Basic Research, the Government of the Krasnoyarsk Territory, and the Krasnoyarsk Territorial Foundation for Support of the Scientific and R&D Activity, project no. 17-42-240076 "Complex Approach to Searching and Development of Promising Solid-State Ferroic Cooling Agents Based on the Single- and Multicaloric Effects."
The authors thank M.S. Molokeev for structural characterization of the composites.
Additional information
Translated by E. Bondareva
About this article
Cite this article
Mikhaleva, E.A., Flerov, I.N., Gorev, M.V. et al. Effect of Sequential Heat Impacts on the Formation of a Stable State of the xLPM–(1 – x)PT Multiferroic Composites. Phys. Solid State 60, 2524–2531 (2018). https://doi.org/10.1134/S1063783419010189
Received:

Published:

Issue Date: