Abstract
Pyridoxal 5′-phosphate (PLP)-dependent transaminases catalyze the stereospecific amino-group transfer from an amino acid or amine to ketone or keto acid. Transaminases are involved in amino acid metabolism in all organisms. Enzymes of this superfamily are widely used to develop biocatalysts for the stereoselective amination of organic compounds for fine organic synthesis. The brief biochemical characterization of thermostable fold type I PLP-dependent transaminase from the thermophilic archaeon Methanocaldococcus jannaschii DSM 2661 is reported. The crystal structure of this enzyme was determined at 1.8 Å resolution. The structure of the functional dimer of the enzyme and the organization of its active site are compared with those of the close homologs.
This is a preview of subscription content,
to check access.
Access this article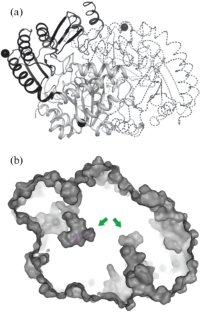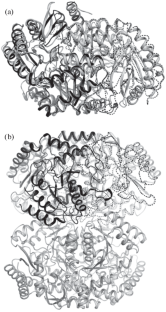 Similar content being viewed by others
Funding
The study was supported by the Russian Science Foundation (project no. 19-14-00164 supporting the protein expression and isolation), the Russian Federal Space Agency (project of Space experiments (target works) "Kristallizator" supporting the protein crystallization and X-ray diffraction data collection), and the Ministry of Science and Higher Education of the Russian Federation (the structure refinement and analysis of the three-dimensional structure).
Additional information
Translated by T. Safonova
About this article
Cite this article
Boyko, K.M., Nikolaeva, A.Y., Bakunova, A.K. et al. Three-Dimensional Structure of Thermostable D-Amino Acid Transaminase from the Archaeon Methanocaldococcus jannaschii DSM 2661. Crystallogr. Rep. 66, 802–807 (2021). https://doi.org/10.1134/S1063774521050035
Received:

Revised:

Accepted:

Published:

Issue Date:

DOI: https://doi.org/10.1134/S1063774521050035