Abstract
The positions of the substrates (ATP and ribose 5 phosphate) of phosphoribosylpyrophosphate synthetase from Thermus thermophilus were determined by molecular dynamics simulations. The simulation brought the system to an equilibrium state, with the binding poses of the ligands in the active site being stable. Based on the results of simulation of the complex, the environment of the substrates was analyzed and the amino-acid residues of the enzyme that form polar interactions with the substrates were identified. Candidate sites for mutagenesis, which can be mutated in order to broaden the substrate specificity toward ribose 5-phosphate, are proposed.
This is a preview of subscription content, log in to check access.
Access options
Buy single article
Instant access to the full article PDF.
US$ 39.95
Tax calculation will be finalised during checkout.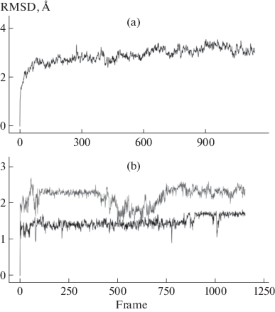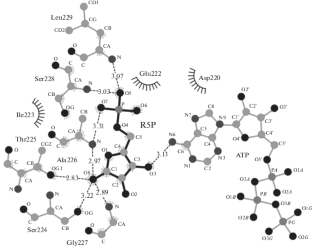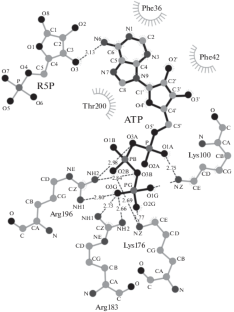 REFERENCES
1

H. G. Khorana, J. F. Fernandes, and A. Kornberg, J. Biol. Chem. 230, 941 (1958).

2

R. L. Switzer, J. Biol. Chem. 244, 2854 (1969).

3

M. A. Becker, K. O. Raivio, B. Bakay, et al., J. Clin. Invest. 65, 109 (1980).

4

B. Hove-Jensen and P. Nygaard, Eur. J. Biochem. 126, 327 (1982).

5

B. Hove-Jensen, Mol. Microbiol. 3, 1487 (1983).

6

B. Hove-Jensen, J. Bacteriol. 170, 1148 (1988).

7

T. A. Eriksen, A. Kadziola, A. K. Bentsen, et al., Nat. Struct. Biol. 7, 303 (2000).

8

A. I. Mikhailopulo and A. I. Miroshnikov, Acta Nature 10, 36 (2010).

9

M. M. Cherney, L. T. Cherney, C. R. Garen, et al., J. Mol. Biol. 413, 844 (2011).

10

V. I. Timofeev, E. V. Sinitsyna, M. A. Kostromina, et al., Acta Crystallogr. F 73, 369 (2017).

11

P. Emsley, B. Lohkamp, W. G. Scottc, et al., Acta Crystallogr. D 66, 486 (2010).

12

J. Huang, S. Rauscher, G. Nawrocki, et al., Nat. Methods 14, 71 (2016).

13

B. Hess, C. Kutzner, D. van der Spoel, et al., Chem. Theory Comput. 4, 435 (2008).

14

S. Jo, T. Kim, V. G. Iyer, et al., J. Comput. Chem. 29, 1859 (2008).
Additional information
Translated by T. Safonova
About this article
Cite this article
Podshivalov, D.D., Sidorov-Biryukov, D.D., Timofeev, V.I. et al. Modeling of Phosphoribosylpyrophosphate Synthetase from Thermus Thermophilus in Complex with ATP and Ribose 5-Phosphate. Crystallogr. Rep. 64, 94–97 (2019). https://doi.org/10.1134/S1063774519010206
Received:

Revised:

Accepted:

Published:

Issue Date: