Abstract
A new genus and new species of semnoderid kinorhynchs, Parasemnoderes intermedius gen. nov., sp. nov. collected from the abyssal plane at the south border of the Kuril-Kamchatka Trench at the depth 5348 m is described and illustrated using light and electron microscopy. This new representative of the family Semnoderidae is characterized by the structure of the first trunk segment consisting of externally closed cuticular ring with indistinct intracuticular tergosternal junctions. Cuticular ring of the first trunk segment is with deep and narrow middorsal incision and much broader midventral incision filled by midventral placid. Lateroventral spines aciculate, on trunk segments 3–9. Lateroventral accessory spines are minute, only on trunk segment 5. Laterodorsal spines on trunk segment 10. Parasemnoderes intermedius gen. nov, sp. nov. constitutes the third genus the Semnoderidae described so far (Semnoderes and Sphenoderes) and the first species of this family described from the abyssal depth. The total species number of the family Semnoderidae has been increased up to 6. A key to the species of the family Semnoderidae is proposed.
Access options
Buy single article
Instant access to the full article PDF.
US$ 39.95
Tax calculation will be finalised during checkout.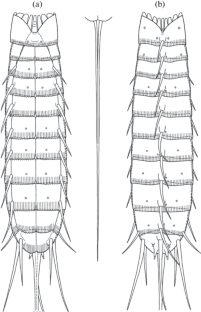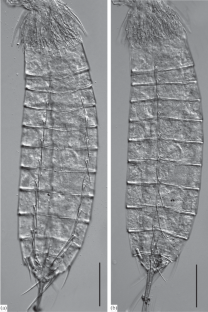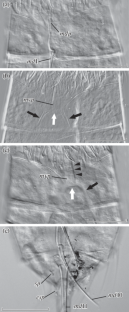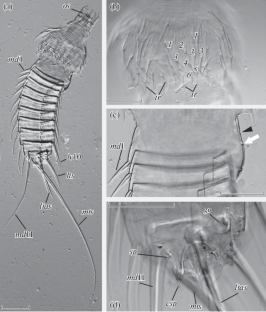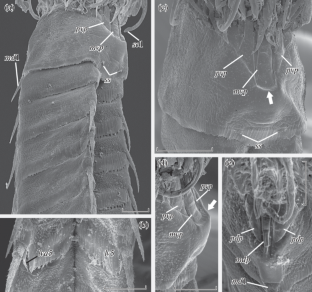 REFERENCES
1

Adrianov, A.V. and Maiorova, A.S., Pycnophyes abyssorum sp. n. (Kinorhyncha: Homalorhagida), the deepest kinorhynch species described so far, Deep-Sea Res., Part II, 2015, vol. 111, pp. 49–59.

2

Adrianov, A.V. and Maiorova, A.S., Condyloderes kurilensis sp. nov. (Kinorhyncha: Cyclorhagida) – a new deep water species from the abyssal plain near the Kuril-Kamchatka Trench, Russ. J. Mar. Biol., 2016, vol. 42, no. 1, pp. 11–19.

3

Adrianov, A.V. and Malakhov, V.V., Cephalorhyncha of the World Ocean, Moscow: KMK Scientific Press Ltd., 1999.

4

Bacescu, M. and Bacescu, E., Kinorhynchii – reprezentanti ai unei clase de animale, nouã pentru fauna Romineasca, Communicarile Academiei Republicii Populare Romane, 1956, vol. 6, no. 4, pp. 543–549.

5

Higgins, R.P., The Kinorhyncha of New Caledonia, in: Expédition française sur les récifs coralliens de la Nouvelle-Calédonie, Paris: Editions de la Fondation Singer-Polignac, 1967, vol. 2, pp. 75–90.

6

Higgins, R.P., Indian Ocean Kinorhyncha: 1, Condyloderes and Sphenoderes, new cyclorhagid genera, Smithson. Contrib. Zool., 1969, no. 14, pp. 1–13.

7

Higgins, R.P., The Atlantic Barrier Reef ecosystem at Carrie Bow Cay, Belize, II: Kinorhyncha, Smithson. Contrib. Mar. Sci., 1983, vol. 18, pp. 1–131.

8

Neuhaus, B., Kinorhyncha (=Echinodera) (Vol. 1: Nematomorpha, Priapulida, Kinorhyncha, Loricifera), in: Handbook of Zoology, Gastrotricha, Cycloneuralia and Gnathifera, Schmidt-Rhaesa, A., Ed., Berlin: Walter de Gruyter, 2012, pp. 177–343.

9

Sørensen, M.V., Heiner, I., and Hansen, J.G., A comparative morphological study of the kinorhynch genera Antygomonas and Semnoderes (Kinorhyncha: Cyclorhagida), Helgoland Mar. Res., 2009, vol. 63, pp. 129–147.

10

Sørensen, M.V., Rho, H.S., and Kim, D., A new species of the rare genus Sphenoderes (Cyclorhagida, Kinorhyncha), with differential notes on S. indicus Higgins, 1969, Mar. Biol. Res., 2010, vol. 6, pp. 472–484.

11

Zelinka, K., Monographie der Echinodera, Leipzig: Wilhelm Engelmann, 1928.
ACKNOWLEDGMENTS
The arrangement of KURAMBIO cruise to the Kuril-Kamchatka Trench was support by the PTJ (grant 03G0223A). The authors gratefully acknowledge the financial support of the Russian Scientific Foundation (Grant 14-50-00034) for morphology study, and the biogeography and distribution research was supported by the RFBR (project no. 18-04-00973 А).
Additional information
The article is published in the original.
About this article
Cite this article
Adrianov, A.V., Maiorova, A.S. Parasemnoderes intermedius gen. n., sp. n.—the First Abyssal Representative of the Family Semnoderidae (Kinorhyncha: Cyclorhagida). Russ J Mar Biol 44, 355–362 (2018). https://doi.org/10.1134/S1063074018050024
Received:

Published:

Issue Date:
Keywords:
Kuril-Kamchatka Trench

Abyss

meiofauna

kinorhynchs

species description

sensory spots

Condyloderes
Semnoderes