Abstract
Tungstenite of unusual shapes (spheroids, rings, threads, spirals, etc.) was found in scheelite of gold-bearing quartz–carbonate–pyrite–chalcopyrite veins. It is crystallized in the veins in the final part of mineral deposition, after crystallization of sulfides, sulfosalts, and scheelite of several generations against the background of decreasing activity of sulfur. The issue concerning the type of the strong reducing agent of the W6+ → W4+reaction rarely occurring in nature is crucial for the formation of tungstenite. There are no traces of reducing agents, which could be solid or liquid hydrocarbons, in the veins. The unusual shapes of tungstenite aggregates similar to biomorphosеs may be evidence of the existence of microorganisms in the fractured anisotropic medium in scheelite at the boundary of the transition of the quartz part of the vein to the substantially carbonate part. The occurrence of the biomorphоsеs only in scheelite suggests that microorganisms have a W-dependent metabolism, which is observed in extremophiles of the Archaea domain producing a strong reducing agent H2; methanogens producing CH4 coexist in symbiosis with them.
Access options
Buy single article
Instant access to the full article PDF.
USD 39.95
Price includes VAT (USA)
Tax calculation will be finalised during checkout.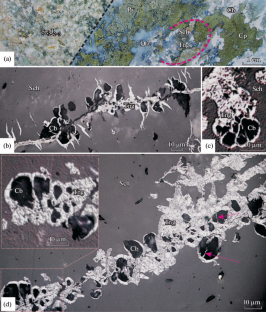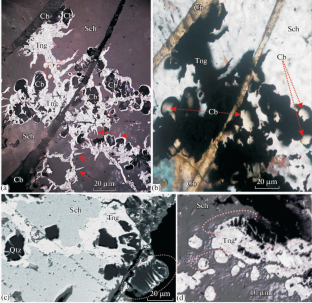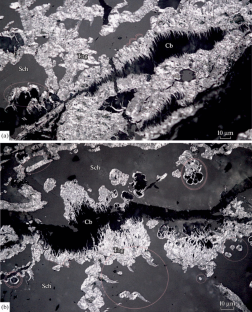 REFERENCES
1

N. S. Bortnikov, V. M. Novikov, N. M. Boeva, A. P. Zhuklistov, T. S. Gendler, E. A. Zhegallo, and S. V. Soboleva, Dokl. Earth Sci. 466 (1), 157–161 (2016).

2

I. Ya. Nekrasov and A. A. Konyushok, Mineral. Zh., No. 1, 33–40 (1982).

3

M. A. Fedonkin, Paleontol. J. 37 (6), 592–600 (2003).

4

M. T. Einaudi, J. W. Hedenquist, and E. Inan, in SEG and GS Special Publication (2003), Vol. 10, pp. 285–313.

5

A. Kletzin and M. W. Adams, Microbiol. Rev. 18 (1), 5–63 (1996).

6

B. Morris, R. Henneberger, H. Huber, and Ch. Moissl-Eichinger, Microbiology 37 (3), 384–406 (2013).

7

S. Mukund and M. W. Adams, J. Biol. Chem. 266 (22), 14208–14216 (1991).

8

M. J. Russell, A. J. Hall, A. J. Boyce, and A. E. Fallick, Econ. Geol. 100 (3), 438 (2005).

9

G. Southam and J. A. Saunders, Econ. Geol. 100 (6), 1067–1084 (2005).
Funding
This work was supported by the Russian Foundation for Basic Research, project no. 19-05-00476.
Additional information
Translated by V. Krutikova
About this article
Cite this article
Kiseleva, G.D., Yazykova, Y.I., Trubkin, N.V. et al. The Nature of Tungstenite of the Bystrinskoe Porphyry-Skarn Au–Fe–Cu Deposit (Eastern Transbaikalia, Russia). Dokl. Earth Sc. 500, 728–733 (2021). https://doi.org/10.1134/S1028334X21090129
Received:

Revised:

Accepted:

Published:

Issue Date:
Keywords:
tungstenite

biomorphoses

reducing agents

microorganisms of the Archaea domain