Abstract
In the context of models of mantle circulation beneath the continent, coupled with the subduction of the oceanic lithosphere, a direct link between the kinematics of plate tectonics in the Northwest Pacific Ocean and geodynamic evolution of the Arctic and northeastern Asia in the upper Cretaceous and Cenozoic is revealed. A simple geodynamic explanation is given for the emergence and subsequent termination of Cenozoic shear deformations in the Khatanga–Lomonosov fault zone, which is an important argument favoring the idea of the Lomonosov Ridge as a natural extension of the Eurasian margin to the Arctic (Amerazian) basin.
Access options
Buy single article
Instant access to the full article PDF.
USD 39.95
Price includes VAT (USA)
Tax calculation will be finalised during checkout.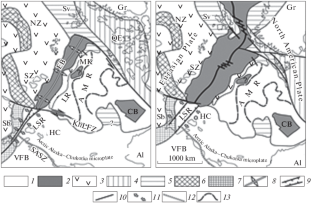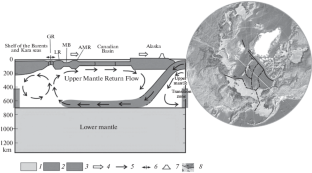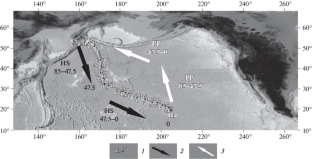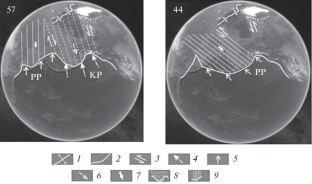 REFERENCES
1

Yu. B. Kazmin, L. I. Lobkovsky, and M. V. Kononov, Arktika: Ekol. Ekon. 16 (4), 14–27 (2014).

2

K. Piepjohn, H. Lorenz, F. Franke, et al., in Mesozoic Structural Evolution of the New Siberian Islands. Circum-Arctic Lithosphere Evolution, Ed. by V. Pease and B. Coakley (Geol. Soc. London, 2018), Vol. 460, pp. 239–262.

3

V. Yu. Glebovsky, V. D. Kaminsky, A. N. Minakov, S. A. Merkur'ev, V. A. Childers, and J. M. Brozina, Geotectonics 40 (4), 263–282 (2006).

4

L. I. Lobkovsky, Russ. Geol. Geophys. 57 (3), 371–386 (2016).

5

L. I. Lobkovsky, V. E. Verzhbitskii, M. V. Kononov, et al., Arktika: Ekol. Ekon., No. 1, 104–115 (2011).

6

N. P. Laverov, L. I. Lobkovsky, M. V. Kononov, et al., Geotectonics 47 (1), 1–31 (2013).

7

Yu. B. Kazmin, L. I. Lobkovskii, and M. V. Kononov, Dokl. Earth Sci. 462 (2), 559–565 (2015).

8

R. A. Duncan and D. A. Clague, in Ocean Basins and Margins, Ed. by A. E. M. Nairn (Plenum Press, New York, 1985), Vol. 7A, pp. 89–121.

9

J. M. O'Connor, B. Steinberger, M. Regelous, et al., Geochem. Geophys. Geosyst. 14, 4564–4584 (2013).

10

K. M. Larson, J. T. Freymueller, and S. Philipsen, J. Geophys. Res. 102 (5), 9961–9981 (1997).

11

M. V. Kononov, Plate Tectonics of the Northwest Pacific (Nauka, Moscow, 1989) [in Russian].

12

E. V. Shipilov, L. I. Lobkovskii, and S. I. Shkarubo, Arktika: Ekol. Ekon., No. 3 (35), 47–61 (2019).
Funding
This study was carried out as part of a state task, project no. 0149–2019–0005, for the Institute of Oceanology, Russian Academy of Sciences, and state program 5–100 of the Moscow Physico-Technical Institute.
Additional information
Translated by M. Hannibal
About this article
Cite this article
Lobkovsky, L.I., Kononov, M.V. & Shipilov, E.V. Geodynamic Causes of the Emergence and Termination of Cenozoic Shear Deformations in the Khatanga–Lomonosov Fault Zone (Arctic). Dokl. Earth Sc. 492, 356–360 (2020). https://doi.org/10.1134/S1028334X20050104
Received:

Revised:

Accepted:

Published:

Issue Date:
Keywords:
Arctic

northeastern Asia

Pacific lithosphere

subduction

upper mantle circulation

Lomonosov Ridge

Khatanga–Lomonosov shift zone

Hawaiian-Emperor Seamount Chain