Abstract
A mathematical model for determining the sucrose concentration in honey, based on the optical rotation of the plane of polarization in solutions, is described. The dependencies of the dispersion of the specific rotation in the main polysaccharides (sucrose, glucose and fructose) included in honey are obtained. A working hypothesis is put forward and experimentally tested to determine the angle of rotation of the plane of polarization of light passed through a cuvette with honey as an algebraic sum of the rotation angles for light that passed through individual components of honey. A prototype of a device for express analysis of honey has been developed and manufactured to determine the excess of sucrose concentration over its value in natural honey.
Access options
Buy single article
Instant access to the full article PDF.
USD 39.95
Price excludes VAT (USA)
Tax calculation will be finalised during checkout.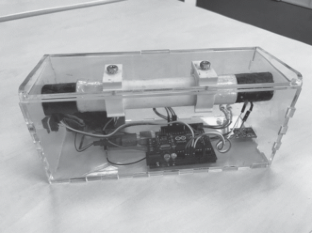 REFERENCES
I. P. Chepurnoi, Examination of the quality of honey. https://beejournal.ru/med/2448-ekspertiza-kachestva-meda.

D. T. Burns, A. Dillon, J. Warren, and M. J. Walker, Food Anal. Methods 11, 1561 (2018).

V. M. Egorov, I. A. Kurikov, S. A. Gavrilov, A. M. Likhter, and S. Z. Subbotina, Norw. J. Develop. Int. Sci. 15, 55 (2018).

GOST (State Standard) R 54 644-2011: Honey Natural. Specifications (2013). https://standartgost.ru/g/ГOCT_P_54 644-2011.

A. G. Mignani, L. Ciaccheri, A. A. Mencaglia, R. Di Sanzo, S. Carabetta, and M. Russo, J. Lightwave Technol. 34, 4479 (2016). https://doi.org/10.1109/JLT.2016.2539550

L.-H. Lin, Y.-L. Lo, Ch.-C. Liao, and J.-X. Lin, Appl. Opt. 54, 10425 (2015).

S. A. Tishkova, A. M. Likhter, and S. Z. Subbotina, "Study of rotation of the plane of polarization of polysaccharides when studying the topic "Polarization of Light," in Collection of Scientific Papers of the XV Int. Conf. on Physics in the System of Modern Education (St. Petersburg, 2019), Vol. 1, p. 92.

C. Aikenhead, D. Rosedale, R. C. Schlothauer, and J. Md. Stephens, World Patent No. 2011/0002489 (2010). https://patentscope.wipo.int/search/en/detail.jsf?docId=WO2012074413

E. U. Balashova, A. S. Faramazian, E. V. Alexsandrova, and I. V. Gadalina, Pchelovodstvo 4, 52 (2013).

A. Noviyanto, W. Abdullah, W. Yu, and Z. Salcic, "Research trends in optical spectrum for honey analysis," in Proc. 2015 Asia-Pacific Signal and Information Processing Association Annual Summit and Conference (APSIPA) (Hong Kong, 2015), p. 416. https://doi.org/10.1109/APSIPA.2015.7415305

Refractometer for Honey. https://nevaprofi.ru/refraktometry-dlya-myoda. Accessed February 14, 2020.

L. Zinnatullina, in Actual Issues of Accounting, Statistics and Information Technologies: Collection of Scientific Articles (Ufa, Bashkir State Agrar. Univ., 2016) [in Russian], p. 266.
About this article
Cite this article
Tishkova, S.A., Likhter, A.M., Klassen, N.V. et al. Development of a Method and Device for Determining the Excess of Sucrose Content in Honey. J. Surf. Investig. 15, 309–312 (2021). https://doi.org/10.1134/S1027451021020154
Received:

Revised:

Accepted:

Published:

Issue Date:

DOI: https://doi.org/10.1134/S1027451021020154
Keywords: