Abstract
Monitoring the state of the sample on the minute-time scale is crucial in case of sensitive soft matter or biological samples, given that neutron spin echo measurements take up to several days. Moreover, there is no method to interpret the normalized intermediate scattering function obtained by measuring the neutron spin echo if relevant sample properties change during measurement. Dynamic light scattering provides information on the diffusion constant of particles in solution (biological macromolecules, such as proteins, protein aggregates, polymer particles, etc.) with average hydrodynamic radii in a wide range from several nanometers up to several microns. This information can be obtained in a few minutes and it offers a good overview of the current sample state. Details on the novel in situ dynamic light scattering set-up with one fixed scattering angle and first results obtained on a molten globule state of apo-myoglobin are presented.
Access options
Buy single article
Instant access to the full article PDF.
USD 39.95
Price excludes VAT (USA)
Tax calculation will be finalised during checkout.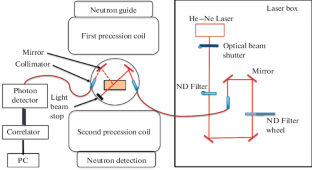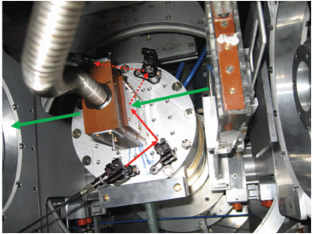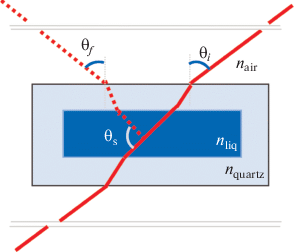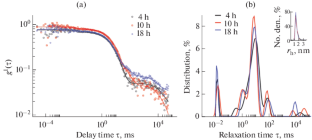 REFERENCES
D. Richter, M. Monkenbusch, A. Arbe, and J. Colmenero, Neutron Spin Echo in Polymer Systems (Springer, Berlin, 2005).

R. Biehl, M. Monkenbusch, and D. Richter, Soft Matter 7, 1299 (2011).

I. R. Klecknera and M. P. Foster, Biochim. Biophys. Acta 1814, 942 (2011).

B. Schuler, Biophys. J. 116 (3, suppl. 1), 12a (2019).

Z. Kelman, Isotope Labeling of Biomolecules—Applications (Elsevier, 2016).

S. Pasini, O. Holderer, T. Kozielewski, D. Richter, and M. Monkenbusch, Rev. Sci. Instrum. 90, 043107 (2019).

S. Provencher, Comput. Phys. Commun. 27, 229 (1982).

B. Chu, Laser Light Scattering – Basic Principles and Practice (Dover Publications, Mineola, New York, 1974).

T. Kyrey, J. Witte, V. Pipich, A. Feoktystov, A. Koutsioubas, E. Vezhlev, H. Frielinghaus, R. von Klitzing, S. Wellert, and O. Holderer, Polymer 169, 29 (2019).
Funding
The work was financially partially supported through the BMBF project 05K16PA1.
About this article
Cite this article
Balacescu, L., Vögl, F., Staringer, S. et al. In Situ Dynamic Light Scattering Complementing Neutron Spin Echo Measurements on Protein Samples. J. Surf. Investig. 14 (Suppl 1), S185–S189 (2020). https://doi.org/10.1134/S1027451020070046
Received:

Revised:

Accepted:

Published:

Issue Date:

DOI: https://doi.org/10.1134/S1027451020070046
Keywords:
biopolymers

spin echo spectroscopy

in situ dynamic light scattering

aggregation