Abstract
We present the results from laser granulometry of a nanosized fraction of aerosol substance and from UV spectrometry of water washouts from different-age needles in four plant species. It is estimated how the hydrothermal conditions influence the time variations in morphometric indices of needles and contamination of their surfaces by phenolic compounds in the composition of secondary organic aerosols. We discuss how secondary organic aerosols are generated on the surfaces of different-age needles during efflorescence of phenolic compounds and their subsequent entry into the forest canopy during turbulent separation of the boundary layer from the leaf surface.
Access options
Buy single article
Instant access to the full article PDF.
USD 39.95
Price excludes VAT (USA)
Tax calculation will be finalised during checkout.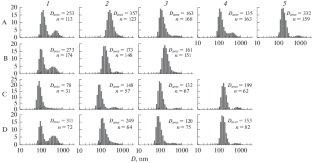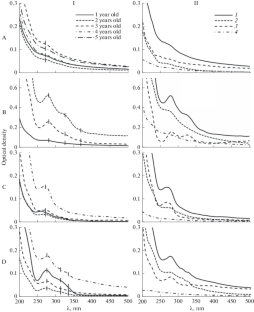 REFERENCES
N. V. Lukina, T. A. Sukhareva, and L. G. Isaeva, Technogenic Digression and Secondary Succession in Northern Boreal Forest (Nauka, Moscow, 2005) [in Russian].

S. S. Mel'khotra and A. A. Khan, "Biochemical and physiological effects of predominant pollutants," in Air Pollution and Plant Life (Gidrometeoizdat, Leningrad, 1988), p. 144–161 [in Russian].

V. D. Nadutkin and A. N. Modyanov, "Aerial biomass of woody plants in moss pine forest," Voprosy Ekologii Sosnyakov Severa, Iss. 24, 70–80 (1972).

B. J. Berne and R. Pecora, Dynamic Light Scattering (John Wiley and Sons, 1976).

A. Blazhei and L. Shutyi, Vegetable-Origin Phenol Compounds (Mir, Moscow, 1977) [in Russian].

M. J. Giertych, P. Karolewski, and L. O. De Temmerman, "Foliage age and pollution alter content of phenolic compounds and chemical elements in pinus nigra needles," Water Air Soil Pollut. 110, 363–377 (1999).

C. Robles, S. Greff, V. Pasqualini, S. Gazino, A. B. Melou, C. Fernandez, N. Korboulewsky, and G. Bonin, "Phenols and flavonoids in aleppo pine needles as bioindicators of air pollution," J. Environ. Qual. 32 (6), 2265–2271 (2003).

J. Klyta and M. Czaplicka, "Determination of secondary organic aerosol in particulate matter—short review," Microchem. J. 157 (2020). https://doi.org/10.1016/j.microc.2020.104997

M. Ehn, J. A. Thornton, E. Kleist, M. Sipila, H. Junninen, I. Pillinen, M. Spriger, F. Rubach, R. Tillmann, B. Lee, F. Lopez-Hilfiker, S. Andres, I. H. Acir, M. Rissanen, T. Jokinen, S. Schobesberger, J. Kangasluoma, J. Kontkanen, T. Nieminen, T. Kurten, L. B. Nielsen, S. Jorgensen, H. G. Kjaergaard, M. Canagaratna, MasoM. Dal, T. Berndt, T. Petaja, A. Wahner, V. M. Kerminen, M. Kulmala, D. R. Worsnop, J. Wildt, and T. F. Mentel, "A large source of low-volatility secondary organic aerosol," Nature 506, 476–479 (2014).

M. Turunena, W. Hellerb, S. Strichb, H. Sandermannb, M.-L. Sutinenec, and Y. Norokorpic, "The effects of UV exclusion on the soluble phenolics of young Scots pine seedlings in the subarctic," Environ. Pollut. 106 (2), 219–228 (1999). https://doi.org/10.1016/S0269-7491(99)00070-6

J. P. Wong, M. Tsagkaraki, I. Tsiodra, N. Mihalopoulos, K. Violaki, M. Kanakidou, J. Sciare, A. Nenes, and R. J. Weber, "Atmospheric evolution of molecular-weight-separated brown carbon from biomass burning," Atmos. Phys. 19 (11), 7319–7334 (2019).

A. Singer, W. F. A. Kirsten, and C. Buhmann, "A proposed fog deposition mechanism for the formation of salt efflorescences in the Mpumalanga Highveld, Republic of South Africa," Water Air Soil Pollut. 109, 313–325 (1999).

G. I. Gorchakov, B. M. Koprov, and K. A. Shukurov, "Wind effect on aerosol transport from the underlying surface," Izv., Atmos. Ocean. Phys. 40 (6), 679–694 (2004).

G. I. Gorchakov, B. M. Koprov, and K. A. Shukurov, "Arid submicron aerosol transport by vortices," Izv., Atmos. Ocean. Phys. 39 (5), 536–547 (2003).

E. B. Gledzer, I. G. Granberg, and O. G. Chkhetiani, "Air dynamics near the soil surface and convective emission of aerosol," Izv., Atmos. Ocean. Phys. 46 (1), 29–40 (2010).

I. B. Ivanov and D. N. Platikanov, Colloids (Khimiya, Moscow, 1975) [in Russian].

L. G. Lojtsyanskij, Fluid and Gas Mechanics (Moscow, 1970) [in Russian].

P. Chzhen, Detachable Flows (Mir, Moscow, 1972), vol. 1 [in Russian].

S. P. Hromov, Meteorology and Climatology (Gidrometeoizdat, Leningrad, 1968) [in Russian].

V. A. Alekseev, Light Conditions in Forest (Nauka, Leningrad, 1975) [in Russian].
ACKNOWLEDGMENTS
The work was performed based on the infrastructure of the Institute of Atmospheric Optics, Siberian Branch, Russian Academy of Sciences, including the Center for Collective Use Atmosfera, created and operated within State Order, and with the use of instrumentation in Center for Collective Use Khimiya of the Institute of Chemistry, Komi Scientific Center, Ural Branch, Russian Academy of Sciences.
Funding
This work was supported by Russian Foundation for Basic Research (grant no. 19-05-50 024).
Ethics declarations
The authors declare that they have no conflicts of interest.
Additional information
Translated by O. Bazhenov
About this article
Cite this article
Tentukov, M.P., Mikhailov, V.I., Timushev, D.A. et al. Granulometric Composition of Settled Aerosol Material and Ratio of Phenolic Compounds in Different-Age Needles. Atmos Ocean Opt 34, 222–228 (2021). https://doi.org/10.1134/S1024856021030167
Received:

Revised:

Accepted:

Published:

Issue Date:

DOI: https://doi.org/10.1134/S1024856021030167
Keywords: