Abstract—
Rainfall measurements with an OPTIOS optical precipitation gage and a standard Tretyakov O-1 gage for three summer months of 2020 are compared; a good agreement between them is shown. The comparison between the OPTIOS measurements with measurements with a similar optical rain gage mounted at a distance of 3 km and with the related data from the Tomsk weather station of Rosgydromet located at a distance of 6 km shows significant spatial variations in the precipitation parameters. The possibility of using OPTIOS both as an automated gage within a weather station and as a component of a precipitation gage network is shown.
Access options
Buy single article
Instant access to the full article PDF.
USD 39.95
Price excludes VAT (USA)
Tax calculation will be finalised during checkout.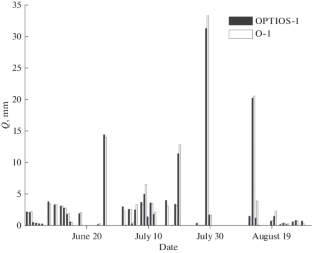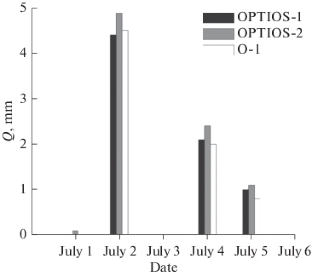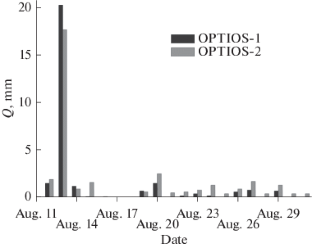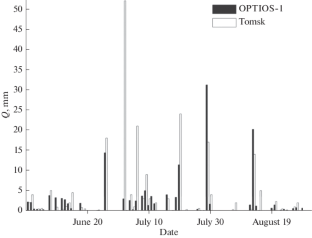 REFERENCES
I. V. Litvinov, Precipitation in the Atmosphere and on Surface (Gidrometeoizdat, Leningrad, 1980) [in Russian].

R 52.04.818-2014. Operational Recommendations for Automated Weather Complexes in Observational Units (Gidrometeoizdat, Leningrad, 2014) [in Russian].

K. L. Voskanyan, A. D. Kuznetsov, and O. S. Seroukhova, Automated Weather Stations. Performance Characteristics (RGGMU, St. Petersburg, 2016) [in Russian].

V. V. Kal'chikhin, A. A. Kobzev, V. A. Korol'kov, and A. A. Tikhomirov, "Determination of the rate of fall of rain drops in measurements of their parameters by an optical rain gauge," Meas. Tech. 59 (11), 1175–1180 (2017).

V. V. Kalchikhin, A. A. Kobzev, V. A. Korolkov, and A. A. Tikhomirov, "Results of optical precipitation gage field tests," Atmos. Ocean. Opt. 31 (5), 545–547 (2018). https://doi.org/10.1134/S102485601805007X

http://pogodaiklimat.ru/weather.php?id=29430&bday= 1&fday=31&amonth=7&ayear=2020&bot=2. Cited December 11, 12.2020.
Funding
The study was supported by the Ministry of Science and Higher Education of the Russian Federation.
Ethics declarations
The authors declare that they have no conflicts of interest.
About this article
Cite this article
Kalchikhin, V.V., Kobzev, A.A., Tikhomirov, A.A. et al. Rainfall Measurements during Summer 2020 with the Optical Precipitation Gage. Atmos Ocean Opt 34, 278–281 (2021). https://doi.org/10.1134/S1024856021030052
Received:

Revised:

Accepted:

Published:

Issue Date:

DOI: https://doi.org/10.1134/S1024856021030052
Keywords: