Abstract—
Data on the number and diversity of psychrotolerant yeast isolated from high-altitude and surface samples of atmospheric aerosol from southwestern Siberia are derived from a microbiological study. According to certain phenotypic and genomic characteristics, the yeast isolates are referred to the Saccharomyces, Candida, Sporidiobolus, Aureobasidium, Sporobolomyces, Cryptococcus, Rhodotorula, and some other genera. Both saprophytic and pathogenic microorganisms are detected. Aureobasidium yeast strains are revealed, which actively produce exopolysaccharides and melanin and are promising for biotechnological developments.
Access options
Buy single article
Instant access to the full article PDF.
USD 39.95
Price includes VAT (USA)
Tax calculation will be finalised during checkout.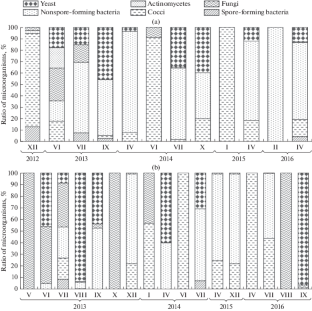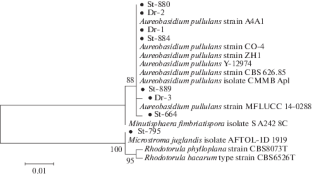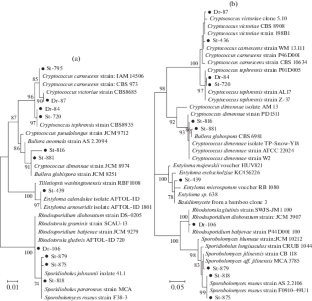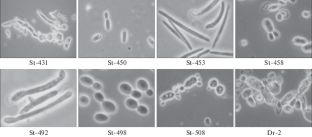 REFERENCES
1

G. D'Amato and F. T. M. Spieksma, "Aerobiologic and clinical aspects of mould allergy in Europe," Allergy 50 (11), 870–877 (1995).

2

C. I. Davidson, R. F. Phalen, and P. A. Solomon, "Airborne particulate matter and human health: A review," Aerosol Sci. Technol. 39 (8), 737–749 (2005).

3

H. R. Anderson, "Air pollution and mortality: A history," Atmos. Environ. 43 (1), 143–152 (2009).

4

I. Yu. Chernov, Yeast in Nature (Tovarishchestvo nauchnykh izdanii KMK, Moscow, 2013) [in Russian].

5

E. V. Ermilova, Molecular Aspects of Procaryote Adaptation (St.-Peterburg State University, St. Petersburg, 2007), p. 172–179 [in Russian].

6

M. J. Montes, C. Belloch, M. Galiana, M. D. Garcia, C. Andrés, S. Ferrer, J. M. Torres-Rodriguez, and J. Guinea, "Polyphasic taxonomy of a novel yeast isolated from Antarctic environment; description of Cryptococcus victoriae sp. nov," Syst. Appl. Microbiol. 22 (1), 97–105 (1999).

7

E. Branda, B. Turchetti, G. Diolaiuti, M. Pecci, C. Smiraglia, and P. Buzzin, "Yeast and yeast-like diversity in the southernmost glacier of Europe (Calderone Glacier, Apennines, Italy)," FEMS Microbiol. Ecol. 72 (3), 354–369 (2010).

8

N. S. Bagirova, "Aureobasidium pullulans place among human pathogens opportunistic infections (literature review)," Laboratornaya Sluzhba 7 (2), 12–18 (2018).

9

E. Ejdys, A. Biedunkiewicz, M. Dynowska, and E. Sucharzewska, "Snow in the city as a spore bank of potentially pathogenic fungi," Sci. Total Environ. 470–471, 646–650 (2014).

10

I. Yu. Kirtsideli, D. Yu. Vlasov, V. A. Krylenkov, N. N. Rolle, E. P. Barantsevich, and V. T. Sokolov, "Comparative study of airborne fungi at Arctic stations near water area of the Northern Sea Route," Ekologiya Cheloveka. No. 4, 16–21 (2018).

11

M. V. Korneikova and E. V. Lebedova, "Mycobiota of the air layers in different natural and industrial zones of the Murmansk region," Mikologiya Fitopatologiya 51 (4), 203–210 (2017).

12

I. Segi, Soil Microbiology Techniques (Kolos, Moscow, 1983) [in Russian].

13

I. P. Bab'eva and I. Yu. Chernov, Yeast Biology (Tovarishchestvo nauchnykh izdanii KMK, Moscow, 2004) [in Russian].

14

I. P. Ashmarin and A. A. Vorob'ev, Statistical Methods in Microbiological Studies (Medgiz, Leningrad, 1962) [in Russian].

15

T. V. Teplyakova, L. I. Puchkova, T. A. Kosogova, L. E. Bulychev, and L. Shishkina, RF Patent No. 2480227, Byull. Izobret. No. 12 (2013).

16

M. Gardes and D. Bruns, "ITS primers with enhanced specificity for basidiomycetes—application to the identification of mycorrhizae and rusts," Molec. Ecol. 2 (2), 113–118 (1993).

17

D. Sutton, A. Fothergill, and M. Rinaldi, The Determinant of Pathogenic and Conditionally Pathogenic Fungi (Mir, Moscow, 2001) [in Russian].

18

Y.-T. Hoshino, "Molecular analyses of soil fungal community—methods and applications," in Soil Health and Land Use Management, Ed. by M.S. Hernandez-Soriano (InTech, 2011), p. 279–304.

19

M. H. Miceli, J. A. Diaz, and S. A. Lee, "Emerging opportunistic yeast infections," Lancet Infect. Dis. 11 (2), 142–151 (2011).

20

F. F. Tuon and S. F. Costa, "Rhodotorula infection. A systematic review of 128 cases from literature," Rev. Iberoam. Micol. 25 (3), 135–40 (2008).

21

N. N. Gessler, A. S. Egorova, and T. A. Belozerskaya, "Melanin pigments of fungi under extreme environmental conditions (review)," Appl. Biochem. Microbiol. 50 (2), 105–113 (2014).

22

D. C. Montefoiori and J. Zhou, "Selective antiviral activity of synthetic soluble L-tyrosine and L-dopa melanins against human immunodeficiency virus in vitro," Antiviral Res. 15 (1), 11 (1991).
Funding
The work has been performed within the State Assignment for Rospotrebnadzor and the YAK-Sib 2017 project (CNRS, France).
Ethics declarations
The authors declare that they have no conflicts of interest.
Additional information
Translated by O. Ponomareva
About this article
Cite this article
Andreeva, I.S., Safatov, A.S., Morozova, V.V. et al. Saprophytic and Pathogenic Yeasts in Atmospheric Aerosols of Southwestern Siberia. Atmos Ocean Opt 33, 505–511 (2020). https://doi.org/10.1134/S1024856020050024
Received:

Revised:

Accepted:

Published:

Issue Date:
Keywords:
atmospheric aerosols

microorganisms

air mycobiota

psychrophilic yeast

black yeast

Aureobasidium