Abstract
The factors that determine the functional state (FS) as an integral characteristic of the total body were identified in children aged 9–10 years (n = 168) and included the autonomic regulation of physiological functions (factor I), the efficiency of cognitive activity (factor II), physical working capacity (factor III), hemodynamic support of cognitive activity (factor IV), nonspecific resistance of the body (factor V), and overall working capability (factor VI). The factors were considered as separate FS aspects that reflects activities of different functional systems. Using a systemic approach, the physiological contents of the factors were established, the most informative indices were identified for FS evaluation, and reference values were proposed for comparisons and diagnosis of the FS in children of the age group in question in a school setting. Aerobic and anaerobic components of the physical working capacity and motor fitness were shown to correlate with the efficiency of cognitive activity and nonspecific resistance to catarrhal diseases as FS aspects. The factorial structure of the FS in children aged 9–10 years was found to be similar to that in subjects of 5–6 and 13–14 years of age. Based on the finding, the factors were assumed to be the most stable FS components forming during ontogeny.
Access options
Buy single article
Instant access to the full article PDF.
US$ 39.95
Tax calculation will be finalised during checkout.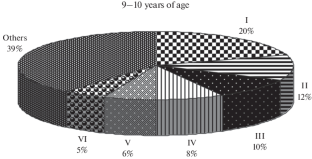 REFERENCES
1

Medvedev, V.I., Adaptatsiya cheloveka (Human Adaptation), St. Petersburg: Inst. Mozga Ross. Akad. Nauk, 2003.

2

Danilova, N.N., Psikhofiziologiya (Psychophysiology), Moscow: Aspekt Press, 2012.

3

von Bertalanffy, L., General system theory—a critical review, Gen. Syst., 1962, vol. 7, p. 1–20.

4

Aleksandrov, Yu.I., Sistemanaya psikhofiziologiya (System Psychophysiology), St. Petersburg: Piter, 2011, p. 252.

5

Sudakov, K.V., Funktsional'nye sistemy (Functional Systems), Moscow: Ross. Akad. Nauk, 2011.

6

Krivolapchuk, I.A., Factor structure of the functional state of five- and six-year-old children, Hum. Physiol., 2014, vol. 40, no. 5, p. 513.

7

Krivolapchuk, I.A. and Chernova, M.B., The factor structure of the functional state of boys aged 13–14 years, Hum. Physiol., 2017, vol. 43, no. 2, p. 157.

8

Farber, D.A. and Bezrukikh, M.M., Methodological aspects of studies of the physiology of child development, Hum. Physiol., 2001, vol. 27, no. 5, p. 515.

9

Razvitie mozga i formirovanie poznavatel'noi deyatel'nosti rebenka (Brain Development and Formation of Human Cognitive Activity), Farber, D.A. and Bezrukikh, M.M., Ed., Moscow: Mosk. Psikhol.-Sots. Inst., 2009.

10

Fiziologiya razvitiya rebenka: Rukovodstvo po vozrastnoi fiziologii (Physiology of Child Development: Handbook on Developmental Physiology), Bezru-kikh, M.M. and Farber, D.A., Eds., Moscow: Mosk. Psikhol.- Sots. Inst., 2010.

11

Metodicheskie rekomendatsii po fiziologo-gigienicheskomu izucheniyu uchebnoi nagruzki (Methodical Recommendations on Physiological and Hygienic Investigation of Learning Load) Antropova, M.V., Ed., Moscow: Akad. Pedagog. Nauk SSSR, 1984.

12

Ilyukhina, V.A., Psikhofiziologiya funktsional'nykh sostoyanii i poznavatel'noi deyatel'nosti zdorovogo i bol'nogo cheloveka (The Psychophysiology of the Functional States and Cognitive Activity of Healthy and Sick Humans), St. Petersburg: N-L, 2010.

13

Baevskii, R.M., Ivanov, G.G., Gavrilushkin, A.P., et al., Analysis of heart rate variability using various electrocardiographic systems, Vestn. Aritmol., 2002, no. 24, p. 65.

14

Karpman, V.L., Belotserkovskii, Z.B., and Gudkov, I.A., Testirovanie v sportivnoi meditsine (Testing in Sport Medicine), Moscow: Fizkul'tura i Sport, 1988.

15

Son'kin, V.D. and Tambovtseva, R.V., Razvitie myshechnoi energetiki i rabotosposobnosti v ontogeneze (Development of Muscle Power and Performance in Ontogeny), Moscow: Librokom, 2011.

16

Gigiena detei i podrostkov (Hygiene of Children and Adolescents), Serdyukovskaya, G.N. and Sukharev, A.G., Eds., Moscow: Meditsina, 1986.

17

Uberla, K., Faktorenanalyse, Berlin: Springer-Verlag, 1977.

18

Gellhorn, E. and Loofbourrow, G.N., Emotions and Emotional Disorders: A Neurophysiological Study, New York: Harper and Row, 1963.

19

Vegetativnye rastroistva. Klinika, diagnostika, lechenie (Vegetative Disorders: Clinics, Diagnostics, and Treatment), Golubev, V.L., Ed., Moscow: Med. Inf. Agentstvo, 2010.

20

Vegetativnaya disfunktsiya u detei i podrostkov (Autonomic Dysfunction in Children and Adolescents), Kozlova, L.V., Ed., Moscow: GEOTAR-Media, 2008.

21

Spivak, E.M. and Nezhkina, N.N., Sindrom vegetativnoi distonii u detei (Syndrome of Somatoform Autonomic Dysfunction in Children), Yaroslavl: Aleksandr Rutman, 2009.

22

Leonova, A.B., Psychic reliability of a professional and modern stress management techniques, Vestn. Mosk. Univ., Ser. 14: Psikhol., 2007, no. 3, p. 69.

23

Bodrov, V.A., Psikhologicheskii stress: razvitie i preodolenie (Psychological Stress: Development and Coping), Moscow: PER SE, 2006.

24

Punnett, L., Cherniack, M., Henning, R., et al., A conceptual framework for integrating workplace health promotion and occupational ergonomics programs, Public Health Rep., 2009, vol. 124, no. 1, p. 16.

25

Danilova, N.M., Funktsional'nye sostoyaniya: mekhanizmy i diagnostika (Functional States: Mechanisms and Diagnostics), Moscow: Mosk. Gos. Univ., 1985.

26

Chainova, L.D., Nazarova, K.A., and Chainov, V.I., The concept of the functional comfort of a working person as the theoretical basis of the modern ergodization, Vestn. Gos. Gumanit. Univ., Ser. Psikhol. Pedagog. Obraz., 2015, no. 1, p. 125.

27

Aulik, I.V., Opredelenie fizicheskoi rabotosposobnosti v klinike i sporte (Determination of Physical Ability in the Hospitals and Sport), Moscow: Meditsina, 1991.

28

Anokhin, P.K., Kibernetika funktsional'nykh sistem: izbrannye trudy (Cybernetics of Functional Systems: Selected Research Works), Moscow: Meditsina, 1996.

29

Normal'naya fiziologiya: kurs fiziologii funktsional'nykh sistem (Normal Physiology: Lecturers on Physiology of Functional Systems), Sudakov, K.V., Ed., Moscow: Med. Inf. Agentstvo, 1999.

30

Physical Activity Guidelines Advisory Committee Report, 2008, Washington: Dep. Health Human Services, 2008.

31

Janssen, I. and Leblanc, A., Systematic review of the health benefits of physical activity in school-aged children and youth, Int. J. Behav. Nutr. Phys. Activity, 2010, vol. 7, no. 40, p. 1.

32

Global Recommendations on Physical Activity for Health, Geneva: World Health Org., 2010.

33

Podrostkovaya meditsina. Rukovodstvo (Manual on Medicine of Adolescents), Levina, L.I. and Kulikov, A.M., Eds., St. Petersburg: Piter, 2006.

34

Schwellnus, M.P., Jeans, A., Motaung, S., and Swart, J., Exercise and infections, in The Olympic Textbook of Medicine in Sport, New York: Wiley, 2008, p. 344.

35

Timmons, B.W., Proudfoot, N.A., MacDonald, M.J., et al., The health outcomes and physical activity in preschoolers (HOPP) study: rationale and design, BMC Publ. Health, 2012, vol. 12, no. 4, p. 284.

36

Voss, M.W., Chaddock, L., Kim, J.S., et al., Aerobic fitness is associated with greater efficiency of the network underlying cognitive control in preadolescent children, Neuroscience, 2011, vol. 199, no. 11, p. 166.

37

Crews, D. and Landers, D., A meta-analytic review of aerobic fitness and re-activity to psychosocial stressors, Med. Sci. Sports Exercise, 1987, vol. 19, no. 5, p. 114.

38

Steptoe, A., Kearsley, N., and Walters, N., Cardiovascular activity during mental stress following vigorous exercise in sportsmen and inactive men, Psychophysiology, 1993, vol. 30, no. 3, p. 245.

39

Hamer, M. and Steptoe, A., Association between physical fitness, parasympathetic control, and proinflammatory responses to mental stress, Psychosom. Med., 2007, vol. 69, p. 660.

40

Rimmele, U., Seiler, R., Marti, B., et al., The level of physical activity affects adrenal and cardiovascular reactivity to psychosocial stress, Psychoneuroendocrinology, 2009, vol. 34, p. 190.

41

Klaperski, S., von Dawans, B., Heinrichs, M., and Fuchs, R., Does the level of physical exercise affect physiological and psychological responses to psychosocial stress in women? Psychol. Sport Exercise, 2013, vol. 14, no. 2, p. 266.

42

van Dusen, D.P., Kelder, S.H., Kohl, H.W., et al., Associations of physical fitness and academic performance among schoolchildren, J. Sch. Health, 2011, vol. 81, no. 12, p. 733.

43

Lees, C. and Hopkins, J., Effect of aerobic exercise on cognition, academic achievement, and psychosocial function in children: a systematic review of randomized control trials, Prev. Chronic Dis., 2013, vol. 24, no. 10, p. E174.

44

Kostyak, T.V., Psikhologicheskaya adaptatsiya pervoklassnikov (Psychological Adaptation of First-Year Schoolchildren), Moscow: Akademiya, 2008.

45

Kazin, E.M., Adaptive reactions of students depending on the type of psycho-vegetative regulation, Byull. Sib. Med., 2014, vol. 13, no. 6, p. 126.

46

Kuchma, V.R., Tkachuk, E.A., and Tarmaeva, I.Yu., Psychophysiological state of children in the conditions of informatization of their vital activity and intensification of education, Gig. Sanit., 2016, vol. 95, no. 12, p. 1183.

47

Nikityuk, B.A., Main regularities of growth and development, in Morfologiya cheloveka (Human Morphology), Moscow: Mosk. Gos. Univ., 1990, p. 36.

48

Farber, D.A. and Machinskaya, R.I., Modern studies in the age physiology and psychophysiology as the basis of medical, psychological, and pedagogical education, Materialy sovmestnoi nauchnoi sessii rossiiskikh akademii nauk, imeyushchikh gosudarstvennyi status "Zdorov'e i obrazovanie detei-osnova ustoichivogo razvitiya obshchestva," Moskva, 5–6 oktyabrya 2006 g. (Proc. Join Scientific Meeting of Russian State Academies of Sciences "Health and Education of Children as the Basis for Sustainable Development of the Society," Moscow, October 5–6, 2006), Moscow: Nauka, 2007, p. 28.

49

Sukharev, A.G., Shest' zakonomernostei rosta i razvitiya detskogo organizma (Six Regularities of Growth and Development of Child's Organism), Moscow: Mosk. Inst. Otrkyt. Obraz., 2008.

50

Bechtereva, N.P., Zdorovyi i bol'noi mozg cheloveka (Healthy and Sick Human Brain), Moscow: AST, 2010.
ACKNOWLEDGMENTS
This work was supported by the Russian Foundation for Basic Research (project no. 17-06-00159a).
Additional information
Translated by T. Tkacheva
About this article
Cite this article
Krivolapchuk, I.A., Chernova, M.B. Peculiarities of the Factorial Structure of the Functional State in Children Aged 9–10 Years. Hum Physiol 45, 30–39 (2019). https://doi.org/10.1134/S0362119718050067
Received:

Revised:

Accepted:

Published:

Issue Date:
Keywords:
school-age children

functional state

factors

structure

components

informative indices

diagnos-is