Abstract—
Data on species composition and frequency of occurrence of the grenadier anchovies (Coilia) spp. is reported from the Mekong Delta (Vietnam) based on fieldwork materials. Information about two numerous species C. lindmani and C. rebentischii is obtained with respect to the spatial distribution and influence of various ecological factors on their density. Abundance of the Lindman grenadier anchovy C. lindmani is significantly higher in freshwater part of the delta compared to the estuary. The Multi-fingered grenadier anchovy C. rebentischii occurs only inside the estuary ecotone. The article is concerned with the effects of the environmental factors, such as oxygen content in the water, salinity, depth, and character of streambed substrate. No seasonal and year to year variations have been detected in terms of the population size. Some data on the biological characteristics are reported for the first time.
Access options
Buy single article
Instant access to the full article PDF.
USD 39.95
Price includes VAT (USA)
Tax calculation will be finalised during checkout.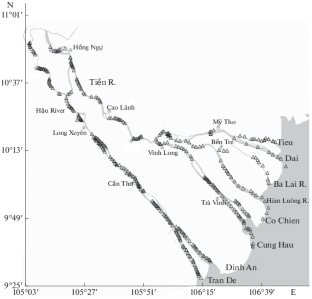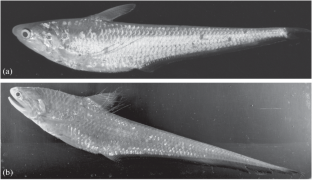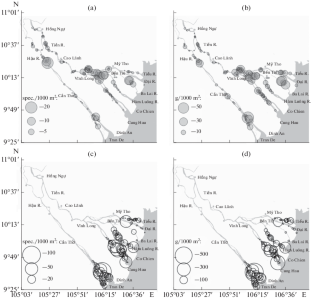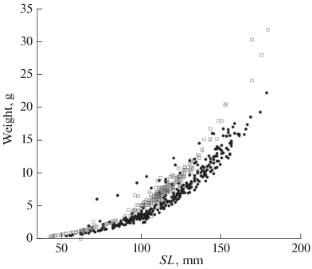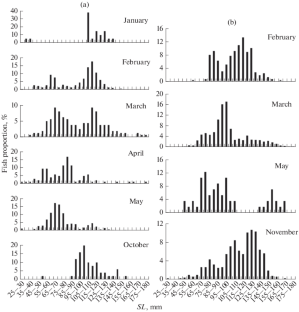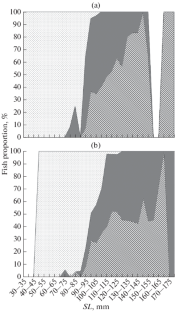 REFERENCES
1

Catalog of Fishes: Genera, Species, References, Version 06/2019, Fricke, R., Eschmeyer, W.N., and van der Laan, R., Eds., 2019. http://researcharchive.calacademy.org/research/ichthyology/catalog.

2

Duan, J.-R., Fang, D.-A., Zhang, M.-Y., et al., Changes of gonadotropin-releasing hormone receptor 2 during the anadromous spawning migration in Coilia nasus, BMC Dev. Biol., 2016, vol. 16, art. 42. https://doi.org/10.1186/s12861-016-0142-9

3

Fernandez, I. and Devaraj, M., Stock assessment and dynamics of the Coilia dussumieri (Engraulidae) resource in the Indian Exclusive Economic Zone along the northwestern coast of India, Asian Fish. Sci., 1988, no. 1, pp. 157–164.

4

Fernandez, I. and Devaraj, M., Dynamics of the gold-spotted grenadier anchovy (Coilia dussumieri) stock along the northwest coast of India, Indian J. Fish., 1996, vol. 43, no. 1, pp. 27–38.

5

Gadgil, M., On some aspects of the biology of Coilia dussumieri, J. Bombay Nat. Hist. Soc., 1967, vol. 64, no. 1, pp. 55–69.

6

He, W.-P., Li, Y.-X., Liu, M., et al., Reproductive biology of Coilia mystus (Linnaeus) from the Yangtze Estuary, China: responses to overexploitation, J. Appl. Ichthyol., 2011, vol. 27, no. 5, pp. 1197–1202. https://doi.org/10.1111/j.1439-0426.2011.01767.x

7

Khan, M.Z., Fishery, biology and resource characteristics of golden anchovy, Coilia dussumieri (Cuv et Val), in Marine Fisheries Research and Management, Kochi: CMFRI Kochi, 2000, pp. 310–316.

8

Mahapatra, B.K., Pradhan, A., and Lakra, W.S., Morphometrics, length-weight relationship and condition factor of Coilia dussumieri Valenciennes, 1848 from north-east coast of India, Int. J. Fish. Aquat. Sci., 2015, vol. 3, no. 2, pp. 35–39.

9

Mikhailov, V.N. and Arakelyants, A.D., Specific features of hydrological and morphological processes in the mouth area of the Mekong River, Water Resour., 2010, vol. 37, no. 3, pp. 253–267.

10

Munroe, T.A. and Nizinski, M., Engraulidae. Anchovies, in FAO Species Identification Guide for Fishery Purposes. The Living Marine Resources of the WCP. Batoid Fishes, Chimaeras and Bony Fishes, Part 1: Elopidae to Linophrynidae, Rome: UN Food Agric. Org., 1999, pp. 1698–1706.

11

Nguyen, X.H., Nguyen, T.N., and Nguyen, D.H., Fish species diversity in the Co Chien estuary, Ben Tre province, VNU J. Sci.: Nat. Sci. Technol., 2017, vol. 33, no. 1, pp. 246–256.

12

Rainboth, W.J., Fishes of the Cambodian Mekong. FAO Species Identification Field Guide for Fishery Purposes, Rome: UN Food Agric. Org., 1996.

13

Seng, K., Song, S.L., Navy, H., et al., Conflicts Arising from Re-Allocation of Fishing Lots: Perceptions from Community Fisheries in Cambodia, Phnom Penh: World Fish Center, 2004.

14

Tien, Kh.Ch., Izuchenie izmenenii bokovoi pritochnosti rechnykh kanalov v provintsii Benche, planirovanie reshenii po inzhenernoi zashchite territorii (Changes in the Lateral Inflow of River Channels in Benche Province, Planning of Solutions for Engineering Protection of Territories), Benche: Nauchno-Issled. Inst. Vodn. Khoz. Yuga, 2001.

15

Tran, D.D., Shibukawa, K., Nguyen, T.P., et al., Fishes of the Mekong Delta, Vietnam, Can Tho: Can Tho Univ., 2013.

16

Whitehead, P.J.P., Nelson, G.J., and Wongratana, T., FAO Species Catalogue, Vol. 7: Clupeoid Fishes of the World (Suborder Clupeoidei). An Annotated and Illustrated Catalogue of the Herrings, Sardines, Pilchards, Sprats, Shads, Anchovies and Wolf-Herrings, Part 2: Engraulididae, Rome: UN Food Agric. Org., 1988.
Funding
This study was conducted on the topic "Ekolan E-3.4 "The Mekong Delta Ecosystem in the Conditions of the Global Climate Changes and Anthropogenic Impact" and as a part of the State Assignment to the Institute of Biology of the Southern Seas of the Russian Academy of Sciences "Regularities of Formation and Anthropogenic Transformation of Biodiversity and Bioresources of the Azov–Black Sea Basin and other Areas of the World Ocean", project no. АААА-А18-118020890074-2.
Ethics declarations
Conflict of interests. The authors declare that they have no conflicts of interest.
Statement on the welfare of animals. All applicable international, national, and/or institutional guidelines for the care and use of animals were followed.
Additional information
Translated by E. Kuznetsova
About this article
Cite this article
Karpova, E.P., Ablyazov, E.R., Kurshakov, S.V. et al. Distribution, Population Structure, and Selected Biological Characteristics of Fish in the Genus Coilia (Engraulidae) in the Mekong Delta. J. Ichthyol. 61, 554–563 (2021). https://doi.org/10.1134/S003294522104007X
Received:

Revised:

Accepted:

Published:

Issue Date:
Keywords:
Coilia lindmani
Coilia rebentischii

abundance

distribution

populational characteristics

estuary

delta

Mekong