Abstract
The variability of morphometric characteristics, the structure of the seismosensory system and the external skeleton in females and nonspawning and spawning males of the spotted lumpsucker Eumicrotremus pacificus were studied. Females differed from males in their greater anteanal distance and stability of the structure of the external skeleton throughout the adult period of life. Spawning males are characterized by a significant change in a number of plastic characters and the structure of their external skeleton, apparently related to the features of the spawning biology of the Eumicrotremus species. No noticeable variability was revealed in the structure of the axial skeleton, the skeleton of unpaired fins, and the seismosensory system of the head of E. pacificus. Using the characters of external morphology and the external skeleton of females and nonspawning males in the systematics of the lumpfishes was confirmed as valid.
This is a preview of subscription content, log in to check access.
Access options
Buy single article
Instant access to the full article PDF.
US$ 39.95
Tax calculation will be finalised during checkout.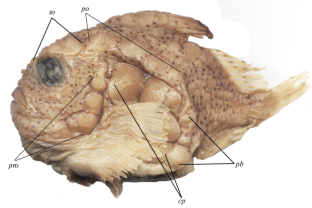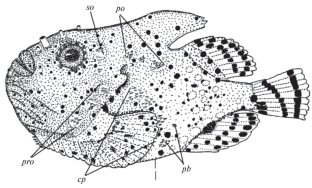 REFERENCES
1

Byrkjedal, I., Rees, D.J., and Willassen, E., Lumping lumpsuckers: molecular and morphological insights into taxonomic status of Eumicrotremus spinosus (Fabricius, 1776) and Eumicrotremus eggvinii Koefoed, 1956 (Teleostei: Cyclopteridae), J. Fish. Biol., 2007, vol. 71, pp. 111–131.

2

Kai, Y., Stevenson, D.E., Ueda, Y., et al., Molecular insights into geographic and morphological variation within the Eumicrotremus asperrimus species complex (Cottoidei: Cyclopteridae), Ichthyol. Res., 2015, vol. 62, pp. 396–408.

3

Lee, S.J., Kim, Y.-K., Moon, D.Y.K., and Kai, J.-K., Taxonomic review of the Korean lumpsucker "Do-chi" reported previously as Eumicrotremus orbis (Pisces: Cyclopteridae) based on morphological and molecular characters, Fish. Aquat. Sci., 2015, vol. 18, no. 4, pp. 405–410.

4

Lee, S.J., Kim, J.-K., Ikeguchi, S., and Nakabo, T., Taxonomic review of dwarf species of Eumicrotremus (Actinopterrygii: Cottoidei: Cyclopteridae) with descriptions of two new species from the western North Pacific, Zootaxa, 2017, vol. 4282, no. 2, pp. 337–349.

5

Lindberg, G.U. and Legeza, M.I., Review of genera and species of fishes of subfamily Cyclopterinae (Pisces), Tr. Zool. Inst., Akad. Nauk SSSR, 1955, vol. 18, pp. 389–458.

6

Mecklenburg, C.W., Miller, P.R., and Steinke, D., Biodiversity of the Arctic marine fishes: taxonomy and zoogeography, Mar. Biodiversity, 2011, vol. 41, no. 1, pp. 109–140.

7

Mecklenburg, C.W., Lynghammar, A., Johannesen, E., et al., Marine Fishes of the Arctic Region, Vol. 1: Conservation of Arctic Flora and Fauna, Akureyri: CAFF, 2018.

8

Parin, N.V., Evseenko, S.A., and Vasil'eva, E.D., Ryby morei Rossii: annotirovannyi katalog (Annotated Catalogue of Fishes from Russian Seas), Moscow: KMK, 2014.

9

Shmidt, P.Yu., Ryby vostochnykh morei Rossiiskoi imperii. Nauchnye rezul'taty Koreisko-Sakhalinskoi ekspeditsii Imperatorskogo russkogo geograficheskogo obshchestva (Fishes of the Eastern Seas of Russian Empire: Scientific Results of Korean-Sakhalin Expedition of Imperial Russian Geographical Society), St. Petersburg: Imper. Russ. Geogr. O-vo, 1904.

10

Stevenson, D., Mecklenburg, K.W., and Kai, Y., Taxonomic clarification of the Eumicrotremus asperrimus species complex (Teleostei: Cyclopteridae) in the eastern North Pacific, Zootaxa, 2017, vol. 4294, no. 4, pp. 419–435.

11

Ueno, T., Fauna Japonica: Cyclopteridae (Pisces), Tokyo: Academic, 1970.

12

Voskoboinikova, O.S. and Chernova, N.V., Revalidation of the Eggvin lumpsucker Eumicrotremus eggvinii (Cyclopteridae) and its new finding near Franz Josef Land (Barents Sea), J. Ichthyol., 2016, vol. 56, no. 1, pp. 31–36.

13

Voskoboinikova, O.S. and Nazarkin, M.V., Redescription of Andriashev's spiny pimpled lumpsucker Eumicrotremus andriashevi and designation of a new subspecies E. andriashevi aculeatus ssp. n. (Cyclopteridae), J. Ichthyol., 2015a, vol. 55, no. 2, pp. 155–161.

14

Voskoboinikova, O.S., Balanov, A.A., Kudryavtseva, O.Yu., et al., Systematics of fishes of family Cyclopteridae, Materialy yubileinoi otchetnoi sessii posvyashchennoi 185-letiyu ZIN RAN (Proc. Jubilee Meeting Dedicated to the 185th Anniversary of the Zoological Institute, Russian Academy of Sciences), St. Petersburg: Zool. Inst., Ross. Akad. Nauk, 2017, pp. 27–30.
ACKNOWLEDGMENTS
We are grateful to the staff of the Zoological Institute of the Russian Academy of Sciences, namely, A.V. Balushkin for discussing the results of the research and critical reading of the manuscript, A.O. Yurtseva for support when using the Statistica software and discussing the research results; we thank G.A. Volkova, senior museum curator, for her great help in working with the material. We are grateful to an unknown reviewer for valuable comments.
Funding
The study was supported by the Russian Foundation for Basic Research, project no. 16-04-00456, and carried out as part of State Task no. AAAA-A17-117030310197-7.
Ethics declarations
Conflict of interests. The authors declare that they have no conflict of interests.
Statement on the welfare of animals. This article does not contain any studies involving animals performed by any of the authors.
Additional information
Translated by D. Martynova
About this article
Cite this article
Voskoboinikova, O.S., Balanov, A.A. Morphological Variability of the Spotted Lumpsucker Eumicrotremus pacificus (Cottoidei, Cyclopteridae). J. Ichthyol. 59, 656–663 (2019). https://doi.org/10.1134/S0032945219050175
Received:

Revised:

Accepted:

Published:

Issue Date:
Keywords:
spotted lumpsucker Eumicrotremus pacificus

sexual dimorphism

morphological variability

external skeleton

seismosensory system