Abstract
The type series of Cheilopogon olgae Parin, 2009, is reinvestigated. In the original description of the species, some differences in morphological characters and in label data of type specimens are found. Corrected label data of the paratypes and the map on species distribution of the subgenus Ptenichthys in Australian waters are presented.
This is a preview of subscription content, log in to check access.
Access options
Buy single article
Instant access to the full article PDF.
US$ 39.95
Tax calculation will be finalised during checkout.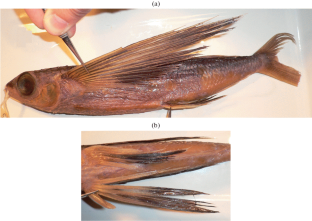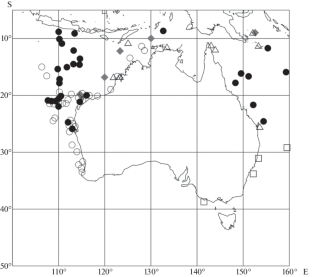 Notes
1.

The specimen of C. intermedius has the following characters: SL 190 mm, D 12, A 9, 28 predorsal scales, 7½ scales in the transverse row (Str), 24 gill rakers, cephaloventral distance 75.0 mm, postventral distance 75.0 mm (data from N.V. Parin's personal archives, unpublished).
REFERENCES
1

Parin, N.V., Cheilopogon olgae (Exocoetidae)—A new species of flying fish from the waters of Western Australia, J. Ichthyol., 2009, vol. 49, no. 3, pp. 271–275.
ACKNOWLEDGEMENTS
We are grateful to A.N. Kotlyar (Shirshov Institute of Oceanology, Russian Academy of Sciences) for reviewing of MS.
Funding
The study was supported by the Russian Federation's Ministry of Science and Higher Education (governmental issue no. 0149-2018-0009).
Ethics declarations
Conflict of interest. The authors declare that they have no conflict of interests.
Statement of the welfare of animals. All applicable international, national, and/or institutional guidelines for the care and use of animals were followed.
About this article
Cite this article
Shakhovskoy, I.B., Malikova, D.Y. On the Type Series of Cheilopogon olgae (Exocoetidae). J. Ichthyol. 59, 815–817 (2019). https://doi.org/10.1134/S003294521905014X
Received:

Revised:

Accepted:

Published:

Issue Date:
Keywords:
flying fish

Ptenichthys
Cheilopogon olgae

type series

distribution

Australian waters