Abstract—
Characters of external morphology of Melanostomiidae fishes of genus Photonectes are critically analyzed. The features previously used to distinguish the subgenera are shown to be unfit for these purposes. Existence of only two decisively diagnosed subgenera is proven within the genus, Trachinostomias and Photonectes s. str., for which the revised diagnoses are given based on the new set of characters. Species P. uncinatus is moved from subgenus Trachinostomias to the nominative subgenus. Reasons for the separation of groups of species within the nominative subgenus and the phylogenetic relationships between these groups are briefly discussed. Three new species are described: P. distichodon, P. filipendulus, and P. xenopogon spp. n. Distinguishing features of another new species that is not yet described due to the lack of data are presented. The key for identification of all known species of the genus is presented.
This is a preview of subscription content, log in to check access.
Access options
Buy single article
Instant access to the full article PDF.
US$ 39.95
Tax calculation will be finalised during checkout.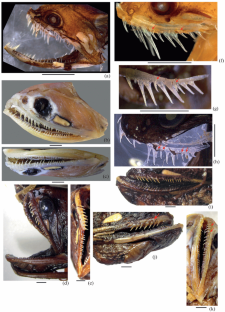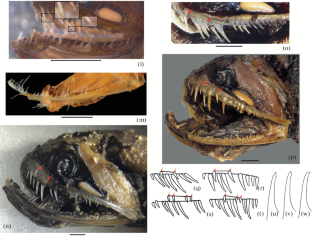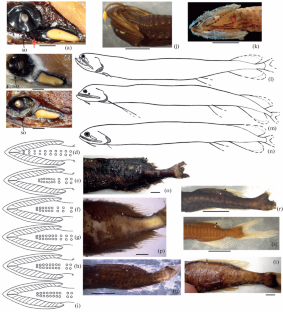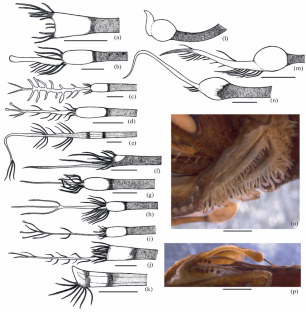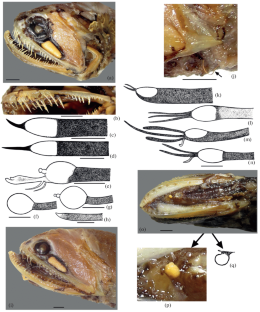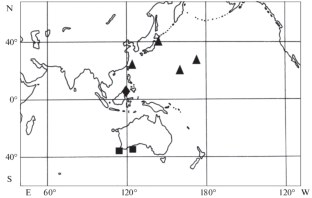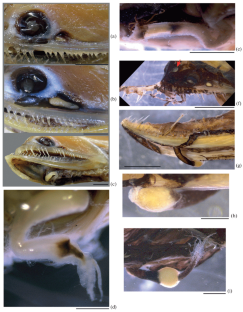 Notes
1.

The greatly enlarged teeth near symphysis of the dentale were also noted in juveniles of P. dinema and P. phyllopogon; in these species, however, teeth of greatly differing size occur along the entire dentale (Fig. 1m). Teeth near symphysis in juveniles of other species (P. ex gr. albipennis, P. braueri, P. leucospilus, and P. paxtoni) do not differ from the subsequent teeth of dentale.

2.

P. dinema, P. leucospilus, and P. paxtoni are known only from juvenile specimens.

3.

In the sample ZMMU no. 14590, two of five specimens have four palatinum teeth on each side, and three other specimens have two, three, and five teeth, respectively. However, it cannot be excluded that the fishes from the western Indian Ocean are not conspecific with the Western Pacific fishes.

4.

Described from the specimen SL 113 mm Photonectes sp. 2 (Parin et al., 1977), and is undoubtedly conspecific with P. paxtoni (Prokofiev, 2014); however, its description is too brief to estimate most of the characters of interest, and I was not able to track down the specimen. Nevertheless, based on the measurements given by Parin et al. (1977), the barbel length in this species should somewhat increase with growth, which excludes P. paxtoni being closely related to P. braueri, with which this species is most similar.

5.

Both specimens are males according to dissection, but the holotype has completely immature gonads, whereas the paratype appears to be close to spawning.

6.

Similar structure of the P ray was noted for some specimens of P. margarita (for example, ZMMU no. 23289), but it looks solid in other specimens of this species (attempts to separate it were unsuccessful).

7.

The number of rows of praemaxillary teeth and the specifics of location of IP photophores are unknown for P. munificus, which nonetheless differs from the species of point 2(1) by a combination of homogenous (according to the figure of holotype in the first description) jaw dentition, BR 9, and rays of D and A, which are completely covered with skin. P. munificus is different from all other species of the genus by the features in the point 3(4) (except the number of rays in P).
REFERENCES
1

Beebe, W., Deep-sea stomiatoid fishes. One new genus and eight new species, Copeia, 1933, vol. 4, pp. 160–175.

2

Bucholtz, R.H., Tomkiewicz, J., and Dalskov, J., Manual to Determine Gonadal Maturity of Herring (Clupea harengus L.): DTU Aqua-Report 197-08, Charlottenlund: Natl. Inst. Aquat. Res., 2008.

3

Catalog of Fishes: Genera, Species, References, Eschmeyer, W.N., Ed., 2018. http://research.calacademy.org/research/ichthyology/catalog/fishcatmain.asp.

4

Doderlein, L., Ein Stomiatide aus Japan, Arch. Naturgesch., 1882, vol. 48, no. 1, pp. 26–31.

5

Fink W.L., Phylogenetic Interrelationships of the Stomiid Fishes (Teleostei, Stomiiformes), Miscellaneous Publications of Museum of Zoology Ser. 171, Michigan: Mus. Zool., Univ. Michigan, 1985.

6

Flynn, A.J. and Klepadlo, C., Two new species of Photonectes (Teleostei: Stomiidae) from the Indo-Pacific, and a re-examination of P. achirus, Mem. Mus. Victoria, 2012, vol. 69, pp. 259–267.

7

Gibbs, R.H., Photonectes munificus, A New Species of Melanostomiatid Fish from the South Pacific Subtropical Convergence, with Remarks on the Convergence Fauna, Contributions in Science no. 149, Los Angeles: Los Angeles County Mus. Nat. Hist., 1968, pp. 1–6.

8

Gibbs, R.H., Melanostomiidae, Fishes of the north-eastern Atlantic and the Mediterranean, Whitehead, P.J.P., Eds., Paris: UNESCO, 1984, vol. 1, pp. 341–365.

9

Gibbs, R.H. and Barnett, M.A., Melanostomiidae, in Check-List of the Fishes of the Eastern Tropical Atlantic: Clofeta, Quero, J.C., Eds., Paris: UNESCO, 1990, vol. 1, pp. 308–337.

10

Günther, A.C.L.G., Report on the deep-sea fishes collected by H.M.S. Challenger during the years 1873–76, in Report on the Scientific Results of the Voyage of H.M.S. Challenger during the Years 1873–76, London, 1887, vol. 22, part 57.

11

Klepadlo, C., Three new species of the genus Photonectes (Teleostei: Stomiiformes: Stomiidae: Melanostomiinae) from the Pacific Ocean, Copeia, 2011, vol. 2, pp. 201–210.

12

Koefoed, E., Isospondyli. I. Gymnophotodermi and Lepidophotodermi from the "Michael Sars" North Atlantic deep-sea expedition 1910, Sci. Res. M. Sars N. Atl. Deep-Sea Exp. 1910, 1956, vol. 4, no. 5, pp. 1–21.

13

Morrow, J.E. and Gibbs, R.H., Melanostomiatidae, in Fishes of the Western North Atlantic, New Haven: Sears Found., 1964, vol. 1, part 4, pp. 351–522.

14

Parin, N.V. and Sokolovskii, A.S., Species composition of family Melanostomiatidae (Osteichthyes) in the zone of Kuroshio Current, Tr. Inst. Okeanol. im. P.P. Shirshova, Akad. Nauk SSSR, 1976, vol. 104, pp. 237–249.

15

Parin, N.V., Bekker, V.E., Borodulina, O.D., et al., Deepwater pelagic fishes of the western tropical Pacific and inland seas of the Indo-Malay Archipelago, Tr. Inst. Okeanol. im. P.P. Shirshova, Akad. Nauk SSSR, 1977, vol. 107, pp. 68–188.

16

Parr, A.E., The Stomiatoid fishes of the suborder Gymnophotodermi (Astronesthidae, Melanostomiatidae, Idiacanthidae) with a complete review of the species, Bull. Bingham Oceanogr. Collect., 1927, vol. 3, art. ID 2.

17

Paulin, C., Stewart, A., Roberts, C., and McMillan, P., New Zealand Fish: A Complete Guide, Te Aro, WLG: Te Papa Press, 1989.

18

Paxton, J.R., Hoese, D.F., Allen, G.R., and Hanley, J.E., Zoological Catalogue of Australia, Vol. 7: Pisces. Petromyzontidae to Carangidae, Canberra: Commonw. Sci. Ind. Res. Org., 1989.

19

Prokofiev, A.M., New and rare species of deep-sea pelagic fishes of families Opisthoproctidae, Melanostomiidae, Oneirodidae, and Linophrynidae, J. Ichthyol., 2014, vol. 54, no. 6, pp. 377–383.

20

Prokofiev, A.M., Data for the revision of subgenus Trachinostomias (Melanostomiidae: Photonectes). Morphological variability of P. margarita with description of two new species, J. Ichthyol., 2015, vol. 55, no. 2, pp. 147–154.

21

Regan, C.T. and Trewavas, E., The fishes of the families Stomiatidae and Malacosteidae, Dana Rep., 1930, vol. 6, pp. 1–143.

22

Richards, W.J., Melanostomiidae: scaleless dragonfishes, in Early Stages of Atlantic Fishes: An Identification Guide for the Western Central North Atlantic, Richards, W.J., Ed., Boca Raton: CRC Press, 2006, pp. 283–288.
ACKNOWLEDGMENTS
I am grateful to J. Maclaine (British Museum of Natural History), K. Webb (British Museum of Natural History), and J. Nielsen (Zoological Museum, University of Copenhagen) for providing photographs and data on syntypes of P. dinema and P. leucopogon.
Funding
The study of species composition of ichthyofauna of the mesopelagic zone was performed within the framework of state assignment no. 0149-2018-0009 and was supported by the Russian Science Foundation (project no. 19-14-00026); the study of morphology and systematics of Melanostomiidae fishes was supported within the framework of state assignment no. 0109-2018-0076. The writing of the present article was partially supported by the Russian Foundation for Basic Research, project no. 18-04-00019.
Ethics declarations
Conflict of interest. The authors declare that they have no conflict of interest.
Statement on the welfare of animals. All applicable international, national, and/or institutional guidelines for the care and use of animals were followed.
Additional information
Translated by A. Lisenkova
About this article
Cite this article
Prokofiev, A.M. Materials for Revision of the Genus Photonectes (Melanostomiidae). J. Ichthyol. 59, 449–476 (2019). https://doi.org/10.1134/S003294521904012X
Received:

Revised:

Accepted:

Published:

Issue Date:
Keywords:
Melanostomiidae

Photonectes

external morphology

classification

subgeneric composition

new species