Abstract
Two soleid specimens from Saya de Malha Bank are described as Brachirus sayaensis sp. nov. It is distinguished from other soleid species by the combination of the following characters: caudal fin joined to dorsal and anal fins, pectoral fins very short, but present, total number of vertebrae 45–46; first ray of dorsal fin not enlarged and free; scales ctenoid on both sides of body; body slightly elongate, no bony process on snout; eyes separated by an interorbital space; opercular membrane free from the body; no labial fringes; pelvic fin of eyed side free, not joined to anal fin; anterior nostril of ocular side does not reach anterior margin of lower eye, dorsal fin rays 77, anal fin rays 61–62, lateral line scales 97–105, color of ocular side in alcohol light brownish, no stripes and spots.
This is a preview of subscription content, log in to check access.
Access options
Buy single article
Instant access to the full article PDF.
US$ 39.95
Price includes VAT for USA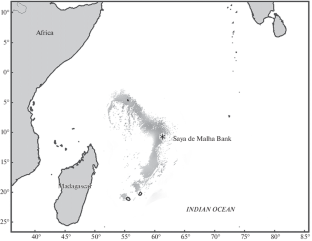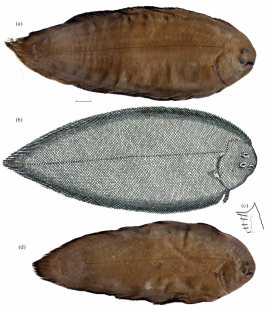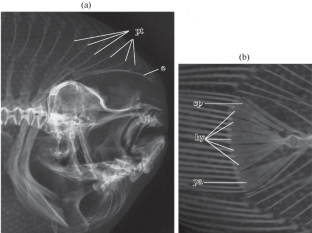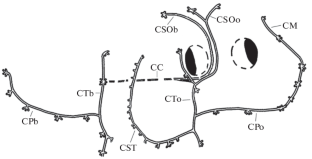 REFERENCES
1

Appelbaum, S. and Schemmel, C., Dermal sense organs and their significance in the feeding behavior of the common sole Solea vulgaris, Mar. Ecol.: Progr. Ser., 1983, vol. 13, pp. 29–36.

2

Catalog of Fishes: Genera, Species, References, Fricke, R., Eschmeyer, W.N., and van der Laan, R., Eds., 2018. http://researcharchive.calacademy.org/research/ichthyology/ catalog/fishcatmain.asp. Accessed November 8, 2018.

3

Chabanaud, P., Les genres de Poissons Heterosomates [Pisces Heterosomata] appartenant a la sous-famille des Soleinae, Bull. Inst. Ocean., 1930, vol. 555, pp. 1–21.

4

Chapleau, F., Etude de la portion supracranienne de la nageoire dorsale chez les Soleidae (Teleosteens, Pleuronectiformes), Cybium, 1989, vol. 13, no. 3, pp. 271–279.

5

Chapleau, F. and Keast, A., A phylogenetic reassessment of the monophyletic status of the family Soleidae, with comments on the suborder Soleoidei (Pisces; Pleuronectiformes), Can. J. Zool., 1988, vol. 66, pp. 2797–2810.

6

Cunningham, J.T., A Treatise on the Common Sole (Solea vulgaris) Considered Both as an Organism and as a Commodity, Plymouth: Mar. Biol. Assoc. UK, 1890.

7

Desoutter, M., Munroe, T.A., and Chapleau, F., Nomenclatural status of Brachirus Swainson, Synaptura Cantor and Euryglossa Kaup (Soleidae, Pleuronectiformes), Ichthyol. Res., 2001, vol. 48, no. 3, pp. 325–327.

8

Foroshchuk, V.P., Pleuronectiforms of the north-western Indian Ocean, Extended Abstract of Cand. Sci. (Biol.) Dissertation, Leningrad: Leningrad State Univ., 1990.

9

Kottelat, M., The fishes of the inland waters of Southeast Asia: a catalogue and core bibliography of the fishes known to occur in freshwaters, mangroves and estuaries, Raffles Bull. Zool. Suppl., 2013, no. 27, pp. 1–663.

10

Lapierre, K.-L., Taxonomic revision of the genera Achiroides, Brachirus, Dexillus, and Paradicula (Pleuronectiformes: Soleidae), MSc Thesis, Ottawa: Univ. Ottawa, 2007.

11

Macleay, W., The fishes of Port Darwin, Proc. Linn. Soc. N. S. Wales, 1878, vol. 2, no. 4, pp. 344–367.

12

Munroe, T.A., Soleidae. Soles, in FAO Species Identification Guide for Fishery Purposes, The Living Marine Resources of the Western Central Pacific, Vol. 6: Bony Fishes, Part 4: Labridae to Latimeriidae, Estuarine Crocodiles, Carpenter K.E. and Niem V. Eds., Rome: Food Agric. Org., 2001, pp. 3878–3889.

13

Randall, J. and Munroe, T., Soleichthys dori, a new sole (Pleuronectiformes: Soleidae) from the Red Sea, Electron. J. Ichthyol., 2008, vol. 2, pp. 76–84

14

Ueno, T., Fauna Japonica: Cyclopteridae (Pisces), Tokyo: Academic, 1970.

15

Webb, J.F., Gross morphology and evolution of the mechanoreceptive lateral-line system in teleost fishes, Brain, Behav. Evol., 1989, vol. 33, pp. 34–53.
Additional information
The article is translated by the authors.
About this article
Cite this article
Voronina, E.P. Brachirus sayaensis, a New Soleid Species (Soleidae: Pleuronectiformes) from Saya de Malha Bank. J. Ichthyol. 59, 418–424 (2019). https://doi.org/10.1134/S0032945219030202
Received:

Revised:

Accepted:

Published:

Issue Date:
Keywords:
Brachirus

Soleidae

Pleuronectiformes

new species

Indian Ocean

Saya de Malha