Abstract—
The new species Pseudogramma cernunnos sp. n., which is close to West Atlantic P. gregoryi and South Pacific P. australis (Easter Island) and P. xantha (Polynesia) but differing by pattern on the head and several meristic and plastic characters, is described from the Bay of Bengal near the Andaman Islands. The new finding fills the gap between distribution ranges of the previously known species of this complex and indicates possible ways for distribution of these species.
This is a preview of subscription content, log in to check access.
Access options
Buy single article
Instant access to the full article PDF.
US$ 39.95
Price includes VAT for USA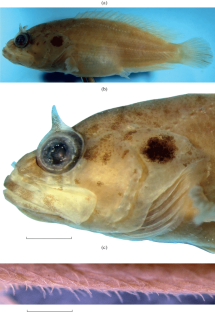 REFERENCES
1

Mochizuki, K., Distribution pattern of the percoid fishes of Synagrops, Neoscombrops and Scombrops, with comments on their history, Nat. Cult., Univ. Mus., Univ. Tokyo, 1989, vol. 1, pp. 79–98.

2

Prokofiev, A.M., New finding of the rare species Bathyclupea schroederi (Bathyclupeidae) in the southern Caribbean, J. Ichthyol., 2014, vol. 54, no. 5, pp. 367–370.

3

Randall, J.E. and Baldwin, C.C., Revision of the Serranid Fishes of the Subtribe Pseudogrammina, with Descriptions of Five New Species, Indo-Pacific Fishes Series vol. 26, Honolulu: Bernice Pauahi Bishop Mus., 1997.

4

Randall, J.E., Baldwin, C.C., and Williams, J.T., Pseudogramma xanthum, a new replacement name for a serranid fish from the subtropical South Pacific Ocean with description of the species, Zootaxa, 2002, vol. 40, pp. 1–8.

5

Schwarzhans, W.W. and Prokofiev, A.M., Reappraisal of Synagrops Gunther, 1887 with rehabilitation and revision of Parascombrops Alcock, 1889 including description of seven new species and two new genera (Perciformes: Acropomatidae), Zootaxa, 2017, vol. 4260, no. 1, pp. 1–74.

6

Williams, J.T. and Viviani, J., Pseudogramma polyacantha complex (Serranidae, tribe Grammistini): DNA barcoding results lead to the discovery of three cryptic species, including two new species from French Polynesia, Zootaxa, 2016, vol. 4111, no. 3, pp. 246–260.
Additional information
Translated by A. Lisenkova
About this article
Cite this article
Prokofiev, A.M. A New Species of Serranids of Genus Pseudogramma from the Indian Ocean (Serranidae). J. Ichthyol. 59, 425–429 (2019). https://doi.org/10.1134/S0032945219030160
Received:

Revised:

Accepted:

Published:

Issue Date:
Keywords:
Percoidei

Pseudogramma

new species

zoogeography