Abstract—
Trachinocephalus atrisignis sp. n. is described from three specimens caught in the western Indian Ocean near Socotra Island. It differs from other representatives of the genus by a saturated black spot on the dorsal fin tip, the shape of the snout and lower jaw, and somewhat lower number of vertebrae and lateral line scales.
This is a preview of subscription content, log in to check access.
Access options
Buy single article
Instant access to the full article PDF.
US$ 39.95
Price includes VAT for USA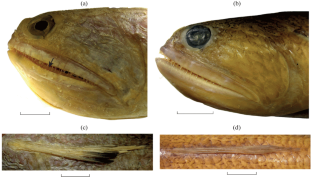 REFERENCES
1

Anderson, W.W., Gehringer, J.W., and Berry, F.H., Family Synodontidae lizardfishes, Mem. Sears Found. Mar. Res., 1966, vol. 1, no. 5, pp. 30–102.

2

Cressey, R., Revision of the Indo-Pacific Lizardfishes of the Genus Synodus (Pisces: Synodontidae), Smithsonian Contributions to Zoology no. 342, Washington: Smithsonian Inst. Press, 1981.

3

Cressey, R., Family no. 79: Synodontidae, in Smith's Sea Fishes, Smith, M.M., Heemstra, P.C., Eds., Berlin: Springer-Verlag, 1986, pp. 270–273.

4

Ditty, J.G., Farooqi, T., and Shaw, R.F., Order Aulopiformes: Aulopidae & Synodontidae (suborder Synodontoidei), in Early Stages of Atlantic Fishes, an Identification Guide for the Western Central North Atlantic, CRC Marine Biology Series, Richards, W.J., Ed., Boca Raton: CRC Press, 2006, pp. 301–323.

5

Polanco, F.A., Acero, A.P., and Betancur-R, R., No longer a circumtropical species: revision of the lizardfishes in the Trachinocephalus myops species complex, with description of a new species from the Marquesas Islands, J. Fish. Biol., 2016, vol. 89, no. 2, pp. 1302–1323.
Additional information
Translated by A. Lisenkova
About this article
Cite this article
Prokofiev, A.M. A New Species of Lizardfishes of Genus Trachinocephalus from the Western Indian Ocean (Synodidae). J. Ichthyol. 59, 414–417 (2019). https://doi.org/10.1134/S0032945219030159
Received:

Revised:

Accepted:

Published:

Issue Date:
Keywords:
Synodidae

Trachinocephalus

new species

Indian Ocean