Abstract—
A new species, Acropoma leobergi sp. n. from the Arafura Sea, belonging to a group of species with a short U-shaped luminous organ slightly receding behind the anus, is described. From other species of this group, the described species is well distinguished by a combination of such features as a small number of gill rakers in the outer row on the first arc (18–20), the presence of the chin boss, the presence of cycloid scales on the sides of the body, four longitudinal rows of scales between the beginning of the first dorsal fin and lateral line, and dense melanophore pigmentation on the dorsal surface of the luminous organ. Earlier representatives of this species, apparently, were mistakenly identified with the northwestern Pacific species A. japonicum (from Japan to Vietnam and the Philippines). A new synonymy was established: Acropoma lacrima Okamoto et Golani, 2017 = A. splendens (Lloyd, 1909).
This is a preview of subscription content, log in to check access.
Access options
Buy single article
Instant access to the full article PDF.
US$ 39.95
Price includes VAT for USA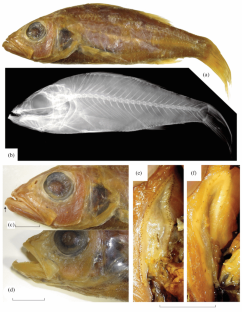 Notes
1.

For other species of the group, this feature is not described.
REFERENCES
1

Fowler, H.W. and Bean, B.A., Contributions to the biology of the Philippine Archipelago and adjacent regions. The fishes of the families Amiidae, Chanidae, Duleidae, and Serranidae, obtained by the United States Bureau of Fisheries Steamer, "Albatross" in 1907 to 1910, chiefly in the Philippine Islands and adjacent seas, Bull. U.S. Nat. Mus., 1930, vol. 100, no. 10.

2

Gloerfelt-Tarp, T. and Kailola, P.J., Trawled Fishes of Southern Indonesia and Northwestern Australia, Jakarta: Austral. Dev. Ass. Bureau, 1984.

3

Hubbs, C.L. and Lagler, K.F., Fishes of the Great Lakes region, Cranbrook Inst. Sci. Bull., 1958, no. 26, pp. 1–213.

4

Katayama, M., Fauna Japonica: Serranidae (Pisces), Tokyo: Biogeogr. Soc. Jpn., 1960.

5

Lloyd, R.E., A description of the deep-sea fish caught by the R.I.M.S. ship "Investigator" since the year 1900, with supposed evidence of mutation in Malthopsis, Mem. Ind. Mus., 1909, vol. 2, no. 3, pp. 130–180.

6

Matsubara, K., Revision of the Japanese serranid fish referable to the genus Acropoma, Mem. Coll. Agric. Kyoto Univ., 1953, vol. 66, pp. 21–29.

7

Okamoto, M., Acropoma profundum, a new species of lanternbelly (Teleostei: Perciformes: Acropomatidae) from the Solomon Islands, Species Diversity, 2014, vol. 19, no. 1, pp. 9–14.

8

Okamoto, M. and Golani, D., Three new species of the genus Acropoma (Perciformes: Acropomatidae) from the Indian Ocean, Ichthyol. Res., 2017, vol. 65, no. 1. P. 101–114. doi 10.1007/s10228-017-0595-2

9

Okamoto, M. and Ida, H., Acropoma argentistigma, a new species from the Andaman Sea, off southern Thailand (Perciformes: Acropomatidae), Ichthyol. Res., 2002, vol. 49, no. 3, pp. 281–285.

10

Schwarzhans, W.W. and Prokofiev, A.M., Reappraisal of Synagrops Günther, 1887 with rehabilitation and revision of Parascombrops Alcock, 1889 including description of seven new species and two new genera (Perciformes: Acropomatidae), Zootaxa, 2017, vol. 4260, no. 1, pp. 1–74.
Additional information
Translated by S. Avodkova
About this article
Cite this article
Prokofiev, A.M. A New Species of Luminous Percoids of the Acropoma Genus (Acropomatidae). J. Ichthyol. 58, 939–943 (2018). https://doi.org/10.1134/S0032945218060152
Received:

Published:

Issue Date:
Keywords:
Acropomatidae

Acropoma

systematics

new species

new synonymy

Australasia

bioluminescence