Abstract
The morphological study of the axial skeleton of the nine species of the genus Carasobarbus Karaman, 1971 enabled to confirm the division of this bony structure into five morphologically distinct regions. This regionalization shows higher level of complexity than the division between abdominal and caudal regions. New characters were valuable in the characterization of the nine Carasobarbus species studied and provided a key to separate them.
Access options
Buy single article
Instant access to the full article PDF.
US$ 39.95
Tax calculation will be finalised during checkout.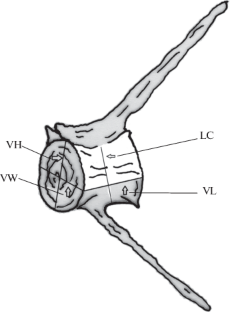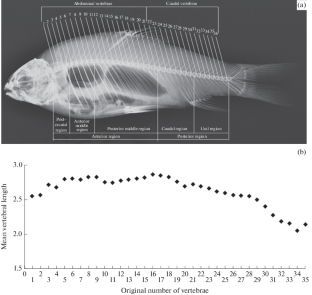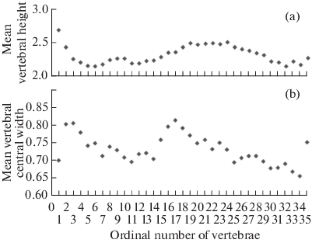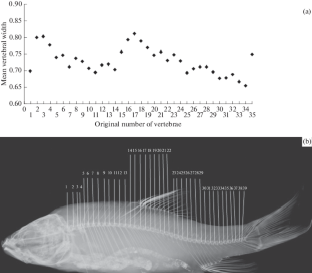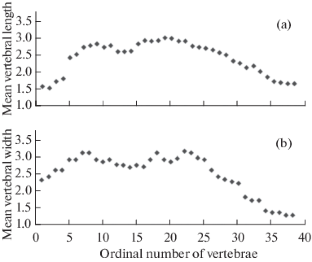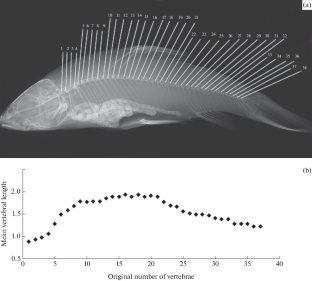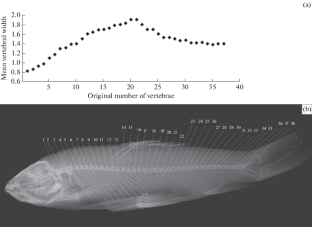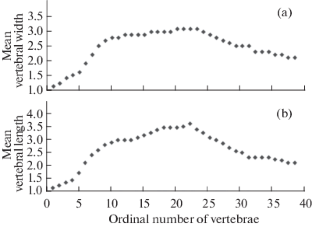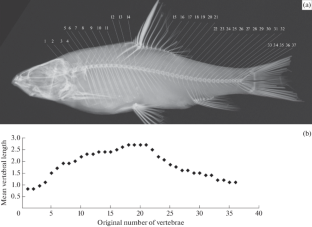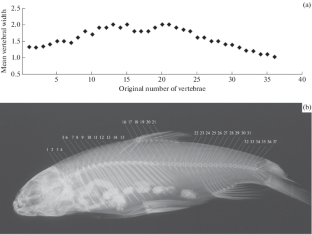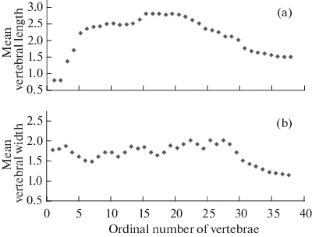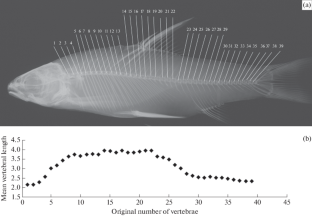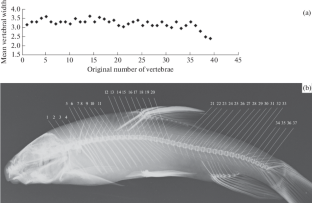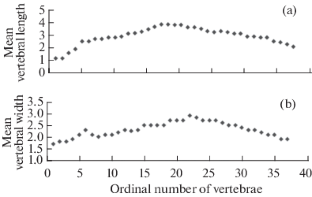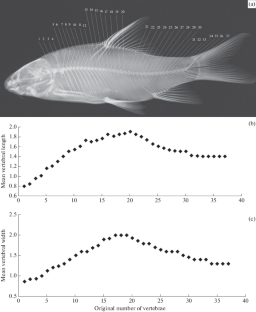 REFERENCES
1

Bainbridge, R., Caudal fin and body movement in the propulsion of some fish, J. Exp. Biol., 1963, vol. 40, pp. 23–56.

2

Bird, N.C. and Hernandez, L.P., Morphological variation in the Weberian apparatus of Cypriniformes, J. Morphol., 2007, vol. 268, pp. 739–757.

3

Borkenhagen, K. and Krupp, F., Taxonomic revision of the genus Carasobarbus Karaman, 1971 (Actinopterygii, Cyprinidae), ZooKeys, 2013, vol. 339, pp. 1–53.

4

Borkenhagen, K., Esmaeili, H.R., Mohsenzadeh, S., Shahryani, F., and Gholamifard, A., The molecular systematics of the Carasobarbus species from Iran and adjacent areas, with comments on Carasobarbus albus (Heckel, 1843), Environ. Biol. Fish., 2011, vol. 91, pp. 327–335.

5

Desse, J., Desse-Bersrt, N., and Rochteau, M., Les profils rachidiens globaux. Reconstitution de lataille des poisons et appréciation du nombre minimal d'individus à partir des pieces rachidiennes, Rev. Paléobiol., 1989, vol. 8, pp. 89–94.

6

Durand, J.D., Tsigenopoulos, C.S., Ünlü, E., and Berrebi, P., Phylogeny and biogeography of the family Cyprinidae in the Middle East inferred from cytochrome b DNA—evolutionary significance of this region, Mol. Phylogenet. Evol., 2002, vol. 22, pp. 91–100.

7

Froese, R. and Pauly, D., FishBase, version 12/2017, 2017. http://www.fishbase.org.

8

Grande, L. and Bemis, W.E., A comprehensive phylogenetic study of Amiid fishes (Amiidae) based on comparative skeletal anatomy: An empirical search for interconnected patterns of natural history, J. Vertebr. Paleontol., 1998, vol. 18, pp. 1–696.

9

Jawad, L.A., Study of the vertebral column of the onion trevally, Carangoides caeruleopinnatus (Teleostei: Carangidae) collected from the Sea of Oman, Ital. J. Zool., 2015, vol. 82, pp. 41–47.

10

Karaman, M.S., Süßwasserfische der Türkei. 8. Revision der Barben Europas, Vorderasiens und Nordafrikas, Mitt. Hamb. Zool. Mus. Inst., 1971, vol. 67, pp. 175–254.

11

Lindsey, C.C., Form, function and locomotory habits in fish, in Fish Physiology, Hoar, W.S. and Randall, D.J., Eds., New York: Academic, 1978, pp. 1–100.

12

Ramzu, M.Y.A., Étude de la régionalization de la colonne vertebrale en function des modes de nage chez les téléostéens, Morphologie, histologie et croissance, PhD Thesis, Paris: Univ. of Paris, 1999.

13

Ramzu, M. and Meunier, F.J., Descripteurs morphologiques de la zonation de la colonne vertébrale chez la truite arc-en-ciel Oncorhynchus mykiss (Walbaum, 1792) (Teleostei, Salmonidae), Ann. Sci. Nat., Zool. Biol. Anim., 1994, vol. 3, pp. 87–97.

14

Ramzu, M., Meunier, F.J., and Schovaer, D., Morphological and histological characteristics of the vertebral axis zonation in the trout (Salmo trutta L.) (Teleostei, Salmonidae): possible functional implications, Oceanis, 1992, vol. 18, pp. 85–91.

15

Tsigenopoulos, C.S., Kasapidis, P., and Berrebi, P., Phylogenetic relationships of hexaploid large-sized barbs (genus Labeobarbus, Cyprinidae) based on mtDNA data, Mol. Phylogenet. Evol., 2010, vol. 56, pp. 851–856.

16

Videler, J.J., Fish Swimming, London: Chapman and Hall, 1993.

17

Ward, A.B., and Brainerd, E. L., Evolution of axial patterning in elongate fishes, Biol. J. Linn. Soc., 2007, vol. 90, pp. 97–116.

18

Weihs, D., Design features and mechanics of axial locomotion in fish, Am. Zool., 1989, vol. 24, pp. 107–120.
Additional information
The article is published in the original.
About this article
Cite this article
Jawad, L.A., Abed, J.M., Hussain, S.A. et al. Vertebral Dimensions in the Genus Carasobarbus (Teleostei: Cyprinidae). J. Ichthyol. 58, 780–794 (2018). https://doi.org/10.1134/S003294521806005X
Received:

Published:

Issue Date:
Keywords:
vertebral column

regionalization

Cyprinidae

Carasobarbus

taxonomy