Abstract
The morphological description of a rare species, Mekong blind sole Typhlachirus elongatus, from the Mekong River delta is described. Three species—T. lipophthalmus, T. caecus, and T. elongates—are considered as species included in the genus Typhlachirus. Unfoundedness of placing T. elongatus in the genus of Brachirus is shown.
This is a preview of subscription content, log in to check access.
Access options
Buy single article
Instant access to the full article PDF.
US$ 39.95
Price includes VAT for USA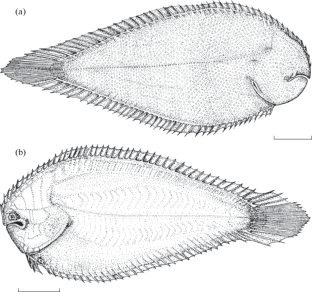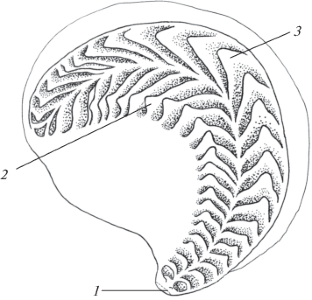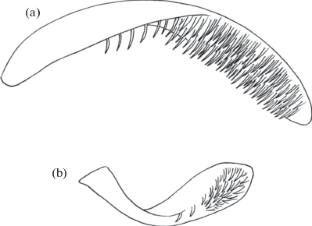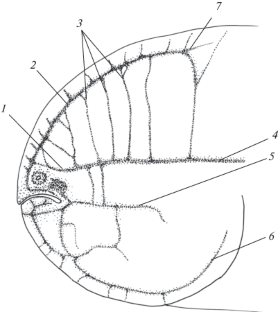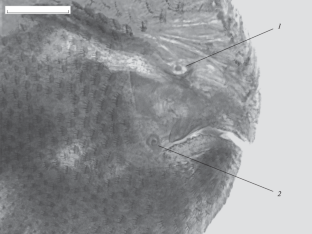 REFERENCES
1

Catalog of Fishes Version 03/2018, Eschmeyer, W.N., Ed., 2018. http://researcharchive.calacademy.org/research/ichthyology/catalog/fishcatmain.asp.

2

Chabanaud, P., Catalogue systématique et chorologique des Téléostéens dyssymétriques du Globe, Bull. Inst. Oceanogr., 1939, vol. 763, pp. 1–31.

3

Chabanaud, P., Morphologie et systematique des Soliedes affectes d'une atrophie plus ou moins complète de l'oeil migrateur, Zool. Verh., 1948, vol. 3, no. 1, pp. 1–58.

4

Chanet, B. and Desoutter-Meniger, M., French-English glossary of terms found in Chabanaud's published works on Pleuronectiformes, Cybium, 2008, vol. 1, no. 2.

5

Desoutter, M., Chapleau, F., Munroe, T.A., et al., Catalogue critique des types de poissons du Muséum national d'Histoire naturelle (suite) Ordre des Pleuronectiformes, Cybium, 2001a, vol. 25, no. 4, pp. 299–368.

6

Desoutter, M., Munroe, T.A., and Chapleau, F., Nomenclatural status of Brachirus Swainson, Synaptura Cantor and Euryglossa Kaup (Soleidae, Pleuronectiformes), Ichthyol. Res., 2001b, vol. 48, no. 3, pp. 325–327.

7

Eschmeyer, W.N. and Fong, J.D., Species by family/subfamily, in The Catalog of Fishes, Version 03/2018, 2018. http://researcharchive.calacademy.org/research/ichthyology/catalog/SpeciesByFamily.asp.

8

Hardenberg, J.D.F., The fish fauna of the Rokan Mouth, Treubia, 1931a, vol. 13, no. 1, pp. 81–168.

9

Hardenberg, J.D.F., Some new or rare fishes of the Indo-Australian Archipelago, Treubia, 1931b, vol. 13, nos. 3–4, pp. 411–419.

10

Károli, J., Prodromus piscium Asiae orientalis a domine Joanne Xantus annis 1868–70 collectorum, Termeszetrajzi Fuzetek, 1882, vol. 5, pp. 176.

11

Kottelat, M., Zoogeography of the fishes from Indochinese inland waters with an annotated checklist, Bull. Zoöl. Mus. Univ. Amsterdam, 1989, vol. 12, no. 1, pp. 1–55.

12

Kottelat, M., The fishes of the inland waters of Southeast Asia: a catalogue and core bibliography of the fishes known to occur in freshwaters, mangroves and estuaries, Raffles Bull. Zool. Suppl., 2013, no. 27, pp. 1–663.

13

Lapierre, K.-L., Taxonomic revision of the genera Achiroides, Brachirus, Dexillus, and Paradicula (Pleuronectiformes: Soleidae), MSc Thesis, Ottawa: Univ. Ottawa, Ottawa-Carleton Inst. Biol., 2007.

14

Munroe, T.A., Family Soleidae (soles), Raffles Bull. Zool. Suppl., 2000, no. 8, pp. 645–646.

15

Ochiai A., Fauna Japonica: Soleina (Pisces), Tokyo: Biogeograph. Soc. Jpn., 1963.

16

Pellegrin, J. and Chevey, P., Poissons nouveaux ou rares de Cochinchine. Descriptions de deux espèces et deux variétés, Bull. Soc. Zool. France, 1940, vol. 65, pp. 153–158.

17

Rainboth, W.J., Fishes of the Cambodian Mekong, in FAO Species Identification Field Guide for Fishery Purposes, Rome: Food Agric. Org., 1996.
ACKNOWLEDGMENTS
We are grateful to A.M. Prokofiev (Institute of Ecology and Evolution) for collecting field materials and data on type specimens of Mekong blind soles from the collection of the National Museum of Natural History (NMNH); to G. Duhamel (NMNH) for X-ray films; and E.D. Vasil'eva (Museum of Zoology, Moscow State University), A.V. Balushkin (Institute of Zoology, Russian Academy of Sciences), and T. Munroe (United States National Museum) for discussion of problems of Mekong blind sole taxonomy. We are particularly grateful to N.A. Veretennikov (Institute of Ecology and Evolution, Russian Academy of Sciences) for the total drawings of Mekong blind sole.
Additional information
Translated by D. Zabolotny
About this article
Cite this article
Evseenko, S.A., Bolshakov, D.V. On the Morphology of Mekong Blind Sole Typhlachirus elongatus (Soleidae) with Notes on the Taxonomy of the Genus Typhlachirus. J. Ichthyol. 58, 688–693 (2018). https://doi.org/10.1134/S0032945218050065
Received:

Published:

Issue Date:
Keywords:
Mekong blind sole Typhlachirus elongatus

Mekong delta

morphology

taxonomy