Abstract
A caddisfly fauna from the Middle Miocene of the Stavropol Region (Vishnevaya Balka and Temnolesskaya localities) is described. The formal species Limnephilus kaspievi (Martynova, 1939) is redescribed based on new material, including the hind wings. New genera, Miocenocosmoecus (Limnephilidae) and Calamostavropolia (Calamoceratidae), and eight new species of fossil Trichoptera are described: Limnephilus parakaspievi, L. metakaspievi, L. valliculacerasinus, L. antiquastepposus, Potamophylax martynovorum, Halesus miocenicus, Miocenocosmoecus silvacaliginosus, and Calamostavropolia revolutionaria.
Access options
Buy single article
Instant access to the full article PDF.
US$ 39.95
Tax calculation will be finalised during checkout.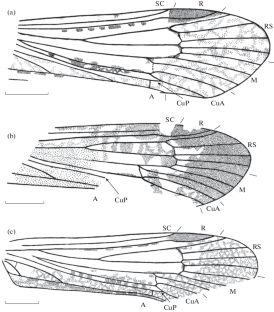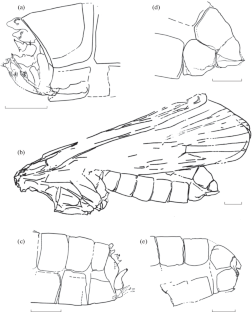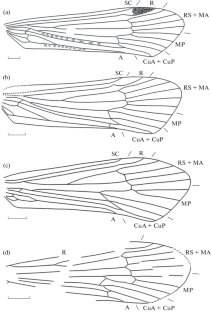 REFERENCES
1

Andrusov, N.I., Tubes of worms of the family Amphictenidae in the Russian Miocene, Izv. Akad. Nauk SSSR Ser. 6, 1916, no. 4, pp. 227–232.

2

Bekker-Migdisova, E.E., Tertiary homopterans of the Stavropol Region, Tr. Paleontol. Inst. Akad. Nauk SSSR, 1964, vol. 54, pp. 1–108.

3

Belokrys, L.S., On Sarmatian pectinariids, Paleontol. Zh., 1967, no. 2, pp. 129–133.

4

Carpenter, F.M., Insects from the Miocene (Latah) of Washington: Part 6. Trichoptera, Ann. Entomol. Soc. Am., 1931, vol. 24, no. 2, pp. 319–322.

5

Carpenter, F.M., Superclass Hexapoda, in Treatise on Invertebrate Paleontology: Part R: Arthropoda., Kaesler, R.L., Brosius, E., Keim, J., and Priesner, J., Eds., Kansas: Geol. Soc. Am. Univ. Kansas Press, 1992, vol. 4.

6

Cockerell, T.D.A., Eocene insects from the Rocky Mountains, Proc. US Nat. Mus., 1920, vol. 57, pp. 233–260.

7

De Moor, F. and Ivanov, V.D., Global diversity of caddisflies (Trichoptera: Insecta) in freshwater, Hydrobiologia, 2008, vol. 595, pp. 393–407.

8

Dlussky, G.M., Miocene ants (Hymenoptera, Formicidae) of the USSR, Tr. Paleontol. Inst. Akad. Nauk SSSR, 1981, vol. 183 (New Fossil Insects from the USSR), pp. 64–83.

9

Goncharova, I.A., Bivalve mollusks of the Tarkhanian and Chokrakian basins, Tr. Paleontol. Inst. Akad. Nauk SSSR, 1989, vol. 234, pp. 1–200.

10

Goncharova, I.A., Tarkhanian–Karaganian cycle (Miocene) of the development of the Eastern Paratethys: Correlation, hydrology, and paleobiogeography, Byull. Mosk. Ob-va Ispyt. Prir. Otd. Geol., 1991, vol. 66, no. 4, pp. 81–84.

11

Holzenthal, R.W., Morse, J.C., and Kjer, K.M., Order Trichoptera Kirby, 1813, in Animal Biodiversity: An outline of higher-level classification and survey of taxonomic richness, Zhang, Z.-Q., Ed., Zootaxa, 2011, vol. 3148, pp. 209–211.

12

Ivanov, V.D., Melnitsky, S.I., and Perkovsky, E.E., Caddisflies from Cenozoic ambers of Europe, Paleontol. Zh., 2016, no. 5, pp. 53–61.

13

Ivanov, V.D. and Melnitsky, S.I., The caddis fly fauna (Trichoptera) of Russia: On the centenary of exploration, Entomol. Rev. Washington, 2012, vol. 92, no. 1, pp. 58–67.

14

Ivanov, V.D. and Melnitsky, S.I., New caddisflies species (Insecta: Trichoptera) from Cretaceous Taymyr amber, Cret. Res., 2017, vol. 77, pp. 124–132.

15

Lewis, S.E., A new species of fossil caddisfly (Trichoptera: Limnephilidae) from the Ruby River Basin (Oligocene) of southwestern Montana, J. High Resolut. Chromatogr. Chromatogr. Commun., 1973, vol. 66, no. 5, p. 1173.

16

Martynov, A.B., Prakticheskaya entomologiya (Practical Entomology), vol. 5: Rucheiniki (Caddisflies), Leningrad, 1924.

17

Martynova, O.M., Miopsyche kaspievi sp. n., a new caddisfly species from the Miocene deposits of the Ordzhonikidze Region, Tr. Voroshil. Gos. Pedag. Inst., 1939, vol. 1, pp. 91–93.

18

Martynova, O.M., On the nature of tubes of Pectinariopsis Andr. (Trichoptera, non Polychaeta), Entomol. Obozr., 1947, vol. 29, no. 3, pp. 152–153.

19

Papp, A., Agglutinierende Polycheten aus dem oberen Miozen, Palaeobiologica, 1941, vol. 7, no. 4, pp. 318–324

20

Rhodendorf, B.B., On the Miocene entomofauna of Voroshilovsk, Priroda, 1939, no. 12, pp. 85–88.

21

Ruiter, D.E., The adult Limnephilus Leach (Trichoptera: Limnephilidae) of the New World, Bull. Ohio Biol. Surv. New Ser., 1995, vol. 11, no. 1, pp.1–200.

22

Sukatsheva, I.D., Historical development of the order of caddisflies, Tr. Paleontol. Inst. Akad. Nauk SSSR, 1982, vol. 197, pp. 1–112.

23

Sukatsheva, I.D., Features of the caddisfly fauna (Trichoptera) from the Miocene of the Stavropol Region (in view of the data on other insect groups), in Problemy vodnoi entomologii Rossii: Materialy X (2) Trikhopterologicheskogo Simpoziuma (Materials of the X (2) Trichopterological Symposium on the Problems of Aquatic Entomology of Russia), Vladikavkaz, 2013, pp. 54–60.

24

Sukatsheva, I.D., Fossil representatives of the family Phryganeidae (Insecta: Trichoptera), in Aktual'nye problemy ekologii i sokhraneniya bioraznoobraziya Rossii i sopredel'nykh stran. Materialy IX Vserossiiskoi Nauchnoi Konferentsii, Vladikavkaz, 27–30 aprelya 2015 (Materials of the IX All-Russia Scientific Conference on Actual Problems of Ecology and Preservation of Biodiversity of Russia and Adjacent Countries, Vladikavkaz, April 27–30 2015), Vladikavkaz, 2015, pp. 18–21.

25

Sukatsheva, I.D., The first record of Dicosmoecinae from the Cenozoic of the Russian Far East with a brief global overview of fossil Limnephilidae (Insecta: Trichoptera), Paleontol. Zh., 2017, no. 1, pp. 52–57.

26

Sukatsheva, I.D. and Vasilenko, D.V., Caddisflies (Trichoptera) in the limnetic fauna from the Jurassic to Miocene, in Materialy V Vserossiiskogo simpoziuma po amfibioticheskim i vodnym nasekomym (Materials of the V All-Russia Symposium on Amphibiotic and Aquatic Insects), Borok, 2013, pp. 200–206.

27

Vshivkova, T.S., Phylogeny of family Limnephilidae (Insecta: Trichoptera) with emphasis on tribe Limnephilini (subfamily Limnephilinae), PhD Theses, 2006.

28

Vyalov, O.S., On worm tubes of Pectinariopsis Andrusov, Paleontol. Sbor., 1974, vol. 1, no. 10, pp. 41–52.

29

Wichard, W., Overview and Descriptions of Trichoptera in Baltic Amber: Spicipalpia and Integripalpia, Berlin: Mus. Naturkunde, 2013, vol. 230.
ACKNOWLEDGMENTS
We are grateful to A.P. Rasnitsyn (PIN) for valuable advice, constructive remarks, and consultations during our work on the paper, to I.A. Goncharova (PIN) for the notes on the manuscript, and to Yu.V. Rostovtseva (Moscow University) for discussion and valuable remarks and also for the unpublished results of lithological analysis of studied rocks.
The work is supported by the Russian Foundation for Basic Research (project nos. 18-04-00322, 18-04-00312) and the Program of the Presidium of the Russian Academy of Sciences "Evolution of the Organic World: Role and Impact of Planetary Processes."
Additional information
The article is dedicated to the memory of famous Russian paleoentomologist O.M. Martynova
Translated by G. Rautian
About this article
Cite this article
Sukatsheva, I.D., Ivanov, V.D., Melnitsky, S.I. et al. Caddisflies (Insecta: Trichoptera) from the Middle Miocene of the Stavropol Region, Russia. Paleontol. J. 52, 1593–1609 (2018). https://doi.org/10.1134/S0031030118130142
Received:

Published:

Issue Date:
Keywords:
Insecta

Trichoptera

new taxa

Miocene

Russia