Abstract
The temperature dependences of the positions of maxima of exciton bands in the luminescence spectra of liquid crystal nanocomposites with CdSe quantum dots with sizes of 1.8 and 2.3 nm at T = 77–300 K have been analyzed. The analysis under the theoretical model taking into account the electron–phonon interaction inside quantum dots has made it possible to calculate the values of the Huang–Rhys factor and average phonon energy in nanocrystals under study.
This is a preview of subscription content, log in to check access.
Access options
Buy single article
Instant access to the full article PDF.
US$ 39.95
Price includes VAT for USA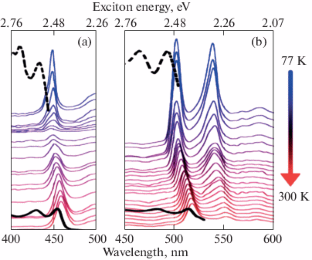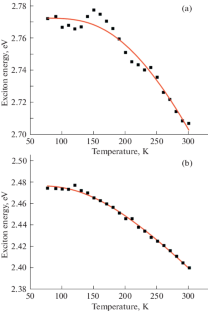 ACKNOWLEDGMENTS
This work was financially supported by the Russian Science Foundation (project no. 14-12-01415, the study of the temperature behavior of the luminescence spectra of quantum dots) and by the Russian Foundation for Basic Research (project no. 18-02-01121, the study of dynamic processes in solid nanocomposites).
We deeply thank Profs. T.A. Mirnaya and G.V. Klimusheva for kindly providing samples.
Additional information
Translated by V. Rogovoi
XIII International Conference on Hole Burning, Single Molecule, and Related Spectroscopies: Science and Applications (HBSM–2018), August 6–12, 2018, Suzdal, Moscow, Russia.
About this article
Cite this article
Magaryan, K.A., Karimullin, K.R., Vasil'eva, I.A. et al. Analysis of the Temperature Dependence of the Exciton Luminescence Spectra of Cadmium Selenide Quantum Dots Grown in a Liquid Crystal Matrix. Opt. Spectrosc. 126, 41–43 (2019). https://doi.org/10.1134/S0030400X19010107
Received:

Published:

Issue Date: