Abstract
The principle of operation of near-infrared LEDs based on PbS nanocrystals and aspects of their development are considered. The aging of nanocrystals with different ligand shells is analyzed, as well as spectral transmission of the bottom LED layers. Samples of light-emitting diodes based on NC are demonstrated, their electrical and optical parameters are studied. The emission at a wavelength of 1480 nm is demonstrated.
This is a preview of subscription content, log in to check access.
Access options
Buy single article
Instant access to the full article PDF.
US$ 39.95
Price includes VAT for USA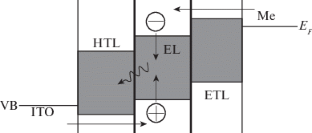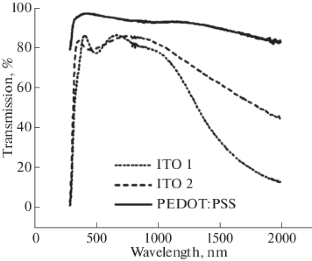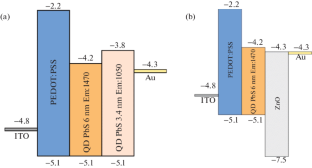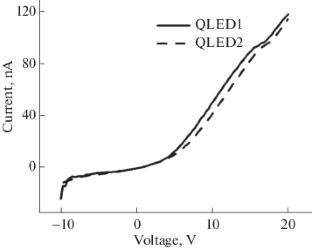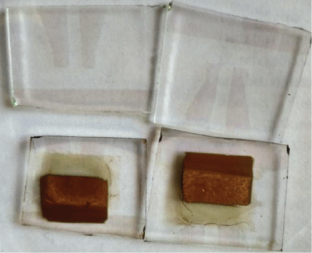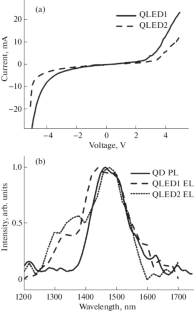 REFERENCES
1

M. N. Kamalasanan, R. Srivastava, G. Chauhan, A. Kumar, P. Tayagi, and A. Kumar, Center for Organic Electronics, Polymeric and Soft Materials Section, National Physical Laboratory (Council of Scientific and Industrial Research). https://www.intechopen.com/books/organic-light-emitting-diode/organic-light-emitting-diodes-for-white-light-emission.

2

F. W. Wise, Accounts Chem. Res. 33, 773 (2000).

3

B.-R. Hyun, Yu-Wu. Zhong, A. C. Bartnik, L. Sun, H. D. Abruna, F. W. Wise, J. D. Goodreau, J. R. Matthews, T. M. Leslie, and N. F. Borrelli, ACS Nano 2, 2206 (2008).

4

P. R. Brown, D. Kim, R. R. Lunt, Ni Zhao, M. G. Ba-wendi, J. C. Grossman, and V. Bulovic, ACS Nano 8, 5863 (2014).

5

L. Sun, J. J. Choi, D. Stachnik, A. C. Bartnik, B.‑R. Hyun, G. G. Malliaras, T. Hanrath, and F. W. Wise, Nat. Nanotechnol. 7, 369 (2012).

6

Z. Yang, O. Voznyy, Mengxia Liu, Mingjian Yuan, A. H. Ip, O. S. Ahmed, L. Levina, S. Kinge, S. Hoo-gland, and E. H. Sargent, ACS Nano 9, 12327 (2015).

7

Ruili Wang, Yuequn Shang, Pongsakorn Kanjanaboos, Wenjia Zhou, Zhijun Ning, and E. H. Sargent, Energy Environ. Sci. 9, 1130 (2016).

8

Xingliang Dai, Zhenxing Zhang, Yizheng Jin, Yuan Niu, Hujia Cao, Xiaoyong Liang, Liwei Chen, Jianpu Wang, and Xiaogang Peng, Nature (London, U.K.) 515, 96 (2014).

9

Jing Chen, Jiangyong Pan, Qianqian Huang, Feng Xu, Zichen Zhang, Wei Lei, and Arokia Nathan, Phys. Status Solidi Appl. Mater. Sci. 212, 2856 (2015).

10

P. Bettotti, Adv. Opt. 2014, 1 (2014).

11

Xiao-Zhi Guo, Yi-Duo Zhang, Da Qin, Yan-Hong Luo, Dong-Mei Li, Yu-Tong Pang, and Qing-Bo Meng, J. Power Sources 195, 7684 (2010).

12

M. Hála, S. Fujii, A. Redinger, Y. Inoue, G. Rey, M. Thevenin, V. Deprédurand, T. P. Weiss, T. Bertram, and S. Siebentritt, Prog. Photovolt: Res. Appl. 23, 1630 (2015).

13

E. V. Ushakova, A. P. Litvin, P. Parfenov, A. V. Fedo-rov, M. Artemyev, A. V. Prudnikau, I. D. Rukhlenko, and A. V. Baranov, ACS Nano 6, 8913 (2012).

14

D. V. Talapin and C. B. Murray, Science (Washington, DC, U.K.) 310, 86 (2005).
ACKNOWLEDGMENTS
The authors thank the Ministry of Education and Science of the Russian Federation Grant no. 14.584.21.0032 (ID RFMEFI58417X0032).
Additional information
International Conference "PCNSPA 2018—Photonic Colloidal Nanostructures: Synthesis, Properties, and Applications," Saint Petersburg, Russia, June 4–8, 2018.
The article is published in the original.
About this article
Cite this article
Onishchuk, D.A., Pavlyuk, A.S., Parfenov, P.S. et al. Near Infrared LED Based on PbS Nanocrystals. Opt. Spectrosc. 125, 751–755 (2018). https://doi.org/10.1134/S0030400X1811022X
Received:

Published:

Issue Date: