Abstract
Bolometers based on industrial planar resistors were manufactured and studied. In the frequency range of 200–400 GHz, they showed a sensitivity of 6 × 10–12 Ω/W (which corresponds to a power of absorbed radiation of ~10 pW at a measuring current of about 1 nA) in the dynamic range of ~30 dB at an operating temperature of 0.3 K. By comparing the detector response to incident radiation with the response to a change in its resistance with increasing the direct current power, it is possible to determine the absolute power of absorbed radiation with an accuracy of 10–20%. The time constant of the used ruthenium-oxide detectors, depending on the substrate thickness, is ~0.1–2 s.
Access options
Buy single article
Instant access to the full article PDF.
US$ 39.95
Tax calculation will be finalised during checkout.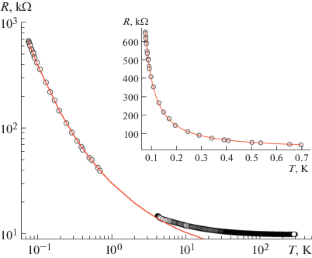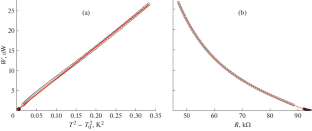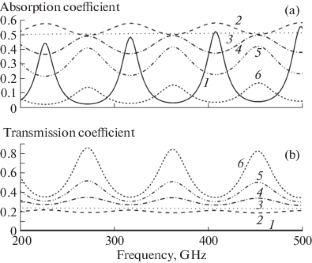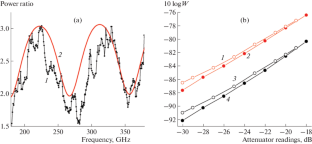 REFERENCES
1

Lemzyakov, S.A. and Edelman, V.S., Instrum. Exp. Tech., 2016, vol. 59, no. 4, pp. 621–626. https://doi.org/10.1134/S0020441216040205

2

Grimaldi, C., Ryser, P., and Strässler, S., J. Appl. Phys., 2000, vol. 88, no. 7, p. 4164. https://doi.org/10.1063/1.1290738

3

Zhan, T., Shi, X., Dai, Y., Liu, X., and Zi, J., J. Phys.: Condens. Matter, 2013, vol. 25, no. 21, p. 215301. https://doi.org/10.1088/0953-8984/25/21/215301

4

Worrell, C.A., J. Mater. Sci., 1986, vol. 21, no. 3, p. 781.

5

Nuzhnyy, D., Petzelt, J., Borodavka, F., Vaněk, P., Šimek, D., Trunec, M., and Maca, K., Phys. Status Solidi B, 2017, vol. 254, no. 5, p. 1600607. https://doi.org/10.1002/pssb.20160060

6

Loewenstein, E.V., Smith, D.R., and Morgan, R.L., Appl. Opt., 1973, vol. 12, no. 2, p. 398.
ACKNOWLEDGMENTS
The authors are grateful to M.A. Tarasov for the discussion, A.M. Chekushkin for his help in sputtering absorbing films, and M.A. Belyanchikov for his help in grinding resistors and measuring their transmittance at room temperature.
About this article
Cite this article
Lemzyakov, S.A., Edelman, V.S. Low-Temperature Radiation Detectors Based on Ruthenium-Oxide Resistors. Instrum Exp Tech 64, 338–342 (2021). https://doi.org/10.1134/S0020441221020226
Received:

Revised:

Accepted:

Published:

Issue Date: