Abstract
As a rule, the width of a spectral line in atomic emission spectral analysis with arc sources is much smaller than the hardware function of the spectral device. Thus, the spectral line contour is determined by the hardware function of the device and can be approximated, e.g., by the Voigt function. However, when reference samples with a wide range of element concentrations are analyzed, there is a frequent problem of self-absorption that causes one to change the analytical line, which is not always possible. It is proposed to modify the Voigt function by adding a factor that describes self-absorption, by analogy with the Bouguer–Lambert law. The possibility of using the proposed function is evaluated during the analysis of reference samples of rocks, ores, and sandstones in a Grand-Potok spectral system with a MAES analyzer and BLPP-2000 photodetector arrays. The use of the proposed approximating function has provided an increase in the working range of the calibration curves of Cu 327.3954 nm, Cu 324.7532 nm, Pb 287.3311 nm, Ni 305.0818 nm, and Mo 313.2594 nm by 1–3 orders of magnitude.
Access options
Buy single article
Instant access to the full article PDF.
US$ 39.95
Tax calculation will be finalised during checkout.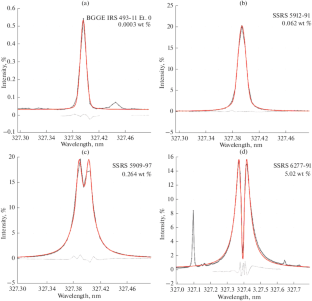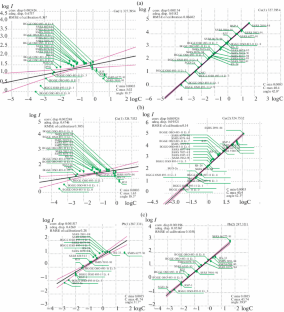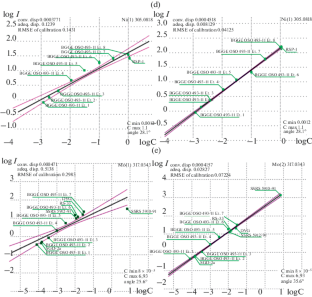 REFERENCES
1

Stancik, A.L. and Brauns, E.B., A simple asymmetric lineshape for fitting infrared absorption spectra, Vib. Spectrosc., 2008, vol. 47, pp. 66–69.

2

Labusov, V.A., Put'makov, A.N., Zarubin, I.A., and Garanin, V.G., New multichannel optical spectrometers based on MAES analyzers, Zavod. Lab., Diagn. Mater., 2012, vol. 78, nos. 1–2, pp. 7–13.

3

Shabanova, E.V., Bus'ko, A.E., and Vasil'eva, I.E., Scintillation arc atomic emission analysis of powder samples using MAES with high temporal resolution, Zavod. Lab., Diagn. Mater., 2012, vol. 78, nos. 1–2, pp. 24–33.
Ethics declarations
The authors declare that they have no conflicts of interest.
Additional information
Translated by L. Mukhortova
About this article
Cite this article
Vashchenko, P.V., Labusov, V.A., Garanin, V.G. et al. Expansion of the Element Content Range through the Use of Self-Absorption Lines. Inorg Mater 56, 1441–1445 (2020). https://doi.org/10.1134/S0020168520140137
Received:

Revised:

Accepted:

Published:

Issue Date:
Keywords:
atomic emission spectrometry

linear photodetector

line contour shape

self-absorption