Abstract—
Coprolites of the hyena Pachycrocuta brevirostris from the Lower Pleistocene (Upper Villafranchian) of Taurida Cave (Crimea) were studied. One of the three hyena coprolites contained helminth eggs. These eggs were assigned to Toxocara sp. based on their size and morphology. Toxocariasis was evidently a very common infestation among extinct hyena species. The find of toxocara in P. brevirostris coprolite from the Taurida Cave is the earliest evidence of roundworm infestation in P. brevirostris.
Access options
Buy single article
Instant access to the full article PDF.
USD 39.95
Price excludes VAT (USA)
Tax calculation will be finalised during checkout.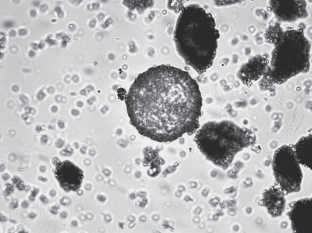 REFERENCES
Lopatin, A.V., Vislobokova, I.A., Lavrov, A.V., et al., Taurida cave, a new locality of the Early Pleistocene vertebrates in Crimea, Dokl. Akad. Nauk, 2019, vol. 485, no. 3, pp. 381–385.

Lavrov, A.V., Gimranov, D.O., Startsev, D.B., and Lopatin, A.V., Giant hyena Pachycrocuta brevirostris (Hyaenidae, Carnivora) from the lower Pleistocene of Taurida cave, Crimea, Dokl. Ross. Akad. Nauk, Nauki Zhizni, 2021, vol. 496, pp. 10–14.

Turner, A. and Anton, M., The giant hyaena, Pachycrocuta brevirostris (Mammalia, Carnivora, Hyaenidae), Geobios, 1996, vol. 29, no. 4, pp. 455–468.

Chin, K., Analyses of coprolites produced by carnivorous vertebrates, Paleontol. Soc. Pap., 2002, vol. 8, pp. 43–50.

Scott, L., Fernandez-Jalvo, Y., Carrion, J., and Brink, J., Preservation and interpretation of pollen in hyaena coprolites: Taphonomic observations from Spain and southern Africa, Palaeontologia Africana, 2003, vol. 39, pp. 83–91.

Jouy-Avantin, F., Combes, C., Miskovsky, J.C., and Mone, H., Helminth eggs in animal coprolites from a Middle Pleistocene site in Europe, J. Parasitol., 1999, vol. 85, pp. 376–379.

Horwitz, L. and Goldberg, P., A study of Pleistocene and Holocene hyena coprolites, J. Archaeol. Sci., 1989, vol. 16, pp. 71–94.

Perri, A.R., Heinrich, S., Gur-Arieh, S., and Saun-ders, J.J., Earliest evidence of Toxocara sp. in a 1.2-million-yr-old extinct hyena (Pachycrocuta brevirostris) coprolite from Northwest Pakistan, J. Parasitol., 2017, vol. 103, no. 1, pp. 138–141.

Ferreira, L.F., Araujo, A., and Duarte, A.N., Nematode larvae in fossilized animal coprolites from lower and Middle Pleistocene sites, central Italy, J. Parasitol., 1993, vol. 79, no. 3, pp. 440–442.

Larkin, N.R., Alexander, J., and Lewis, M.D., Using experimental studies of recent faecal material to examine hyaena coprolites from the West Runton Freshwater Bed, Norfolk, U.K., J. Archaeol. Sci., 2000, vol. 27, no. 1, pp. 19–31.

Bouchet, F., Araujo, A., Harter, S., et al., Toxocara canis (Werner, 1782) eggs in the Pleistocene site of Menez-Dregan, France (300 000–500 000 years before present), Mem. Inst. Oswaldo Cruz, 2003, vol. 98, pp. 137–139.

Jouy-Avantin, F., et al., A standardized method for the description and the study of coprolites, J. Archaeol. Sci., 2003, vol. 30, no. 3, pp. 367–372.

Beltrame, M.O., Sardella, N.H., Fugassa, M.H., and Barberena, R., A paleoparasitological analysis of rodent coprolites from the Cueva Huenul 1 archaeological site in Patagonia (Argentina), Mem. Inst. Oswaldo Cruz, 2012, vol. 107, no. 5, pp. 604–612.

Cherepanov, A.A. and Moskvin, A.C., Kotel'Nikov, G.A., and Khrenov, V.M., Atlas. Differentsial'naya diagnostika gel'mintozov po morfologicheskoi strukture yaits i lichinok vozbuditelei (Atlas. Differential Diagnosis of Helminthiases According to the Morphological Structure of Eggs and Larvae of Pathogens), Moscow: Rossel'khozakademiya, 2002.

Engh, A.L. et al., Coprologic survey of parasites of spotted hyenas (Crocuta crocuta) in the Masai Mara National Reserve, Kenya, J. Wildl. Dis., 2003, vol. 39, no. 5, pp. 224–227.

Eom, K.S., et al., Identity of Spirometra theileri from a leopard (Panthera pardus) and spotted hyena (Crocuta crocuta) in Tanzania, Korean J. Parasitol., 2019, vol. 57, no. 6, pp. 639–645.

Mozgovoi, A.A., Askaridy zhivotnykh i cheloveka i vyzyvaemye imi zabolevaniya (Ascaris of Animals and Humans and the Diseases Caused by Them), Moscow: Akad. Nauk SSSR, 1953.

Heitlinger, E., Ferreira, S.C.M., Thierer, D., Hofer, H., and East, M.L., The intestinal eukaryotic and bacterial biome of spotted hyenas: the impact of social status and age on diversity and composition, Front. Cell. Infect. Microbiol., 2017, vol. 7, art. ID 262.
About this article
Cite this article
Sivkova, T.N., Khantemirov, D.R., Gimranov, D.O. et al. Evidence of Toxocara Eggs in Pachycrocuta brevirostris (Gervais, 1850) Coprolites from the Pleistocene of Taurida Cave (Crimea). Dokl Biol Sci 504, 82–84 (2022). https://doi.org/10.1134/S0012496622030036
Received:

Revised:

Accepted:

Published:

Issue Date:

DOI: https://doi.org/10.1134/S0012496622030036
Keywords: