Abstract
Folding of model polypeptide sequences consisting of 50 and 150 amino-acid residues with the alanine and glycine repeat was explored using Langevin dynamics techniques at different values of the viscosity of a virtual medium. The starting conformations corresponded to a totally extended chain structure. The change in the dissipative properties of the medium was simulated under varying parameters of the Langevin thermostat. It is shown that there is a sufficiently high and threshold sensitivity of the result of chain folding to the viscosity of the medium. The folding of the considered polypeptide sequences when the viscosity of the medium is already on the order of viscosity of liquefied gases occurs mainly in alpha-helical conformations. With a decrease in the effective viscosity of the medium below the critical value, disordered structures are formed. It is noteworthy that in a virtual environment energy effects are not an unambiguous criterion for determining conformation as a result of folding of the polypeptide chain. The observed effects of viscosity, which lead to the correlation of conformational motions due to the action of dissipative forces and the selection of possible conformational relaxation paths of the chain, directly affect the folding result in accordance with the predictions of the analytic theory.
Access options
Buy single article
Instant access to the full article PDF.
US$ 39.95
Tax calculation will be finalised during checkout.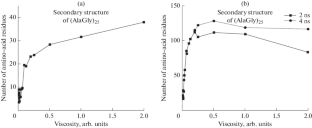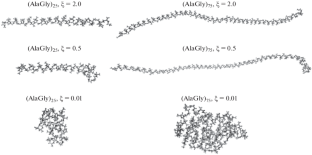 REFERENCES
1

C. Levinthal, J. Chem. Phys. 65, 44 (1968).

2

J. N. Onuchic and P. G. Wolynes, Curr. Opin. Struct. Biol. 14, 70 (2004).

3

E. I. Shakhnovich and A. M. Gutin, Nature 346, 773 (1990).

4

A. V. Finkelstein, Physics of Protein Molecules (Moscow–Izhevsk, 2014) [in Russian].

5

K. A. Dill and J. L. MacCallum, Science 338, 1042 (2012).

6

A. Yu. Grosberg and A. R. Khokhlov, Giant Molecules: Here, There, and Everywhere, 2nd ed. (World Scientific, Singapore, 2011).

7

E. R. Henry, R. B. Best, and W. A. Eaton, Proc. Natl. Acad. Sci. U. S. A. 110, 17880 (2013).

8

K. V. Shaitan, Biophysics (Moscow) 63 (4), 485 (2018)

9

K. V. Shaitan, Biophysics (Moscow) 63 (5), 675 (2018).

10

K. V. Shaitan, Biophysics (Moscow) 63 (1), 1 (2018).

11

K. V. Shaitan, Biophysics (Moscow) 62 (1), 1 (2017).

12

K. V. Shaitan, M. A. Lozhnikov and G. M. Kobelkov, Biophysics (Moscow) 62 (2), 182 (2017)

13

K. V. Shaitan, F. Yu. Popelenskii and G. A. Armeev, Biophysics (Moscow) 62 (3), 348 (2017)

14

K. V. Shaitan, in Stochastic Dynamics of Reacting Biomolecules, Ed. by W. Ebeling, L. Schimansky-Gefer, and Y. M. Romanovsky (World Scientific, Singapore, 2003), pp. 283–308.

15

S. Pronk, S. Pall, R. Schulz, P. Larsson, et al., Bioinformatics 29, 845 (2013).

16

E. J. Sorin and V. S. Pande, Biophys. J. 88, 2472 (2005).

17

C. V. Heer, Statistical Mechanics, Kinetic Theory, and Stochastic Processes (Academic, London, 1972; Mir, Moscow, 1976).

18

W. G. Touw, C. Baakman, J. Black, et al., Nucleic Acids Res. 43, D364 (2015).
Funding
This work was supported by the Russian Foundation for Basic Research (project no. 18-02-40010).
Ethics declarations
Conflict of interests. The authors declare that they have no conflicts of interest.Statement on the welfare of humans or animals. This article does not contain any studies involving animals performed by any of the authors.
Additional information
Translated by M. Batrukova
About this article
Cite this article
Erendjenova, A.A., Armeev, G.A. & Shaitan, K.V. The Effect of the Viscosity of the Medium on the Molecular Dynamics of the Formation of Secondary Structure of (AlaGly)25 and (AlaGly)75 Polypeptides. BIOPHYSICS 65, 731–735 (2020). https://doi.org/10.1134/S000635092005005X
Received:

Revised:

Accepted:

Published:

Issue Date:
Keywords: molecular dynamics

polypeptides

folding

viscosity

secondary structure

potential energy surface