Abstract
Changes in Escherichia coli and Staphylococcus aureus reproduction were experimentally studied upon exposure of bacterial suspensions or the solvent (water) to a rectified electromagnetic field of a low frequency (4 Hz) and low intensity (~5.1–6 T) with various orientations of its vector with respect to the Z axis of the geomagnetic field. An increase in the total Z component of the field that influenced bacteria was associated with an accelerated formation of bacterial colonies, while a decrease in the component inhibited bacterial colony formation.
Access options
Buy single article
Instant access to the full article PDF.
US$ 39.95
Tax calculation will be finalised during checkout.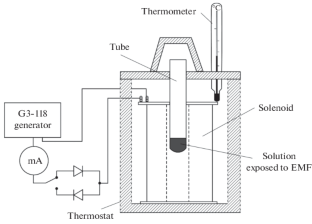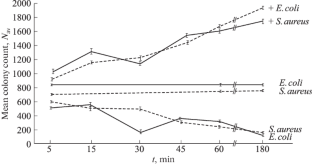 REFERENCES
1

M. S. Lushnov, A. M. Lushnov, I. N. Likhovitskaya, et al., Biosfera 2 (1), 26 (2010).

2

E. G. Golovina and O. M. Stupishina, in Weak and Ultraweak Fields and Radiations in Biology and Medicine, Proc. 8th Int. Congress (St. Petersburg, 2018), Vol. 8, p. 150.

3

N. P. Lekhtlaan-Tynisson, E. B. Shaposhnikova, and V. E. Kholmogorov, Biophysics (Moscow) 49 (3), 492 (2004).
Ethics declarations
Conflict of interests. The authors declare that they have no conflict of interest.
This article does not contain any studies involving animals or human subjects performed by any of the authors.
Additional information
Translated by T. Tkacheva
About this article
Cite this article
Gall, L.N., Lekhtlaan, N.P. & Tsygankov, A.I. On the Relationship between the Z-Component of the Geomagnetic Field and the Biological Activity of an Aqueous Bacterial Suspension. BIOPHYSICS 64, 898–900 (2019). https://doi.org/10.1134/S000635091906006X
Received:

Revised:

Accepted:

Published:

Issue Date:
Keywords:
bacterial test

Z component of geomagnetic field

low-frequency electromagnetic field

aqueous solution