Abstract
The data on the finding of Eustrongylides excisus in the Rybinsk Reservoir (Yaroslavl oblast, Russia) are presented. Larvae-IV were recorded in 2015 in ruff. The appearance of this nematode in the reservoir is associated with the expansion of the range of cormorant, its main definitive host. E. excisus is one more parasite species exhibiting northward expansion in the Volga Basin.
This is a preview of subscription content, log in to check access.
Access options
Buy single article
Instant unlimited access to the full article PDF.
US$ 39.95
Price includes VAT for USA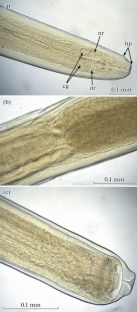 REFERENCES
1

Bogdanova, A.E., Seasonal changes in the parasite-fauna of pike and bream of the Volga River, in Raboty po gel'mintologii. K 80-letiyu akad. K.I. Skryabina (Works in Helminthology, Devoted to the 80th Anniversary of the acad. K.I. Skryabin), Moscow: Akad. Nauk SSSR, 1958, pp. 72–78.

2

Bogdanova, E.A., Parasithofauna of some commercial fish species of the Volga River before the formation of Stalingrad Reservoirs, Tr. Sovesh. Ikhtiol. Komiss., Akad. Nauk SSSR, 1961, no. 10, pp. 169–177.

3

Chepurnaya, A.G., Fish parasites fauna in various water bodies of the Lower Volga region, Vestn. Astrakhan. Gos. Tekhn. Univ., Ser. Rybn. Khoz., 2010, no. 1, pp. 62–65.

4

Dement'ev, G.P., Gladkov, N.A., Ptushenko, E.S., Spangenberg, E.P., and Sudilovskaya, A.M., Ptitsy Sovetskogo Soyuza (Birds of the Soviet Union), Dement'ev, G.P. and Gladkov, N.A., Eds., Moscow: Sov. Nauka, 1951, vol. 1.

5

Dontsov, Yu.S. and Markov, G.S., The impact of the Don's River overregulation on the pikeperch parasite fauna, in Fauna, sistematika, biologiya i ekologiya gel'mintov i ikh promezhutochnykh khozyaev (Fauna, Systematics, Biology, and Ecology of Helminthes and Their Intermediate Hosts), Gorky, 1981, pp. 17–24.

6

Karmanova, E.M., Animal and human dioctophimides and the diseases they cause, in Osnovy nematodologii (Nematology Basics), Moscow: Nauka, 1968, vol. 20, pp. 103–119.

7

Ladanov, V., The invasion of a grate cormorant, 2016, in Ptitsy Srednego Povolzh'ya (Birds of the Middle Volga region). http://volgabirds.ru/home/novosti/70-nashestviebolshogo-baklana. Accessed January 20, 2019.

8

Lugovoi, A.E., Large cormorant Phalacrocorax carbo (Linnaeus, 1758), in Ptitsy Rossii i sopredel'nykh regionov: Pelikanoobraznye, Aistoobraznye, Flamingoobraznye (Birds of Russia and Adjacent Regions: Pelecanidae, Ciconiidae, and Phoenicopteridae), Andronov, V.A., Ardamatskaya, T.B., Artyukhov, Yu.B., Priklonskii, S.G., Zubakin, V.A., and Koblik, E.A., Eds., Moscow: KMK, 2011, pp. 54–83.

9

Mineeva, O.V., Bullfish nematodes (Perciformes, Gobiidae) in the Saratov Reservoir, Izv. Samar. Nauch. Tsentra,Ross. Akad. Nauk, 2018, vol. 20, no. 2, pp. 67–72.

10

Petrova, O.R. and Pavlov, D.D., First finding of great egret Casmerodius albus nesting in Yaroslavl oblast, Russ. J. Biol. Invasions, 2016, vol. 7, no. 3, pp. 290–293.

11

Reshetnikova, A.V., Parasites of fish of the Lower Volga HPP, XXII Congress of the CPSU by name, Tr. Volgograd. Otd., Gos. Nauchno-Issled. Inst. Ozern. Rechn. Rybn. Khoz., 1967, vol. 3, pp. 299–320.

12

Semenova, N.N., Ivanov, V.P., and Ivanov, V.M., Parazitofauna i bolezni ryb Kaspiiskogo morya: Monografiya (Parasites Fauna and Fish Diseases of the Caspian Sea: Monograph), Astrakhan': Astrakhan. Gos. Tekhn. Univ., 2007.

13

Tirakhov, A.D., Fish parasites of the White and Lozsko-Azatsky lakes (fauna and ecology), Cand. Sci. (Biol.) Dissertation, Moscow: Mosk. Gos. Univ., 1998.

14

Zhokhov, A.E. and Molodozhnikova, N.M., Taxonomic diversity of fish parasites and fish in the Volga River basin. V. Nematoda and Gordiacea, Parazitologiya, 2008, vol. 42, no. 2, pp. 114–128.

15

Zhokhov, A.E. and Tyutin, A.V., Parasitic fish fauna in lake acidification, in Struktura i funktsionirovanie ekosistem atsidnykh ozer (Structure and Functioning of Acid Lake Ecosystems), St. Petersburg, 1994, no. 70 (73), pp. 186–201.
Ethics declarations
COMPLIANCE WITH ETHICAL STANDARDS
The paper contains no studies with animals in the experiments carried out by any of the authors.
CONFLICTS OF INTEREST
The authors declare the absence of conflicts of interest.
About this article
Cite this article
Zhokhov, A.E., Pugacheva, M.N. First Record of Eustrongylides excisus (Dorylaimea: Dioctophymatidae) in Fish of the Rybinsk Reservoir. Russ J Biol Invasions 10, 325–327 (2019). https://doi.org/10.1134/S207511171904012X
Received:

Revised:

Accepted:

Published:

Issue Date:
Keywords:
Eustrongylides excisus

nematode

range expansion

fish parasites

Volga