Abstract
The data on adsorbability of oleamides and hexylamine, cyclohexylamine, morpholine, piperidine, and piperazine salts of oleic acid are systematized in this study. The protective mechanism of these compounds is studied in order to reveal a correlation between the inhibiting ability and the calculated parameters of the molecules. A procedure for measuring the Volta potential difference using a Poverkhnost-II high-sensitivity digital electrometer under the conditions when water- and hydrocarbon-soluble corrosion inhibitors interact with the steel and copper surface is elaborated. It has been proven that a high-efficiency corrosion inhibitor can be designed based on the data on its donor properties and adsorbability.
This is a preview of subscription content, log in to check access.
Access options
Buy single article
Instant unlimited access to the full article PDF.
US$ 39.95
Price includes VAT for USA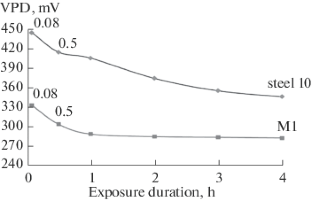 REFERENCES
1

Rozenfel'd, I.L., Ingibitory korrozii (Corrosion Inhibitors), Moscow: Khimiya, 1977.

2

Tsarev, B.M., Kontaktnaya raznost' potentsialov (Contact-Potential Difference), Moscow: Gos. Izd. Tekhniko-Teoreticheskoi Literatury, 1955.

3

Rivière, J.C., in Solid State Surface Science, Green, M., Ed., New York: Marcel Dekker, 1969.

4

Altsybeeva, A.I., Tronova, E.A., and Burlov, V.V., Tezisy dokladov Mezhdunarodnoi konferentsii "Ingibitory korrozii i nakipeobrazovaniya. Memorial I. L. Rozenfel'da" (14–17 oktyabrya 2014) (Proc. Int. Conference "Inhibitors of Corrosion and Scale Formation, in Memoriam of I. L. Rozenfel'd", October 14–17, 2014), Moscow: Gubkin Russian State Univ. of Oil and Gas (National Research Univ.), 2014, p. 92.
Additional information
Translated by D. Terpilovskaya
About this article
Cite this article
Tronova, E.A., Altsybeeva, A.I. & Burlov, V.V. Investigation of Adsorbability of Water- and Hydrocarbon-Soluble Corrosion Inhibitors onto Carbon Steel and Copper. Prot Met Phys Chem Surf 55, 1294–1298 (2019). https://doi.org/10.1134/S2070205119070189
Received:

Published:

Issue Date:
Keywords:
volta potential difference

inhibitor

electron-donating properties

oleamides

oleates