Abstract—
Taxonomic status of birches (Betula pendula, B. pubescens or their hybrids) is identified by molecular genetics assay of the ploidy level using SSR-markers in moist and peatland forest types. Studies are performed on experimental forest sites of the Institute of Forest Science in the center of the East European plain. B. pendula × B. pubescens hybrids accounted for 11% of the combined dataset. Thus, the birch hybrids are essential components of natural communities. We demonstrate for the first time that B. pendula is predominant, the hybrids are rare, and B. pubescens occurs sporadically on oligotrophic peat bogs. B. pendula grew in the canopy while B. pubescens and the hybrids grew in second story of moist blueberry pine forests. Identification of birch species using keys for the flora species is proven to be confusing due to the occurrence of different combinations of traits. All genetically identified B. pendula trees had twigs growing upwards, without pendulous traits.
This is a preview of subscription content, log in to check access.
Access options
Buy single article
Instant access to the full article PDF.
US$ 39.95
Price includes VAT for USA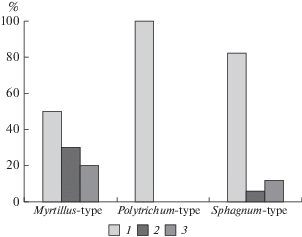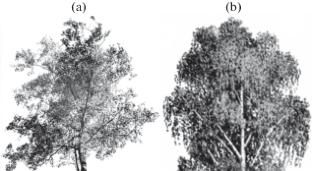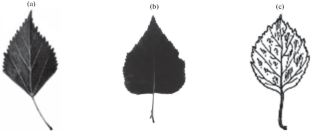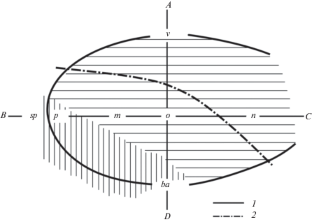 REFERENCES
1

Abaturov, Yu.D., Zvorykina, K.V., and Il'yushenko, A.F., Tipy berezovykh lesov tsentral'noi chasti yuzhnoi taigi (Types of Birch Forests of the Central Part of Southern Taiga), Moscow: Nauka, 1982.

2

Atkinson, M.D., Betula pendula Roth (B. verrucosa Ehrh.) and B. pubescens Ehrh., J. Ecol., 1992, vol. 80, no. 4, pp. 837–870.

3

Atkinson, M.D. and Codling, A.N., A reliable method for distinguishing between Betula pendula and B. pubescens,Watsonia, 1986, vol. 16, no. 1, pp. 75–76.

4

Atrokhin, V.G., Kalutskii, K.K., and Tyurikov, F.T., Drevesnye porody mira. Tom 3. Drevesnye porody SSSR (Wood Species of the World, Vol. 3: Wood Species of USSR), Moscow: Lesn. Prom-st', 1982.

5

Baliuckas, V., Balyutskene, A., and Baranov, O.Yu., Morphogenetic features of interspecies hybrids (B. pendula × pubescens) among half sibs of Silver birch, Materialy Mezhdunarodnoi nauchno-prakticheskoi konferentsii "Nauka o lese XXI veka," g. Gomel', 17–19 noyabrya 2010 g. (Proc. Int. Sci.-Pract. Conf. "Science about Forest in 21st Century," Gomel, November 17–19, 2010), Gomel: Inst. Lesa, Nats. Akad. Nauk Bel., 2010, pp. 130–134.

6

Baranov, O.Yu. and Baliuckas, V., Molecular genetic markers in studies of ploidy of aspens and birches, in Problemy lesovedeniya i lesovodstva (Forest Science and Forestry), Gomel: Inst. Lesa, Nats. Akad. Nauk Bel., 2009, no. 69, pp. 129–135.

7

Beck, P., Caudullo, G., de Rigo, D., and Tinner, W., Betula pendula, Betula pubescens and other birches in Europe: distribution, habitat, usage and threats, in European Atl-as of Forest Tree Species, Luxembourg: Publ. Off. European Union, 2016, pp. 70–73.

8

Borodina, N.A., Nekrasov, V.I., Nekrasova, N.S., Petrova, I.P., Plotnikova, L.S., and Smirnova, N.G., Derev'ya i kustarniki SSSR (Trees and Scrubs of USSR), Moscow: Mysl', 1966.

9

Brown, I.R., Kennedy, D., and Williams, D.A., The occurrence of natural hybrids between Betula pendula Roth and B. pubescens Ehrh., Watsonia, 1982, vol. 14, pp. 133–145.

10

Butorina, A.K., Cytogenetics of economically valuable forms of Karelian birch, Genetika, 1985, vol. 21, no. 7, pp. 1192–1198.

11

Danchenko, A.M., Populyatsionnaya izmenchivost' berezy (Population Variability of Birch), Novosibirsk: Nauka, 1990.

12

Denisov, S.A., Formational of birch forests related with their ontogenesis in various edatopes in Central Volga region, Vestn. Mariisk. Gos. Tekh. Univ., Ser.: Les. Ekol. Prirodopol'z., 2009, no. 3, pp. 13–27.

13

Gubanov, I.A., Kiseleva, K.V., Novikov, V.S., and Tikhomirov, V.N., Illyustrirovannyi opredelitel' rastenii Srednei Rossii. Tom 2. Pokrytosemennye (dvudol'nye: razdel'nolepestkovye) (Illustrated Guide for Identification of the Plants of Central Russia, Vol. 2: Angiosperms (Dicotyledons: Choripetalae)), Moscow: KMK, 2003.

14

Howland, D., Oliver, R., and Davy, A., Morphological and molecular variation in natural populations of Betula,New Phytol., 1995, vol. 130, pp. 117–124.

15

Koropachinskii, I.Yu., Natural hybridization and taxonomy of birches in North Asia, Contemp. Probl. Ecol., 2013, vol. 6, no. 4, pp. 350–369.

16

Kulju, K.K.M., Pekkinen, M., and Varvio, S., Twenty-three microsatellite primer pairs for Betula pendula (Betulaceae), Mol. Ecol. Notes, 2004, vol. 4, no. 3, pp. 471–473.

17

Lesnaya entsiklopdiya (Forest Encyclopedia), Moscow: Sovetskaya Entsiklopediya, 1985, vol. 1.

18

Maevskii, P.F., Flora srednei polosy evropeskoi chasti SSSR (Flora of the Central Zone of European Part of USSR), Leningrad: Kolos, 1964, 9th ed.

19

Makhnev, A.K., Vnutrevidovaya izmenchivost' i populyatsionnaya struktura berez sektsii Albae i Nanae (Intraspecific Variability and Population Structure of Birches of Albae and Nanae Sections), Moscow: Nauka, 1987.

20

Maliouchenko, O., Palmé, A.E., Buonamici, A., Vendramin, G.G., and Lascoux, M., Comparative phylogeography and population structure of European Betula species, with particular focus on B. pendula and B. pubescens,J. Biogeogr., 2007, vol. 34, no. 9, pp. 1601–1610.

21

Mashkina, O.S., Tabatskaya, T.M., Baranov, O.Yu., and Zelenina, E.A., Cytogenetic and molecular-genetic features of valuable birch genotypes collection, long-term cultured in vitro, Materialy X Mezhdunarodnoi konferentsii "Biologiya kletok rastenii in vitro i biotekhnologiya," g. Kazan', 14–18 oktyabrya 2013 g. (Proc. X Int. Conf. "Biology of the Plant Cells in Vitro and Biotechnology," Kazan, October 14–18, 2013), Kazan: Kazansk. Inst. Biokhim. Biofiz., Kazan. Nauchn. Tsentr, Ross. Akad. Nauk, 2013, p. 301.

22

Maslov, A.A., Kolichestvennyi analiz gorizontal'noi struktury lesnykh soobshchestv (Quantitative Analysis of Horizontal Structure of Forest Communities), Moscow: Nauka, 1990.

23

Maslov, A.A., Dynamics of tree stand and understorey in oligotrophic forested bog near Zvenigorod (Moscow oblast): a conceptual model of processes on decades time scale, Byull. Mosk. O-va. Ispyt. Prir., Otd.Biol., 2001, vol. 106, no. 4, pp. 71–77.

24

Maslov, A.A., Mechanisms involved into forest community dynamics in climax stage: a case of oligotrophic cotton-grass sphagnum pine forest, Materialy III Vserossiiskoi shkoly-konferentsii "Aktual'nye problemy geobotaniki" (Proc. III All-Russ. School-Conf. "Current Problems of Geobotany"), Petrozavodsk: Karel. Nauchn. Tsentr, Ross. Akad. Nauk, 2007, pp. 349–364.

25

Maslov, A.A., Monitoring of biodiversity and natural dynamics at strict forest reserves: the program and the results after 25 years, in Struktura i funktsii lesov Evropeiskoi Rossii (The Structure and Functions of Forests of European Russia), Moscow: KMK, 2009, pp. 172–190.

26

Maslov, A.A. and Sirin, A.A., Morphological features and DNA analysis of various birch species, Materialy Mezhdunarodnoi nauchno-prakticheskoi konferentsii "Nauka–innovatsionnomu razvitiyu lesnogo khozyaistva" (Proc. Int. Sci.-Pract. Conf. ""Scientific Achievements for Innovative Development of Forestry), Gomel: Inst. Lesa, Nats. Akad. Nauk Bel., 2015, pp. 346–348.

27

Maslov, A.A. and Sirin, A.A., Betula pendula and Betula pubescens in wetland biotops: Traditional approach and modern DNA analysis, Materialy Mezhdunarodnoi nauchnoi konferentsii "Genetika populyatsii: progress i perspektivy," 17–21 aprelya 2017 g., Zvenigorodskaya biologicheskaya stantsiya im. S.N. Skadovskogo, Biologicheskogo fakul'teta MGU (Proc. Int. Sci. Conf. "Genetics of Populations: Progress and Prospects," April 17–21, 2017, Zvenigorod Biological Station, Biological Faculty, Moscow State University), Moscow: Vash Format, 2017, pp. 163–165.

28

Padutov, V.E., Baranov, O.Yu., and Voropaev, E.V., Metody molekulyarno-geneticheskogo analiza (Manual for Molecular-Genetic Analysis), Minsk: Yunipol, 2007.

29

Raspredelenie ploshchadi lesov i zapasov drevesiny po preobladayushchim porodam i gruppam vozrasta (Distribution of Forests and Timber Resources by Dominant Species and Age Groups), Moscow: Kom. Lesn. Khoz. Mosk. Obl., 2018. http://klh.mosreg.ru/dokumenty/ otkrytye-dannye/raspredelenie-ploshchadi-lesov-i-za-pasov-drev/12-02-2018-09-30-00-forma-2-glr-na-01-01-2017. Accessed August 20, 2018.

30

Rusanovich, I.I. and Skvortsov, A.K., Application of discriminant analysis as means to distinguish birch species on the leaf form, Zh. Obshch. Biol., 1981, vol. 42, no. 5, pp. 762–770.

31

Shimandyuk, A.P., Dendrologiya (Dendrology), Moscow: Lesn. Prom-st', 1974, 2nd ed.

32

Sirin, A.A., Maslov, A.A., Valyaeva, N.A., Tsyganova, O.P., and Glukhova, T.V., Mapping of peatlands in the Moscow oblast based on high-resolution remote sensing data, Contemp. Probl. Ecol., 2014, vol. 7, no. 7, pp. 808–814.

33

Sirin, A., Minayeva, T., Yurkovskaya, T, Kuznetsov, O., Smagin, V., and Fedotov, Yu., Russian Federation (European part), in Mires and Peatlands of Europe: Status, Distribution, and Conservation, Stuttgart: Schweizerbart Science, 2017, pp. 589–616.

34

Sokolov, S.Ya., Svyazeva, O.A., Kubli, V.A., et al., Taxaceae—Aristolochiaceae, in Arealy derev'ev i kustarnikov SSSR (Ranges of Trees and Scrubs of USSR), Leningrad: Nauka, 1977, vol. 1.

35

Suvorov, G.G., Chistotin, M.V., and Sirin, A.A., Carbon losses from a drained peatland in the Moscow oblast used for peat extraction and agriculture, Agrokhimiya, 2015, no. 11, pp. 51–62.

36

Vetchinnikova, L.V., Bereza: voprosy izmenchivosti (morfo-fiziologicheskie i biokhimicheskie aspekty) (Birch: Variability (Morphophysiological and Biochemical Aspe-cts)), Moscow: Nauka, 2004.

37

Vompersky, S.E., Sirin, A.A., Sal'nikov, A.A., Tsyga-nova, O.P., and Valyaeva, N.A., Estimation of forest cover extent over peatlands and paludified shallow-peat lands in Russia, Contemp. Probl. Ecol., 2011, vol. 4, no. 7, pp. 734–741.

38

Wang, N., Borrell, J., and Buggs, R., Is the Atkinson discriminant function a reliable method for distinguishing between Betula pendula and B. pubescens (Betulaceae)? New J. Bot., 2014, vol. 4, pp. 90–94.
ACKNOWLEDGMENTS
The authors are grateful to N.G. Ulanova for valuable advice in the process of working on the present publication.
Funding
This work was supported by the project "Restoring peatlands in Russia for fire prevention and climate change mitigation" financed under the International Climate Initiative (IKI) by the German Federal Ministry for the Environment, Nature Conservation, and Nuclear Safety (BMUB), facilitated through KfW (project no. 11 III 040 RUS K Restoring Peatlands), and in part by the Russian Foundation for Basic Research (project no. 16-05-00762).
Ethics declarations
Conflict of interests
The authors declare that they have no conflicts of interest.
Statement on the welfare of animals
This article does not contain any studies involving animals performed by any of the authors.
Additional information
Translated by A. Lisenkova
About this article
Cite this article
Maslov, A.A., Baranov, O.Y. & Sirin, A.A. A Molecular Genetics Study of Silver and Downy Birches in Peatland and Paludified Forest Types in the Center of the East European Plain. Contemp. Probl. Ecol. 12, 703–710 (2019). https://doi.org/10.1134/S1995425519070084
Received:

Revised:

Accepted:

Published:

Issue Date:
Keywords:
Betula pendula

B. pubescens

hybrids

SSR markers

molecular genetics

forest types

paludified forests

peatland forests