Abstract
We compared several types of EEG parameters of two interlocutors during verbal and non-verbal communication. A hardware–software complex and associated method were developed for EEG hyperscanning, i.e., simultaneous EEG recording in two subjects with different location (face to face and back to back) during observation, listening, dialogue, and monologue. We observed a relationship between the total EEG power and the combination of the verbal and non-verbal components of communication. In the comparison of different types of communication, a statistically significant difference in the EEG power was found when the interlocutors were placed face-to-face and back-to-back. The highest total EEG power of brain activity was observed for the interlocutor location face-to-face compared to back-to-back. Another most important EEG parameter, spectral composition, also varied depending on the communication process of the interlocutors. EEG rhythms in different leads were redistributed. The EEG parameters that can serve as markers of different modes of communication of interlocutors were identified.
This is a preview of subscription content, log in to check access.
We're sorry, something doesn't seem to be working properly.
Please try refreshing the page. If that doesn't work, please contact support so we can address the problem.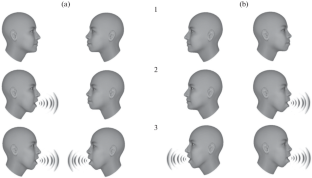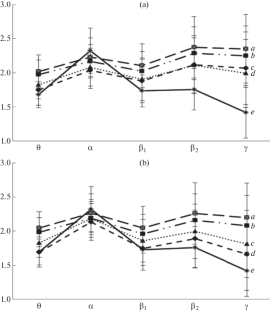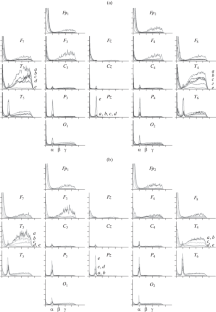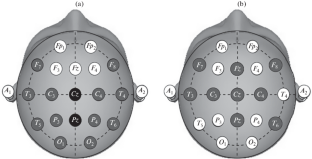 REFERENCES
1

Liu, D., Liu, S., Liu, X., et al., Interactive brain activity: review and progress on EEG-based hyperscanning in social interactions, Front. Psychol., 2018, vol. 9, p. 1862.

2

Montague, P.R., Berns, G.S., Cohen, J.D., et al., Hyperscanning: simultaneous fMRI during linked social interactions, NeuroImage, 2002, vol. 16, p. 1159.

3

Sänger, J., Müller, V., and Lindenberger, U., Intra- and interbrain synchronization and network properties when playing guitar in duets, Front. Hum. Neurosci., 2012, vol. 6, p. 312.

4

Zhukova, O.V., Shelepin, Yu.E., Moiseenko, G.A., et al., Neurophysiological mechanisms supporting social interaction in the human activities, Materialy 3-i Mezhdunarodnoi nauchnoi konferentsii "Tekhnologicheskaya perspektiva v ramkakh Evraziiskogo prostranstva: novye rynki i tochki ekonomicheskogo rosta" (Proc. Third Int. Sci. Conf. "Technological Perspectives within the Eurasian Space: New Markets and Economic Growth"), St. Petersburg, 2017, p. 317.

5

Murtazina, E.P., Zhuravlev, B.V., and Trifonova, N.Yu., Development of psychophysiological models and research methods of competitive and cooperative interactions between two subjects, Neirokomp.: Razrab. Primen., 2017, no. 8, p. 20.

6

Hall, E.T., The Hidden Dimension, Garden City, NY: Doubleday, 1966.

7

Tereshchenko, E.P., Ponomarev, V.A., Kropotov, Yu.D., and Müller, A., Comparative efficiencies of different methods for removing blink artifacts in analyzing quantitative electroencephalogram and event-related potentials, Hum. Physiol., 2009, vol. 35, no. 2, p. 241.

8

Perrin, F., Pernier, J., Bertrand, O., et al., Spherical splines for scalp potential and current density mapping, Electroencephalogr. Clin. Neurophysiol., 1989, vol. 72, p. 184.

9

Fox, N.A., Bakermans-Kranenburg, M.J., Yoo, K.H., et al., Assessing human mirror activity with EEG mu rhythm: a meta-analysis, Psychol. Bull., 2016, vol. 142, no. 3, p. 291.

10

Shelepin, Yu.E., Vvedenie v neiroikoniku (Introduction into Neurocomic), St. Petersburg: Troitskii Most, 2017.

11

Liu, Y., Piazza, E.A., Simony, E., et al., Measuring speaker–listener neural coupling with functional near infrared spectroscopy, Sci. Rep., 2017, vol. 7, art. ID 43 293.
Ethics declarations
Conflict of interests. The authors declare no explicit and potential conflicts of interest associated with the publication of this article.
Statement of compliance with standards of research involving humans as subjects. All studies were conducted in accordance with the principles of biomedical ethics set out in the Declaration of Helsinki in 1964 and its subsequent updates, and approved by the local bioethics committee of Pavlov Institute of Physiology, Russian Academy of Sciences (St. Petersburg). Each study participant provided voluntary written informed consent signed by them after his explanations potential risks and benefits, as well as the nature of the forthcoming investigations.
Additional information
Translated by M. Batrukova
About this article
Cite this article
Shchemeleva, O.V., Zhukova, O.V., Shelepin, Y.E. et al. Electrophysiological Indicators of Brain Activity in the Process of Verbal and Non-Verbal Communication during the Dialogue. Hum Physiol 45, 587–595 (2019). https://doi.org/10.1134/S0362119719060112
Received:

Revised:

Accepted:

Published:

Issue Date:
Keywords:
perception of facial expressions and speech

verbal and non-verbal communication

EEG

spectral analysis

EEG hyperscanning

"mirror" neurons

neural networks