Abstract
The study was aimed at determining whether the cardiotropic effects elicited by staying in highlands and the resistance to acute normobaric hypoxia are preserved after returning to the lowlands. Ten trained male alpinists were investigated twice before and one to three weeks after a 20-day stay at altitudes of 4000–7000 m. They were investigated in the lowlands in three functional states: at rest, after a 17-min exposure to a hypoxic mixture (10% O2 and the group mean blood oxygen saturation at 80% at the end of the procedure), and after a 12-min recovery period. Applanation tonometry and pulse-wave analysis have shown increases in heart rate (HR) and the elasticity of major arteries of the limbs in terms of augmentation index; a decline in the subendocardial viability ratio (SEVR) was diagnosed during the acute hypoxic test before the ascent. Staying in the mountains increases arterial elasticity, decreases aortic and peripheral blood pressure, discharges the left ventricle, and thus improves its diastolic perfusion at rest and in acute hypoxia, which evidences delayed positive cardiovascular effects of high altitude conditions.
This is a preview of subscription content, log in to check access.
Access options
Buy single article
Instant unlimited access to the full article PDF.
US$ 39.95
Price includes VAT for USA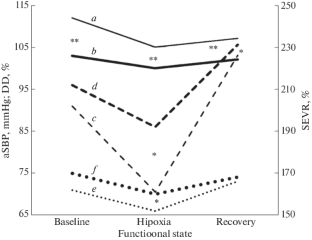 REFERENCES
1

Melnikov, V.N., Krivoschekov, S.G., Divert, V.E., et al., Baseline values of cardiovascular and respiratory parameters predict response to acute hypoxia in young healthy men, Physiol. Res., 2017, vol. 66, no. 3, p. 467.

2

Thomson, A.J., Drummond, G.B., Waring, W.S., et al., Effects of short-term isocapnic hyperoxia and hypoxia on cardiovascular function, J. Appl. Physiol., 2006, vol. 101, no. 3, p. 809.

3

Lefferts, W.K., Huges, W.E., and Heffernan, K.S., Effect of acute nitrate ingestion on central hemodynamic load in hypoxia, Nitric Oxide, 2016, vol. 52, no. 1, p. 49.

4

Leuenberger, U.A., Gray, K., and Herr, M.D., Adenosine contributes to hypoxia-induced forearm vasodilatation in humans, J. Appl. Physiol., 1999, vol. 87, no. 6, p. 2218.

5

Xie, A., Skatrud, J.B., Puleo, D.S., and Morgan, B.J., Exposure to hypoxia produces long-lasting sympathetic activation in humans, J. Appl. Physiol., 2001, vol. 91, no. 4, p. 1555.

6

Vedam, H., Phillips, C.L., Wang, D.J., et al., Short-term hypoxia reduces arterial stiffness in healthy men, Eur. J. Appl. Physiol., 2009, vol. 105, no. 1, p. 19.

7

Troshen'kina, O.V., Mezorov, M.V., Serova, D.V., et al., The effect of acute normobaric hypoxia on the heart in healthy people, Ul'yanovsk. Med.-Biol. Zh., 2011, no. 4, p. 77.

8

Osculati, G., Revera, M., Branzi, G., et al., Effects of hypobaric hypoxia exposure at high altitude on left ventricular twist in healthy subjects: data from HIGHCARE study on Mount Everest, Eur. Heart J. Cardiovasc. Imaging, 2016, vol. 17, no. 6, p. 635.

9

Boos, C.J., Vincent, E., Mellor, A., et al., The effect of high altitude on central blood pressure and arterial stiffness, J. Hum. Hypertens., 2017, vol. 31, no. 11, p. 715.

10

Revera, M., Salvi, P., Faini, A., et al., Renin-angiotensin-aldosterone system is not involved in the arterial stiffening induced by acute and prolonged exposure to high altitude, Hypertension, 2017, vol. 70, no. 1, p. 75.

11

Salvi, P., Revera, M., Faini, A., Giuliano, A., et al., Changes in subendocardial viability ratio with acute high-altitude exposure and protective role of acetazolamide, Hypertension, 2013, vol. 61, no. 4, p. 793.

12

Schultz, M.G., Climie, R.E., and Sharman, J.E., Ambulatory and central haemodynamics during progressive ascent to high-altitude and associated hypoxia, J. Hum. Hypertens., 2014, vol. 28, no. 6, p. 705.

13

Gill, R., Kuriakose, R., Gertz, Z.M., et al., Remote ischemic preconditioning for myocardial protection: update on mechanisms and clinical relevance, Mol. Cell. Biochem., 2015, vol. 402, nos. 1–2, p. 41.

14

Milyagin, V.A., Filichkin, D.E., Shpynev, K.V., et al., Contour analysis of central and peripheral pulse waves in healthy people and patients with arterial hypertension, Arterial'naya Gipertenz., 2009, vol. 15, no. 1, p. 78.

15

Melnikov, V.N., Suvorova, I.Yu., and Belisheva, N.K., Central hemodynamics and arterial stiffness in adult humans depend on the conditions of early development in the Northern Kola Peninsula, Hum. Physiol., 2016, vol. 42, no. 2, p. 150.

16

Wilkinson, I.B., Mohammad, N.H., Tyrrell, S., et al., Heart rate dependency of pulse pressure amplification and arterial stiffness, Am. J. Hypertens., 2002, vol. 15, no. 1, p. 24.

17

Hashimoto, J. and Ito, S., Pulse pressure amplification, arterial stiffness, and peripheral wave reflection determine pulsatile flow waveform of the femoral artery, Hypertension, 2010, vol. 56, no. 5, p. 926.

18

Journer, M.J. and Casey, D.P., Muscle, blood flow, hypoxia, and hypoperfusion, J. Appl. Physiol., 2014, vol. 116, no. 7, p. 852.
Ethics declarations
Conflict of interest. The authors declare that they have no obvious or potential conflict of interest related to the publication of this article.
Statement of compliance with standards of research involving humans as subjects. All investigations were performed in compliance with the principles of biomedical ethics formulated by the Helsinki Declaration 1964 and its subsequent amendments and approved by the local Bioethical Committee at the Research Institute of Physiology and Basic Medicine (Novosibirsk). Each participant of the study gave a voluntary written informed consent signed upon informing about potential risks and advantages, as well as about the design of the study.
Additional information
Translated by N. Tarasyuk
About this article
Cite this article
Melnikov, V.N., Karmakulova, I.V., Komlyagina, T.G. et al. Response of Aortic and Peripheral Hemodynamics and Arterial Elasticity to Acute Normobaric Hypoxia in Alpinists before and after a Prolonged Stay in Mountains. Hum Physiol 45, 673–678 (2019). https://doi.org/10.1134/S0362119719060082
Received:

Revised:

Accepted:

Published:

Issue Date:
Keywords:
high altitude

acute normobaric hypoxia

central hemodynamics

arterial stiffness

pulse wave analysis

echocardiography