Abstract
Kinetic and diffusion analysis of the process of cadmium ion removal from water via sorption has been explored. The experimental kinetics data were approximated with pseudo-first and pseudo-second-order equations, Elovich equation, and Ritchie modified second-order models. Diffusion analysis is performed using homogeneous particle diffusion model and Weber–Morris kinetics. Kinetic results reveal that chemisorption is the sole-controlling step representing high sorption rate during the first 2 h of agitation with 50‒90% removal. Activation energy is also calculated (26.57 kJ mol−1) disclosing chemical interaction among solute-adsorbent phase. Weber–Morris plots show the sorption process is controlled by two or more simultaneous mechanisms with higher Kid values at higher initial concentrations. The study demonstrates that rate values of pore and film diffusion are improved with increase of initial ion concentration and the effect of diffusion resistance is not efficiently removed or minimized by sufficient agitation time.
This is a preview of subscription content, log in to check access.
Access options
Buy single article
Instant unlimited access to the full article PDF.
US$ 39.95
Price includes VAT for USA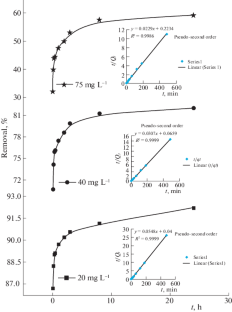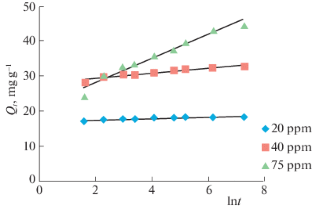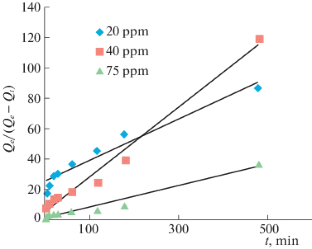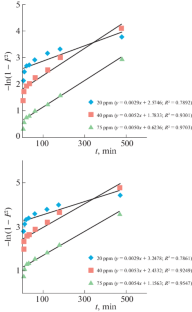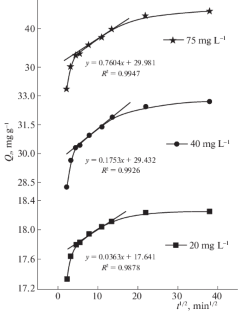 REFERENCES
1

M. Pedro-Monzon's, A. Solera, J. Ferrer, T. Estrela, and J. Paredes-Arquiola, J. Hydrol. 527, 482 (2015).

2

N. Hanasaki, S. Fujimori, T. Yamamoto, S. Yoshikawa, Y. Masaki, Y. Hijioka, M. Kainuma, Y. Kanamori, T. Masui, K. Takahashi, and S. Kanae, Hydrol. Earth Syst. Sci. 17, 2393 (2013).

3

D. Han, M. J. Currell, and G. Cao, Environ. Pollut. 218, 1222 (2016).

4

M. Kummu, P. J. Ward, H. de Moel, and O. Varis, Environ. Res. Lett. 5, 034006 (2010).

5

A. Mahmoud and A. F. A. Hoadley, Water Res. 46, 3364 (2012).

6

Z. F. Cheng, Y. H. Wu, N. Wang, W. H. Yang, and T. W. Xu, Ind. Eng. Chem. Res. 49, 3079 (2010).

7

J. Gao, S. P. Sun, W. P. Zhu, and T. S. Chung, Water Res. 63, 252 (2014).

8

A. G. El Samrani, B. S. Lartiges, and F. Villieras, Water Res. 42, 951 (2008).

9

O. Abollino, M. Aceto, M. Malandrino, C. Sarzanini, and E. Mentasti, Water Res. 37, 1619 (2003).

10

D. Zhou, L. N. Zhang, J. P. Zhou, and S. L. Guo, Water Res. 38, 2643 (2004).

11

J. Anwar, U. Shafique, Waheed-uz-Zaman, M. Salman, A. Dar, and S. Anwar, Bioresour. Technol. 101, 1752 (2010).

12

S. K. R. Yadanaparthi, D. Graybill, and R. von Wandruszka, J. Hazard. Mater. 171, 1 (2009).

13

M. P. Waalkes, J. Inorg. Biochem. 79, 241 (2000).

14

R. Lambert, C. Grant, and S. Sauve, Sci. Total Environ. 378, 293 (2007).

15

S. John and S. Santhi, Sol. Energy Mater. Sol. Cells 33, 505 (1994).

16

X. Wu, Y. Liang, T. Jin, T. Ye, Q. Kong, Z. Wang, L. Lei, I. A. Bergdahl, and G. F. Nordberg, Environ. Res. 108, 233 (2008).

17

B. Wang, C. Shao, Y. Li, Y. Tan, and L. Cai, Curr. Med. Chem. 19, 2611 (2012).

18

WHO, Guidelines for Drinking Water Quality Recommendations, 3rd ed. (World Health Organization, Geneva, 2008), Vol. 1.

19

K. S. Rao, M. Mohapatra, S. Anand, and P. Venkateswarlu, Int. J. Eng. Sci. Technol. 2, 81 (2010).

20

N. Azouaou, Z. Sadaoui, and H. Mokaddem, J. Appl. Sci. 8, 4638 (2008).

21

F. Fu and Q. Wang, J. Environ. Manage. 92, 407 (2011)

22

A. Ihsanullah, Sep. Purif. Technol. 157, 141 (2016).

23

S. Park, A. Gomez-Flores, Y. S. Chung, and H. Kim, J. Chem. 2015, 396290 (2015).

24

N. Prakash, P. N. Sudha, and N. G. Renganathan, Environ. Sci. Pollut. Res. 19, 2930 (2011).

25

A. Heidari, H. Younesi, Z. Mehraban, and H. Heikkinen, Int. J. Biolog. Macromol. 61, 251 (2013).

26

J. R. Rangel-Mendez, R. Monroy-Zepeda, E. Leyva-Ramos, P. E. Diaz-Flores, and K. Shirai, J. Hazard. Mater. 162, 503 (2009).

27

F. Alakhras, Arabian J. Sci. Eng. 44, 279 (2019).

28

E. C. Lima, M. A. Adebayo, and F. M. Machado, Kinetic and Equilibrium Models of Adsorption in Carbon Nanomaterials As Adsorbents for Environmental and Biological Applications (Springer, Bergmann, 2015).

29

C. Valderrama, X. Gamisans, X. de las Heras, A. Farrán, and J. L. Cortina, J. Hazard. Mater. 157, 386 (2008).

30

Y. S. Ho and G. McKay, Process Safety Environ. Prot. 76, 332 (1998).

31

A. E. Ofomaja, Bioresour. Technol. 101, 5868 (2010)

32

Y. S. Ho and G. McKay, Water Res. 33, 578 (1999)

33

F. Alakhras, N. Ouerfelli, G. M. Al-Mazaideh, T. S. Ababneh, E. Al-Abbad, and F. M. Abouzeid, Arabian J. Sci. Eng. 44, 159 (2019).

34

S. H. Chien and W. R. Clayton, Soil Sci. Soc. Am. J. 44, 265 (1980).

35

J. Liu, L. Wu, and X. Chen, Desalin. Water Treatm. 54, 2307 (2015).

36

M. Balsamo and F. Montagnaro, J. Phys. Chem. C 119, 8781 (2015).

37

J. L. Cortina, R. Arad-Yellin, N. Miralles, A. M. Sastre, and A. Warshawsky, React. Funct. Polym. 38, 269 (1998).

38

W. J. Weber and J. C. Morris, J. Sanit. Eng. Div. 89, 31 (1963).

39

F. Alakhras, J. Anal. Methods Chem. 2018, 4058503 (2018).

40

G. McKay and V. J. P. Poots, J. Chem. Tech. Biotechnol. 30, 279 (1980).

41

A. A. Al-Arfaj, F. Alakhras, E. Al-Abbad, N. O. Alzamel, N. A. Al-Omair, and N. Ouerfelli, Asian J. Chem. 30, 1645 (2018).
ACKNOWLEDGMENTS
The author wishes to acknowledge Imam Abdulrahman Bin Faisal University for financial support.
Ethics declarations
No potential conflict of interest was reported by the author(s).
About this article
Cite this article
Fadi Alakhras Kinetics and Diffusion Analysis for the Removal of Cadmium Ion from Aqueous Solutions Using Chitosan-iso-Vanillin Sorbent. Russ. J. Phys. Chem. 93, 2628–2634 (2019). https://doi.org/10.1134/S0036024419130041
Received:

Revised:

Accepted:

Published:

Issue Date:
Keywords:
biosorption

chitosan-iso-vanillin

diffusion analysis

kinetic studies

cadmium removal