Abstract
The ground floors of buildings are a key element of the urban experience, yet the dynamics that shape frontages are largely unknown. This article delves into the forces and patterns behind the transforming relationship between architecture and public space in Western urban cores over the past century. After defining a methodology for structurally measuring the interactivity of ground floor frontages over time, the study focuses on two case study urban cores of Detroit, Michigan and The Hague, Netherlands. Through a combination of narrative historiography, detailed mapping and statistical studies a set of recommendations is generated to help urban designers and planners better understand and counter frontage decline. The two seemingly disparate cities are demonstrated to have undergone remarkably similar patterns of frontage interactivity erosion, with outcomes diverging as a result of an often reinforcing set of forces. Only upon understanding frontages as social, economic, cultural, political and technological constructs with physical, functional and connotative effects on public space will the profession be able to effectively steer the future of the architecture of public life.
This is a preview of subscription content, log in to check access.
Access options
Buy single article
Instant access to the full article PDF.
US$ 39.95
Price includes VAT for USA
Subscribe to journal
Immediate online access to all issues from 2019. Subscription will auto renew annually.
US$ 175
This is the net price. Taxes to be calculated in checkout.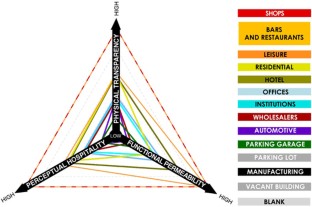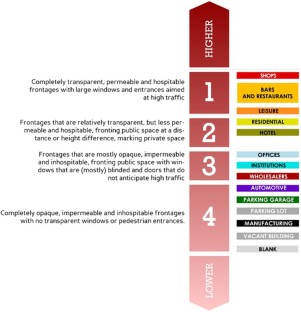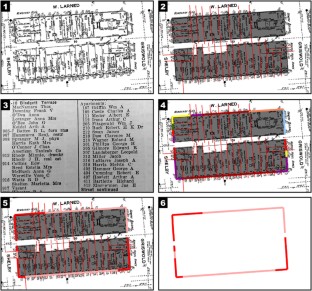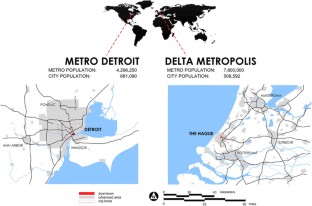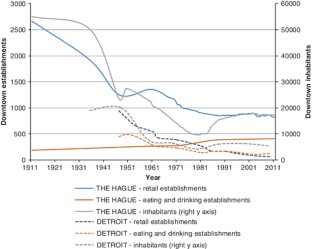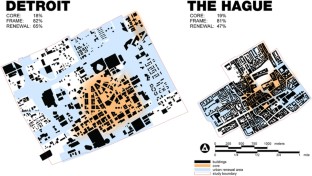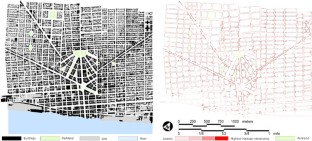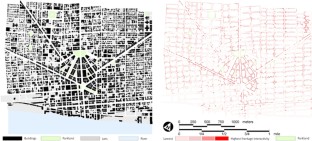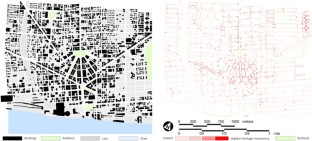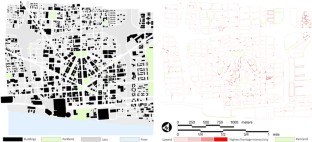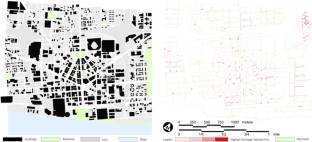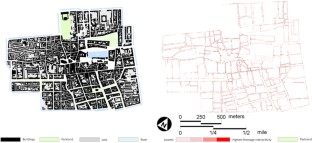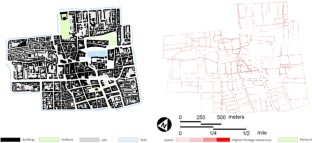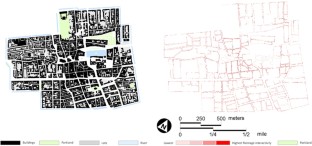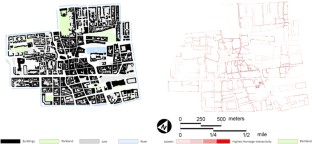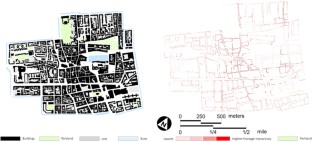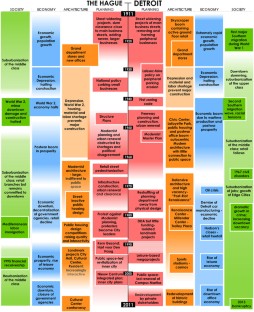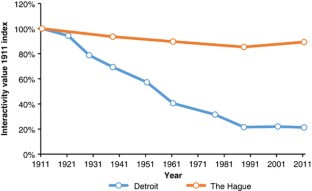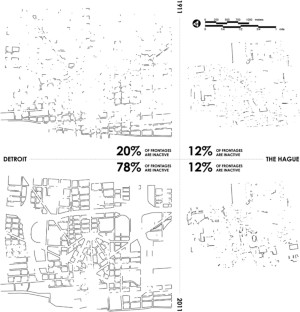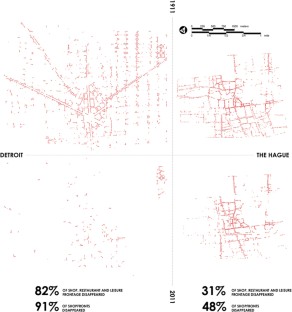 Notes
1.

Interactive frontages can provide visual stimulation, which has been shown to correlate with environmental preference if sufficiently balanced with coherence (Kaplan, 1987; Kaplan et al, 1989). The multi-sensorial stimulus of frontages is perfected in designed retail environments (for example,Gladwell, 2004).

2.

The intervals were defined by data availability, which led to roughly 10–15-year intervals for Detroit (1911, 1921, 1929, 1937, 1951, 1961, 1977, 1988, 2001 and 2011) and 25-year overlapping intervals for The Hague (1911, 1937, 1961, 1988 and 2011).

3.

The typical nomenclature for a Dutch urban core is 'inner city', derived from the fact that most urban cores were inside a defensive perimeter during the medieval era.

4.

The core-frame model of central business districts demonstrated that a significant percentage of the commercial activity and land value in American central cities was condensed in only a few blocks, surrounded by large tracts of lower land values and marginal land uses such as parking and warehousing, in Horwood and Boyce (1959).

5.

Not all of Detroit's downtown periphery struggled economically. Before its demolition in the 1960s, Hastings Street thrived as the commercial and cultural center of the city's African-American population. Nevertheless, the street was completely dismantled and replaced with a freeway, with surviving businesses relocated to the northeast of downtown.

6.

This value is calculated by multiplying the cumulative length of frontages in each tier by 4 - the tier value: e.g. shops have value 3, dwellings 2, offices 1, parking lots 0.

7.

The Gini Index of the average interactivity of street segments – measuring the uneven division of interactivity between streets – has increased more than 200 per cent in Detroit and 10 per cent in The Hague.

8.

The calculations filtered out streets which underwent urban renewal projects, as these were drastic, external forces. Taking renewal into account, 75 per cent of Detroit's and 42 per cent of The Hague's core streets experienced accelerated decline.

9.

Measured by comparing the average interactivity in street segments in the time interval immediately before and after a renewal project was constructed.

10.

Measured by drawing a one-block radius around urban renewal areas, and measuring the decline of the percentage of businesses in the street frontages in these blocks over the lifetime of the renewal project.

11.
References
Alexander, C., Ishikawa, S., Silverstein, M., Jacobson, M., Fiksdahl-King, I. and Angel, S. (1977) A pattern language: towns, buildings, construction. New York: Oxford University Press.

Amorim, L., Normando Barros Filho, M. and Cruz, D. (2009) Urban Texture and Space Configuration. Paper Presented at the 7th International Space Syntax Symposium, Stockholm, Sweden.

Anderson, S. (ed.) (1978) On Streets. Cambrigde, MA: MIT Press.

Appleyard, D., Gerson, M.S. and Lintell, M. (1982) Livable Streets. Berkeley: University of California Press.

Binnenstadsmanagement, P. (2014) Juryrapport beste binnenstad 2013–2015, www.debestebinnenstad.nl, accessed 1 December 2015.

Bobic, M. (2004) Between the Edges: Street-Building Transition as Urbanity Interface. Bussum, The Netherlands: Thoth Publishers.

Brenner, N. (2003) Stereotypes, archetypes, and prototypes: Three uses of superlatives in contemporary urban studies. City & Community 2 (3): 205–216.

Brown, S. (1984) Retail Location and Retail Change in Belfast City Centre. The Queen's University of Belfast.

Brown, S. (1987) The complex model of city centre retailing: An historical application. Transactions of the Institute of British Geographers 12 (1): 4–18.

Canter, D.V. (1977) The Psychology of Place. London: Architectural Press.

Canter, D.V. (1983) Putting situations in their place. In: A. Furnham (ed.) Social Behaviour in Context. Boston, MA: Allyn & Bacon.

Clifton, K.J., Livi Smith, A.D. and Rodriguez, D. (2007) The development and testing of an audit for the pedestrian environment. Landscape and Urban Planning 80 (1): 95–110.

Cohassey, J.F. (1993) Down on Hastings Street: A study of social and cultural changes in a Detroit community 1941–1955, History, Wayne State University, Detroit, MI.

Conzen, M.R.G. (1960) Alnwick, Northumberland; A Study in Town-Plan Analysis. London: G. Philip.

Conzen, M.R.G. and Slater, T.R. (1990) The Built Form of Western Cities: Essays for M.R.G. Conzen on the Occasion of his 80th Birthday. Leicester, UK: Leicester University Press.

Creswell, J.W. (2009) Research Design: Qualitative, Quantitative, and Mixed Methods Approaches, 3rd edn. Thousand Oaks, CA: Sage Publications.

Day, K., Boarnet, M., Alfonzo, M. and Forsyth, A. (2006) The Irvine – Minnesota inventory to measure built environments: Development. American Journal of Preventive Medicine 30 (2): 144–152.

Duany, A., Plater-Zyberk, E. and Speck, J. (2000) Suburban Nation: The Rise of Sprawl and the Decline of the American Dream. New York: North Point Press.

Van Duren, A.J (1995) De dynamiek van het constante: over de flexibiliteit van de Amsterdamse binnenstad als economische plaats. Utrecht, The Netherlands: J. van Arkel.

Ellin, N. (1996) Postmodern Urbanism. Cambridge, MA: Blackwell.

Ewing, R. and Handy, S. (2009) Measuring the unmeasurable: Urban design qualities related to walkability. Journal of Urban Design 14 (1): 65–84.

Fogelson, R.M. (2001) Downtown: Its Rise and Fall, 1880–1950. New Haven, CT: Yale University Press.

Frieden, B.J. and Sagalyn, L.B. (1989) Downtown, Inc.: How America Rebuilds Cities. Cambridge, MA: MIT Press.

Gehl, J. (1986) Soft edges in residential streets. Housing, Theory and Society 3 (2): 89–102.

Gehl, J. (1987) Life Between Buildings: Using Public Space. New York: Van Nostrand Reinhold.

Gehl, J. (2006) Close encounters with buildings. Urban Design International 11 (1): 29–47.

Gladwell, M. (2004) The Terrazzo Jungle. New York: The New Yorker.

Hannigan, J. (1998) Fantasy City: Pleasure and Profit in the Postmodern Metropolis. London: Routledge.

Hanson, J. and Zako, R. (2007) Communities of co-presence and surveillance: How public open space shapes awareness and behaviour in residential developments. Paper Presented at 6th International Space Syntax Symposium, Istanbul, Turkey.

Heffernan, E., Heffernan, T. and Pan, W. (2014) The relationship between the quality of active frontages and public perceptions of public spaces. Urban Design International 19 (1): 92–102.

Hillier, B. (1996) Space is the Machine: A Configurational Theory of Architecture. Cambridge, UK: Cambridge University Press.

Hillier, B. and Hanson, J. (1984) The Social Logic of Space. Cambridge, UK: Cambridge University Press.

Horwood, E.M. and Boyce, R.R. (1959) Studies of the Central Business District and Urban Freeway Development. Seattle: University of Washington Press.

Isenberg, A. (2004) Downtown America: A History of the Place and the People Who Made It. Chicago, IL: University of Chicago Press.

Jacobs, A.B. (1993) Great Streets. Cambridge, MA: MIT press.

Jacobs, J. (1961) The Death and Life of Great American Cities. New York: Random House.

Jakle, J.A. and Sculle, K.A. (2004) Lots of Parking: Land Use in a Car Culture. Charlottesville, VA: University of Virginia Press.

Kaplan, R., Kaplan, S. and Brown, T. (1989) Environmental preference. Environment and Behavior 21 (5): 509.

Kaplan, S. (1987) Aesthetics, affect and cognition: Environmental preference from an evolutionary perspective. Environment and Behavior 19 (1): 3–32.

Kooijman, D. (2000) Het recreatieve einde van Christaller. Rooilijn 39 (3): 123–130.

Lesger, C. (2013) Het winkellandschap van Amsterdam. Stedelijke structuur en winkelbedrijf in de vroegmoderne en moderne tijd, 1550–2000. Hilversum: Uitgeverij Verloren.

Lopez, T.G. (2003) Influence of the public-private border configuration on pedestrian behaviour. The case of the city of Madrid, La Escuela Tecnica Superior de Arquitectura de Madrid, Madrid.

Lowe, J.R. (1967) Cities in a Race with Time; Progress and Poverty in America's Renewing Cities. New York: Random House.

MacCormac, R. (1983) Urban reform: MacCormac's Manifesto. Architects Journal 15: 59–77.

MacCormac, R. (1987) Fitting in offices. The Architectural Review 181 (1083): 62–67.

Madanipour, A. (2003) Public and Private Spaces of the City. London; New York: Routledge.

Mehta, V. (2009) Look closely and you will see, listen carefully and you will hear: Urban design and social interaction on streets. Journal of Urban Design 14 (1): 29–64.

Montgomery, J. (1998) Making a city: Urbanity, vitality and urban design. Journal of Urban Design 3 (1): 93–166.

Moudon, A.V. (1986) Built for Change: Neighborhood Architecture in San Francisco. Cambridge, MA: MIT Press.

Newman, O. (1972) Defensible Space; Crime Prevention Through Urban Design. New York: Macmillan.

Newman, O. Rutgers University. Center for Urban Policy Research., & United States. Dept. of Housing and Urban Development. Office of Policy Development and Research. (1996) Creating Defensible Space. Washington DC: U.S. Dept. of Housing and Urban Development, Office of Policy Development and Research.

Nieland, P. (2012) Retail issues and shop re-parcelling. In: M. Glaser, M.v.t. Hoff, H. Karssenberg, J. Laven and J.v. Teeffelen (eds.) The City at Eye Level – Lessons for Street Plinths. Delft, The Netherlands: Eburon.

Nolli, G. (1784) Pianta Grande de Roma. Rome, Italy.

Palaiologou, G. and Vaughan, L. (2012) Urban rhythms: Historic housing evolution and socio-spatial boundaries. Measuring walking: Towards internationally standardised monitoring methods of walking and public space. Paper Presented at Space Syntax Symposium 8, Santiago, Chile.

Park, R.E., Burgess, E.W. and McKenzie, R.D. (1925) The City. Chicago: The University of Chicago Press.

Sauter, D., Hogertz, C., Tight, M., Thomas, R. and Zaidel, D. (2010) Measuring Walking Pedestrians' Quality Needs. Final report of the COST project 358, Cheltenham: Walk21.

Scheerlinck, K. (2012) Depth Configurations. Proximity, Permeability and Territorial Boundaries in Urban Projects., Architecture, URL Barcelona, Barcelona. Spatial configuration and vulnerability of residential burglary: A Case study of a city in Taiwan. Paper Presented at the 4th International Space Syntax Symposium, London, UK.

Shu, S. and Huang, J. (2003) Spatial configuration and vulnerability of residential burglary: A Case study of a city in Taiwan. Paper Presented at the 4th International Space Syntax Symposium, London, UK.

Siksna, A. (1998) City centre blocks and their evolution: A comparative study of eight American and Australian CBDs. Journal of Urban Design 3 (3): 253–283.

Smit, J.G. and Beukers, E. (2004) Den Haag: geschiedenis van de stad. Zwolle, The Netherlands: Waanders.

Steadman, P. (1983) Architectural Morphology: An Introduction to the Geometry of Building Plans. London: Pion.

Sugrue, T.J. (1996) The Origins of the Urban Crisis: Race and Inequality in Postwar Detroit. Princeton, NJ: Princeton University Press.

Thomas, J.M. (1997) Redevelopment and race: Planning a finer city in postwar Detroit. Baltimore: Johns Hopkins University Press.

Van Nes, A. and López, M.J.J. (2007) Micro scale spatial relationships in urban studies: The relationship between private and public space and its impact on street life. Paper Presented at the 6th Space Syntax Symposium, Istanbul, Turkey.

Whitehand, J. (1988) Urban fringe belts: Development of an idea. Planning Perspectives 3 (1): 47–58.

Whitehand, J.W.R. (2001) British urban morphology: The Conzenean tradition. Urban Morphology 5 (2): 103–109.

Whyte, W.H. (1988) City: Rediscovering the Center, 1st edn. New York: Doubleday.

Yin, R.K. (1994) Case study research: Design and methods. 2nd edn. Newbury Park, CA: Sage Publications.

Zukin, S. (2004) Point of Purchase: How Shopping Changed American Culture. New York: Routledge.
About this article
Cite this article
Kickert, C. Active centers – interactive edges: The rise and fall of ground floor frontages. Urban Des Int 21, 55–77 (2016). https://doi.org/10.1057/udi.2015.27
Keywords
interactive frontages

urban morphology

retail

downtowns

public space