Abstract
Discussions of urban density have long been central to theories relating urban form to city life. Both maximum and minimum measures of density have been linked to qualitative aspects of cities including health, safety, creativity, vitality and sustainability. Extensive research has produced a multiplicity of density concepts: densities of building bulk and floorspace; densities of dwellings, people and jobs; measured and perceived densities; interior and exterior; net and gross. From these are derived various density controls: floor area ratios, building envelopes, coverage and open space ratios. Despite research and practice of this kind, the modelling of interconnections between different concepts and measures has proven difficult. This article proposes an integrative approach towards conceptualising urban density that seeks to clarify and to link key concepts within a loose framework of assemblage theory. In this model three fields of density measures – buildings, populations and open space – are integrated and related to questions of scale and urban intensity. Examples of suburban, urban, high-rise and informal morphologies are modelled to show how different density profiles emerge according to different measures. The model provides a basis for re-thinking density as a multiplicitous assemblage and in a manner applicable to any urban morphology.
Access options
Buy single article
Instant access to the full article PDF.
US$ 39.95
Tax calculation will be finalised during checkout.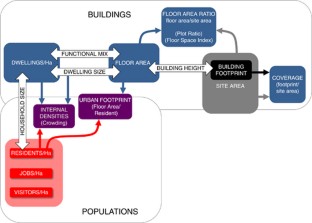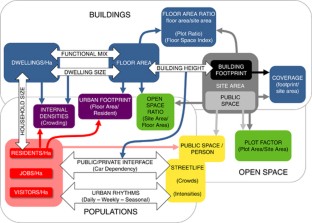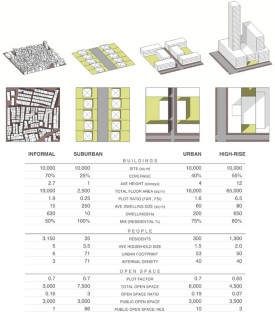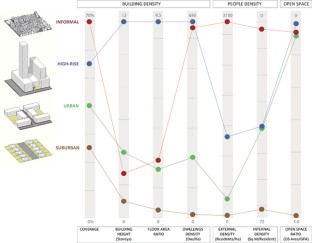 References
Bechtel, R. and Churchman, A. (2002) Handbook of Environmental Psychology. New York: Wiley.

Boeijenga, J. and Mensik, J. (2008) Vinex Atlas. Rotterdam, the Netherlands: 010 Publishers.

Boyko, C.T. and Cooper, R. (2011) Clarifying and re-conceptualising density. Progress in Planning 76 (1): 1–61.

Carmona, M. (2010) Contemporary public space, part two: Classification. Journal of Urban Design 15 (2): 157–173.

Cheng, V. (2010) Understanding density and high density. In: E. Ng (ed.) Designing High-Density Cities for Social and Environmental Sustainability. London: Earthscan, pp. 3–18.

Cohen, S. and Sherrod, D. (1978) When density matters. Journal of Population 1 (3): 189–202.

Currid, E. and Williams, S. (2010) The geography of buzz. Journal of Economic Geography 10: 423–451.

DeLanda, M. (2006) A New Philosophy of Society. New York: Continuum.

Deleuze, G. and Guattari, F. (1987) A Thousand Plateaus. London: Athlone.

Dovey, K. (2010) Becoming Places. New York: Routledge.

Dovey, K. and Wood, S. (2011) Public/Private Interfaces in the Inner-City. State of Australian Cities. Conference Proceedings. http://soac.fbe.unsw.edu.au/2011/papers/SOAC2011_0220_final, accessed 2 June 2013.

Dovey, K. and Tomlinson, R. (eds.) (2012) Dharavi. University of Melbourne, Melbourne School of Design, http://abp.unimelb.edu.au/dharavi-informal-settlements-and-slum-upgrading, accessed 14 January 2013.

Dovey, K. and Symons, F. (2013) Density without intensity – And what to do about it. Australian Planner, advanced online publication, 29 May 2013, Doi: 10.1080/07293682.2013.776975.

Fernández Per, A., Arpa, J. and Mozas, J. (2007) DBook: Density, Data, Diagrams, Dwellings. Madrid, Spain: a+t ediciones.

Glaeser, E. (2011) Triumph of the City. London: Pan.

Gropius, W. (1931) Flach-, Mittel- oder Hochbau? Schweizerische Bauzeitung 97/98: 95–100.

Häussermann, H. (2007) Phänomenologie und Struktur städtischer Dichte. In: V. Lampugnani, T. Keller and B. Buser (eds.) Städtische Dichte. Zurich, Switzerland: Nzz Libro, pp. 19–30.

Jacobs, J. (1961) The Death and Life of Great American Cities. New York: Random House.

Jacobs, J. (1969) The Economy of Cities. New York: Vintage.

Lampugnani, V., Keller, T. and Buser, B. (eds.) (2007) Städtische Dichte: Urbanisierungsstrategien für die Schweiz. Zurich, Switzerland: Nzz Libro.

Maas, W., v. Rijs, J. and Koek, R. (1998) FARMAX: Excursions on Density. Rotterdam, the Netherlands: 010 Publishers.

Marshall, A. (1890) Principles of Economics. London: Macmillan.

Marshall, S. (2009) Cities, Design and Evolution. London: Routledge.

Mees, P. (2009) Transport for Suburbia: Beyond the Automobile Age. London: Earthscan.

Mitchell, R.E. (1971) Some social implications of high density housing. American Sociological Review 36 (1): 18–29.

Patel, S. (2011) Analyzing urban layouts: Can high density be achieved with good living conditions? Environment & Urbanization 23 (2): 583–595.

Pont, M. and Haupt, P. (2010) Spacematrix: Space, Density and Urban Form. Rotterdam, the Netherlands: NAi.

Rapoport, A. (1975) Toward a redefinition of density. Environment and Behavior 7 (2): 133–158.

Roskamm, N. (2012) The concept of density. Graz Architektur Magazin (GAM) – 08 Dense Cities 130–141.

Sennett, R. (1970) The Uses of Disorder: Personal Identity and City Life. New York: Knopf.

Shelton, B., Karakiewicz, J. and Kvan, T. (2011) The Making of Hong Kong. London: Routledge.

Soria y Puig, A. (ed.) (1999) Cerdá: The Five Bases of the General Theory of Urbanization. Barcelona, Spain: Electa.

Storper, M. and Venables, A. (2004) Buzz: Face to face contact and the urban economy. Journal of Economic Geography 4 (4): 351–370.

United Nations. (2003) The Challenge of Slums. London: Earthscan.

Unwin, R. (1909) Town Planning in Practice. An Introduction to the Art of Designing Cities and Suburbs. London: T.F.Unwin.
About this article
Cite this article
Dovey, K., Pafka, E. The urban density assemblage: Modelling multiple measures. Urban Des Int 19, 66–76 (2014). https://doi.org/10.1057/udi.2013.13
Keywords
density

morphology

assemblage

intensity

floor area ratio

plot ratio