Abstract
Economic decline associated with the Rustbelt's shift away from manufacturing hit many places hard, but few saw the kind of wholesale shift in its physical form as New Bedford, Massachusetts. This article asks what physical changes occurred during the city's sharp decline in population from 1920 to 2010, and how residents, community leaders and government officials perceive the problems and opportunities generated by this decline. This article begins to offer an answer through a spatial analysis of historic Sanborn maps, Geographic Information System (GIS) data and photographic evidence to examine how building location, density and form have changed over the last half-century of depopulation, coupled with interviews of residents, community leaders and government officials.
Access options
Buy single article
Instant access to the full article PDF.
USD 39.95
Price excludes VAT (USA)
Tax calculation will be finalised during checkout.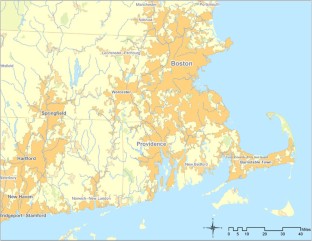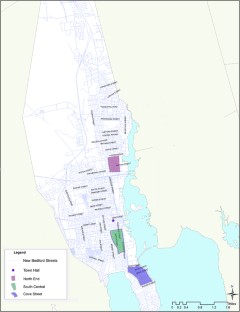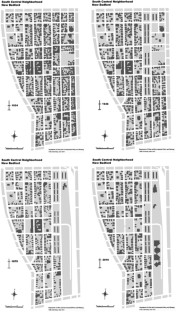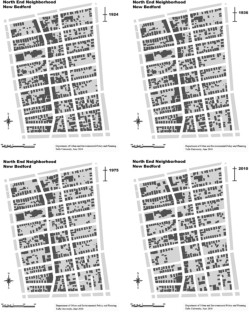 Notes
Southeastern Massachusetts is typically defined as comprising Bristol, Plymouth and Norfolk Counties.

While construction had already occurred in South Central by 1888, the first map with any evidence of structures in Bullard Street was not until 1893, and Cove Street structures only began to appear in the 1906 map.

The base map included all structures and streets for the first map year for each neighborhood.
References
Banzhaf, E., Kindler, A. and Haase, D. (2007) Monitoring, mapping and modeling urban decline: A multi-scale approach for Leipzig, Germany. EARSeL eProceedings 6 (2): 101–114.

Bluestone, B. and Harrison, B. (1982) The Deindustrialization of America. New York: Basic Books.

Berg, L.v.d. (1982) A Study of Growth and Decline. Urban Europe/European Coordination Centre for Research and Documentation in Social Sciences, [u.a.], Vol. 1, Oxford: Pergamon Press.

Bowman, A.O.M. and Pagano, M.A. (2004) Terra Incognita: Vacant Land and Urban Strategies. Washington, D.C.: Georgetown University Press.

Bradbury, K.L., Downs, A. and Sall, K.A. (1982) Urban Decline and the Future of American Cities. Washington DC: Brookings Institution.

Clark, D. (1989) Urban Decline: The British Experience. London: Routledge.

Crossney, K.B. and Bartelt, D.W. (2005) Residential security, risk, and race: The home owners' loan corporation and mortgage access in two cities. Urban Geography 26 (8): 707–736.

Crossney, K.B. and Bartelt, D.W. (2006) The missing link: An assessment of the legacy of the home owners' loan corporation. Housing Policy Debate 16 (3/4): 547–574.

El Nasser, H. (2011) Housing occupancy declines, but rentals up in some spots. USA Today, 27 July.

Florida, R. (2009) How the crash will reshape America. The Atlantic, March.

Gaber, J. and Gaber, S. (2007) Qualitative Analysis for Planning & Policy: Beyond the Numbers. Chicago, IL: APA Planners Press.

Glaeser, E.L. and Gyourko, J. (2005) Urban decline and durable housing. Journal of Political Economy 133 (2): 345–375.

Goodman, P.S. (2007) This is the sound of a bubble bursting. The New York Times, 23 December.

Gordon, C. (2008) Mapping Decline: St. Louis and the Fate of the American City. Philadelphia PA: University of Pennsylvania Press.

Hall, P. (1997) Modeling the post-industrial city. Futures 29 (4/5): 311–322.

Hiller, A.E., Culhane, D.P., Smith, T.E. and Tomlin, C.D. (2003) Predicting housing abandonment with the philadelphia neighborhood information system. Journal of Urban Affairs 25 (1): 91–105.

Hollander, J.B. (2009) Polluted and Dangerous: America's Worst Abandoned Properties and what Can Be Done About Them. Burlington, VT: University of Vermont Press.

Hollander, J.B. (2011) Sunburnt Cities: The Great Recession, Depopulation and Urban Planning in the American Sunbelt. London/New York: Routledge.

Hollander, J.B., Pallagst, K., Schwarz, T. and Popper, F. (2009) Planning shrinking cities. Progress in Planning 72 (3): 223–232.

Hollander, J.B., Polsky, C., Zinder, D. and Runfola, D. (2011) The new American ghost towns. Land Lines 23 (2): 2–7.

Hoyt, H. (1933) One Hundred Years of Land Values in Chicago; The Relationship of the Growth of Chicago to the Rise in its Land Values, 1830–1933. Chicago, IL: University of Chicago Press.

Jackson, K.T. (1985) Crabgrass Frontier: The Suburbanization of the United States. New York: Oxford University Press.

Jargowsky, P.A. (1997) Poverty and Place: Ghettos, Barrios, and the American City. New York: Russell Sage Foundation.

Keenan, P., Lowe, S. and Spencer, S. (1999) Housing abandonment in inner cities-the politics of low demand for housing. Housing Studies 14 (5): 703–716.

Leland, J. (2007) Officials say they are falling behind on mortgage fraud cases. The New York Times, 25 December.

Massey, D.S. and Denton, N.A. (1993) American Apartheid: Segregation and the Making of the Underclass. Cambridge, MA: Harvard University Press.

Melville, H. (1926) Moby Dick. New York: The Modern library.

Metzger, J.T. (2000) Planned abandonment: The neighborhood life-cycle theory and national urban policy. Housing Policy Debate 11 (1): 7–40.

Nugent, R. (2009) Down at the Docks. New York: Pantheon.

Packer, G. (2009) The Ponzi state. The New Yorker, 9 February.

Pagano, M.A. and Bowman, A.O. (2000) Vacant Land in Cities: An Urban Resource. Survey series for The Brookings Institution Center on Urban and Metropolitan Policy and CEOs for Cities.

Runfola, D.M. and Hankins, K. (2010) Urban dereliction as environmental injustice. ACME: An International E-Journal for Critical Geographies 9 (3): 345.

Rusk, D. (1995) Cities without Suburbs, 2nd edn. Washington DC: The Woodrow Wilson Center Press.

Rust, E. (1975) No Growth: Impacts on Metropolitan Areas. Lexington, MA: Lexington Books.

Ryznar, R. and Wagner, T. (2001) Using remotely sensed imagery to detect urban change. Journal of the American Planning Association 67 (3): 327–336.

Sassen, S. (1991) The Global City: New York, London, Tokyo. Princeton, NJ, Princeton University Press.

Schilling, J. and Logan, J. (2008) Greening the rust belt: A green infrastructure model for right sizing America's shrinking cities. Journal of the American Planning Association 74 (4): 451–466.

Stoll, M.A. (2005) Geographical skills mismatch, job search and race. Urban Studies 42 (4): 695–717.

Sugrue, T.J. (1995) Crabgrass-roots politics: Race, rights, and the reaction against liberalism in the urban north, 1940–1964. Journal of American History 82 (1995): 551–578.

Sugrue, T.J. (1996) The Origins of the Urban Crisis: Race and Inequality in Postwar Detroit. Princeton, NJ: Princeton University Press.

Temkin, K. and Rohe, W. (1996) Neighborhood change and urban policy. Journal of Planning Education and Research 15 (3): 159–170.

Vale, L.J. and Campanella, T.J. (2005) The Resilient City: How Modern Cities Recover from Disaster. New York [u.a.]: Oxford University Press.

Wallace, R. (1989) 'Homelessness', contagious destruction of housing, and municipal service cuts in New York City: 1. Demographics of a housing deficit. Environment and Planning A 21 (12): 1585–1602.

Weber, C. and Puissant, A. (2003) Urbanization pressure and modeling of urban growth: Example of the Tunis metropolitan area. Remote Sensing of Environment 86 (3): 341–352.

Wiechmann, T. (2008) Errors expected – Aligning urban strategy with demographic uncertainty in shrinking cities. International Planning Studies 13 (4): 431–446.

Wilson, J.Q. and Kelling, G.L. (1982) Broken windows – The police and neighborhood safety. The Atlantic, March.

Wilson, D. and Margulis, H. (1994) Spatial aspects of housing abandonment in the 1990s: The cleveland experience. Housing Studies 9 (4): 493–511.

Wilson, W.J. (1987) The Truly Disadvantaged: The Inner City, the Underclass, and Public Policy. Chicago [u.a]: University of Chicago Press.

Xiao, J. et al (2006) Evaluating urban expansion and land use change in Shijiazhuang, China, by using GIS and remote sensing. Landscape and Urban Planning 75 (1-2): 69–80.

Yang, X. and Lo, C. (2002) Using satellite imagery to detect land use land cover changes in Atlanta, Georgia metropolitan area. International Journal of Remote Sensing 23 (9): 1775–1798.
Acknowledgements
This research was partially supported through the Faculty Research Award Committee at Tufts University and the Lincoln Institute of Land Policy. Research assistance was provided by Alyssa Rosen, Rui Guo, Lindsey Wright, Erin Kizer, Kiersten Mailer, Sarah Spicer, Meaghan Overton, Laura Smead, and Jessica Soule.
About this article
Cite this article
Hollander, J. Contemporary perceptions of nine decades of depopulation in New Bedford, Massachusetts. Urban Des Int 18, 6–23 (2013). https://doi.org/10.1057/udi.2012.25
Published:

Issue Date:

DOI: https://doi.org/10.1057/udi.2012.25
Keywords
urban shrinkage

urban decline

New Bedford

shrinking cities

Sanborn maps

depopulation