Abstract
Automobile use has increased significantly in most US cities for at least five decades. However, automobile infrastructure can consume significant amounts of land that could otherwise be used for non-transportation activities. Theory suggests that as automobile mode share increases in a city, the amount of land used for transportation also increases, whereas the land available for other uses decreases. This can result in a loss of activities from the city. This study compiles data from 12 cities in the United States to test these theoretical relationships. The findings suggest that on average each increase of 10 percentage points in the portion of commuters traveling by automobile is associated with an increase of more than 2500 m2 of parking per 1000 people and a decrease of 1700 people/km2. In quantifying these relationships, this work provides a basis for assessing the potential impacts of transportation policy decisions on land use and on the concentration of people in cities. These issues ultimately have an impact on the vitality and financial viability of cities.
This is a preview of subscription content, log in to check access.
Access options
Buy single article
Instant access to the full article PDF.
US$ 39.95
Price includes VAT for USA
Subscribe to journal
Immediate online access to all issues from 2019. Subscription will auto renew annually.
US$ 175
This is the net price. Taxes to be calculated in checkout.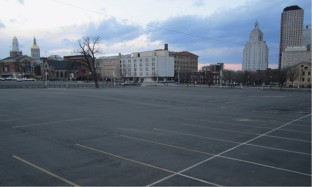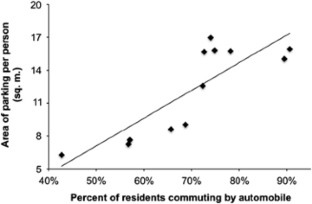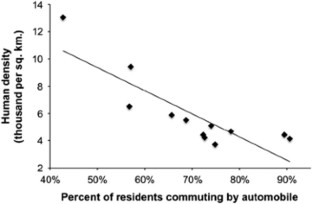 References
Bureau of the Census. (n.d.) Census 2000 summary file 3 (SF 3) – Sample data. American Factfinder, http://www.factfinder.census.gov, accessed 12 June 2010.

Bureau of Transportation Statistics. (n.d.) CTPP 2000 Part 3. Census Transportation Planning Product, http://www.transtats.bts.gov/DL_SelectFields.asp?Table_ID=1348&DB_Short_Name=CTPP%202000, accessed 12 June 2010.

Cervero, R. (2002) Built environments and mode choice: Toward a normative framework. Transportation Research Part D: Transport and Environment 7 (4): 265–284.

City of Hartford. (1973) Journal of Court of Common Council of the City of Hartford, 1971–1973. Hartford, CT: Office of the Town and City Clerk, p. 580.

Davis, A., Pijanowski, B., Robinson, K. and Kidwell, P. (2010) Estimating parking lot footprints in the Upper Great Lakes Region of the USA. Landscape and Urban Planning 96: 68–77.

Ewing, R. and Cervero, R. (2001) Travel and the built environment: A synthesis. Transportation Research Record 1780: 87–113.

Ewing, R. and Cervero, R. (2010) Travel and the built environment: A meta-analysis. Journal of the American Planning Association 76 (3): 265–294.

Frank, L., Bradley, M., Kavage, S., Chapman, J. and Lawton, T.K. (2008) Urban form, travel time, and cost relationships with tour complexity and mode choice. Transportation 25 (1): 37–54.

Goldman, M. (2007) City on the Edge: Buffalo, New York. Amherst, NY: Prometheus Books.

Handy, S., Cao, X. and Mokhtarian, P. (2005) Correlation or causality between the built environment and travel behavior? Evidence from Northern California. Transportation Research Part D 10 (6): 427–444.

Manville, M. and Shoup, D. (2005) Parking, People, and Cities. Journal of Urban Planning and Development 131 (4): 233–245.

Marshall, W. and Garrick, N. (2009) The Shape of Sustainable Street Networks for Neighborhoods and Cities. Proceedings of the 17th Congress for the New Urbanism; 10–14 June, Denver, CO.

McCahill, C. and Garrick, N. (2010a) Losing Hartford: Transportation Policy and the Decline of an American City. Proceedings of the 18th Congress for the New Urbanism; 19–22 May, Atlanta, GA.

McCahill, C. and Garrick, N. (2010b) Influence of parking policy on built environment and travel behavior in two new England cities, 1960–2007. Transportation Research Record 2187: 123–130.

McCormack, E., Rutherford, G.S. and Wilkinson, M.G. (2001) Travel impacts of mixed land use neighborhoods in Seattle, Washington. Transportation Research Record 1780: 25–32.

Mukhija, V. and Shoup, D. (2006) Quantity versus quality in off-street parking requirements. Journal of the American Planning Association 72 (3): 296–308.

Newman, P. and Kenworthy, J. (1999) Sustainability and Cities. Washington DC: Island Press.

Santos, A., McGuckin, N., Nakamoto, H.Y., Gray, D. and Liss, S. (2011) Summary of Travel Trends: 2009 Household National Travel Survey. Washington DC: US Department of Transportation.

Shin, Y., Vuchic, V. and Bruun, E. (2009) Land consumption impacts of a transportation system on a city: An analysis. Transportation Research Record 2110: 69–77.

Shin, Y.E. (1997) Analysis of city/transportation system relationship via land consumption. PhD dissertation, University of Pennsylvania, Pittsburgh, PA.

Victoria Transport Policy Institute. (2011) Online TDM encyclopedia, http://www.vtpi.org/tdm/, accessed 10 January 2012.

Woudsma, C., Litman, T. and Weisbrod, G. (2006) A Report on the Estimation of Unit Values of Land Occupied by Transportation Infrastructures in Canada. In fulfillment of Transport Canada Contract T8080-05-0191, 7 June.
About this article
Cite this article
McCahill, C., Garrick, N. Automobile use and land consumption: Empirical evidence from 12 cities. Urban Des Int 17, 221–227 (2012). https://doi.org/10.1057/udi.2012.12
Keywords
transportation

automobiles

land use

planning

development